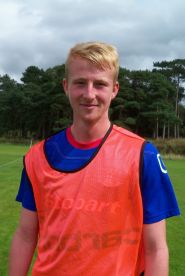 Sunderland-born Mark Beck (pictured) is obviously the most promiment name at the moment with the tall striker involved at first team level at the moment, left-footer Beck having scored 22 goals for the youth and reserve sides this season. Joint second top scorer for the youths meanwhile is Dave Symington, with the Workington-born right-sided midfielder, who has come through the United centre of excellence, another young Blue to earn a 12 month professional deal thanks in part to a hammer of a right boot which has scored some wonder strikes at youth level over his two year YTS deal.
The other two lads to have both earned their senior 12 month contracts being two similar players in central midfielders Brad Potts and Josh Todd. Hexham-born Potts and Todd, a Carlisle-born Canonbie native, who came through the Brunton Park Centre of Excellence, locked on eight goals apiece for the youth team this season with the pair both always looking to get forward from their midfield berths. Potts having been a revelation late this season in that position having been converted from a right-sided role in defence, while right-footer Todd has always been one to watch in the engine room.
Sadly, good news for Beck, Potts, Symington and Todd means bad news for three other second-year YTS players at Brunton Park. Adam Gill (right midfield), Dan Jones (midfield), who have both spent time on loan at Penrith after Christmas this year, and, perhaps surprisingly to some with his first team pre-season experience, captain Lance McGlen (right-back) being the unlucky lads to miss out as they now face being released by the club at the end of their contract.

Thanks for all your hard work and efforts at Carlisle United to all four lads from everyone at CUFC Online and we wish them the very best of luck for the future.
The wheel never stops turning though at Brunton Park and nine players in turn now move up to the second year of their YTS contract next season. Those nine being Tom Berwick (left midfield), Jamie Clarey (centre forward), Brandon Gwinnutt (right midfield), Jack Lynch (central midfield), Dale Minor (left back), Dillon Morse (centre half), Jordan Parker (goalkeeper), Alex Salmon (centre forward) and Brad Staunch (centre half).

Meanwhile starting their first YTS year at Brunton Park next season so far will be four new boys, with a couple more likely to come yet in the summer as Eric Kinder finishes off building his youth team squad for next season. Two of those new boys coming from the Centre of Excellence under-16 ranks in Carlisle-born left-winger Pat Brough, who lives in Silloth, and Whitehaven native and central midfielder Kyle Dempsey, while the remaining pair are Middlesbrough-born central midfielder Danny Dixon and Hartlepool based right-back Evan McEvoy.
One other piece in next season's jigsaw being that Whitehaven-born central midfielder Connor Hammill may play some part for the young Blues in the 2012-13 campaign, the under-15s Centre of Excellence player of this season having made his debut, a couple of years above his current pay grade, as a substitute in a 5-1 home win over Port Vale a fortnight ago.


Youth Team Results : Click here

Youth Team Squad : Click here
Youth Team Table : Click here