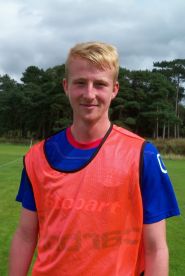 Things didn't start well for the Red Dragons either at Colliers Park as, with regular goalkeeper Louis Gray out with a thigh injury, they had to play the match with striker Louis Moss between the sticks. United taking advantage of that with just 12 minutes on the clock when Dave Symington thumped home one of his trademark right-footed shots from distance to put the Blues 1-0 up.
Wrexham though responding in the 25th minute when Jonathan Royle cracked a shot inches over the Carlisle crossbar, Rob Salathiel then hitting a shot on the turn which was well saved by Blues goalkeeper Jordan Parker, with Max Fargin then having his effort on goal from the resultant corner deflected away from danger via the legs of Cumbrians centre-half Brad Staunch.
It was 1-1 two minutes after the interval though when Ed Marsh and Ross Ankers both combined for a low Ankers cross in from the right which was well knocked home by the boot of Royle. Symington then having a shot saved by Moss, with the inexperienced glovesman grateful to then see Alex Salmon only able to lift the rebound over the crossbar. Moss then making an excellent stop shortly afterwards to this time tip a Mark Beck (pictured) drive onto the face of his own crossbar, with Kyle Parle then clearing the home lines.
That was only a temporary reprieve for the home side as United found what would prove to be the winning goal moments later after 66 minutes, with Beck sliding home a low shot from a Symington cross in on the break. So, a return to form for the Cumbrians against Wrexham after three defeats in their last four games, with Carlisle's next game again being on the road when they make the tough trip to Preston a week on Saturday.

Wrexham line-up :
Louis Moss, Ross Ankers, Kyle Parle, Ross White, Sean Smith, Jonathan Royle, Ed Marsh, Rob Evans, Max Fargin (Matty Owen 69), Chris Clarke, Rob Salathiel (Andy Pasco 63).

Unused substitutes :
Jamie Morton, Anthony Stephens and Steve Tomassen.


United line-up :
Jordan Parker, Lance McGlen (c), Dale Minor, Josh Todd, Brad Staunch, Dillon Morse, Alex Salmon (Pat Brough 78), Tom Berwick (Brandon Gwinnutt 87), Mark Beck, Brad Potts, David Symington.

Unused substitutes :
Jamie Cleary and Jack Lynch.

Referee - Richard Abson.
Youth Team Results : Click here

Youth Team Squad : Click here
Youth Team Table : Click here