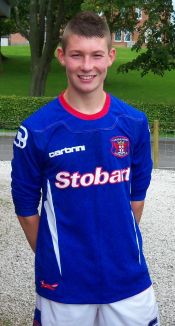 After four victories in a row had taken them up to second position in the table it was the fourth placed Shakers that Carlisle faced today on a lovely morning up at Creighton Rugby Club. The Cumbrians once more missing just Kyle Dempsey and Brad Potts from their matchday squad, although right-sided defender Potts is now only a week or two away from making his return from a long term ankle injury.
With everyone ready to go the game kicked off a little early and we hardly had time to take our first breath when after about ten seconds Dave Symington played a deep ball over the top down the right-hand channel onto which Alex Salmon just couldn't get quite enough on a right-footed lob over advancing goalkeeper Jake Webster, Bury defender and captain Jordan Melia being able to race back and clear Salmon's goalbound effort away from danger.
It was then United attacking again on three minutes when Mark Beck had a 22-yard left-footed drive deflected away off target, Bury though coming back three minutes later when left-back Marcus Tremarco, who produced some good delivery all game long, stuck in a cross which saw a bout of pinball take place in the Carlisle penalty area, with Symington, after a couple of blocks from the Blues back-line being able to hoof the ball clear.
Tremarco was on the ball again with eight minutes gone when his corner in saw Thomas Pratt waste a reasonable chance when he flicked his header wide of the back-post from six yards out. The Shakers were pressing now and Dale Jennings stuck a pass through sixty seconds later which Brad Staunch missed and Pratt raced onto, Blues stopper Jordan Parker doing well though as he charged out of his goal to make a good save at the feet of Pratt 12 yards out.
A much quieter spell in the match then followed before after 16 minutes Carlisle skipper Lance McGlen stuck a cross in from the left which Beck, from the middle of the penalty area, headed down and into the arms of Webster. Shakers dangerman Connor Loftus then made a good run forward on 27 minutes when he evaded a couple of challenges only to finish poorly as he chipped a right-footed lob well over the top from the middle of the United 'D'.
Two minutes later and Bury had a chance from a set-piece when Jack Lynch brought down Loftus 25 yards out on the right angle of the box, Tremarco though only hitting the free-kick straight into the Carlisle defensive wall with his left boot. The Shakers, in probably their best spell of the game, attacking again in the 29th minute when a right-footed 20-yard strike from Pratt pinged out for a Blues goal-kick via the legs of Loftus.
With 39 minutes on the clock Symington and Salmon then combined well for United, but Symington's right-footed shot from a tight angle in the right-hand channel zipped away wide of Webster's near-post. It was Symington again three minutes later too when his deep ball in from the right was headed down by Beck at the Bury back-stick, Salmon though, under a lot of pressure only able to scoop a left-footed shot over the top from close range.
The Salmon-Symington combination did give Carlisle the lead as we ticked into the 45th minute however when Symington's ball in from the right produced an excellent couple of touches from Salmon to control 15 yards out before he finished with ease low into the far bottom corner with his right boot. The Shakers though going close to getting an immediate equaliser sixty seconds later when Pratt set a pass back for Wade Joyce to shoot goalwards from 12 yards out, Blues centre-half and my man of the match Dillon Morse (pictured at top) doing well though to clear the ball away from the line.
Bury started well again after the break and two minutes in Tremarco thumped a cross-shot in from the left which broke to Jennings 12 yards out at the far-post, Jennings though lashing his right-footed shot from there into Parker's side netting. The Shakers did find an equaliser that felt like it had been coming shortly afterwards though when Tremarco's corner in caused a bit of havoc as it eventually dropped down to the right boot of Melia in the United six-yard box, Melia therefore left with a simple task of punting the ball home to make it 1-1.
Parity didn't last long however as just sixty seconds later it was 2-1 to the Blues when Bury gave the ball away at the back as Salmon did well to nick in at pace and send a very well placed right-footed shot across the body of Webster and into the corner of the visitors net. The Shakers then looking to make it a glut of goals in the 52nd minute when Loftus cut in from the left before firing in a 12-yard right-footed shot which brought an excellent block out of Morse.
It was then strike partnership Salmon and Beck combining for Carlisle in the 55th minute but Wesbter was able to make a relatively easy save on Salmon's right-footed effort from the edge of the Shakers penalty area. United boss Eric Kinder then making his first substitution of the game when Patrick Brough replaced Tom Berwick on the left flank, Symington then after 58 minutes shooting well wide with his right boot from distance.
Moments later and it was McGlen trying his luck for United as he cut in from the left but his right-footed 22-yard effort sailed away over the top, Shakers boss Alan Moore then making a change in personnel five minutes later as he brought on Joe Thornton for a disgruntled looking Jennings. Carlisle still the side pressing sixty seconds on though when Symington's right-footed shot from 15 yards out on a tight angle was hauled in by Webster.
United were then caught out by a Bury short corner after 74 minutes when Joyce and latterly Liam Boswell worked the ball across for Pratt to flick a six-yard header wide of the Cumbrians far-post. Tremarco then providing the ammunition shortly afterwards when his cross in from the left found the head of another visitors youngster, this time however it was Levi Clarke nodding wastefully wide at Parker's back-post from close range.
After 77 minutes Salmon then stuck a ball in from the left, but Beck could probably have done better as his glanced eight-yard header was on its way wide before being taken in by Webster. Joyce, for a Bury side who produced some good stuff in patches going forward but who also looked a little porous at the back at times, then striking a right-footed effort well over Parker's crossbar from long range.
The Cumbrians pretty much made the game safe though when they made the score 3-1 with ten minutes left, the goal however coming after Brough had fouled visitors right-back Tommy Toth 20 yards out in a dangerous position on the right angle of the Carlisle box. Tremarco's free-kick on goal was easily cleared away by Symington however and that allowed United to break at pace through Brough down the left.
Brough then feeding Symington, who had charged down the pitch, in the Bury penalty area before Symington did exactly the right thing by not lashing a shot in but by laying the ball across one more to Josh Todd for an open goal finish from close range, a picture book goal on the break for the Blues. Carlisle then making their second substitution during the wait for the restart as Brandon Gwinnutt replaced Lynch in the engine room.
Shortly afterwards and Bury made another change themselves when Matthew Prickett replaced Boswell, then after 86 minutes Staunch fouled in the air, according to referee Mark Backhouse, Pratt just to the right of the United 'D'. Dalton McLaughlin stepping up to curl the free-kick with his right instep towards the top corner of the Carlisle goal only to see Parker make an excellent leaping save away to his left.
Fortunately for Carlisle the resultant Tremarco flag-kick in produced nothing for the Shakers and the Blues were able to get away on the break once more, some good approach work from Salmon seeing the ball eventually reach Brough, United's 15-year old winger though only able to slice his left-footed shot from just inside the Bury penalty area well wide of the target. The Cumbrians then before Webster's goal-kick making their third and final substitution when Dan Jones came on for Beck upfront.
Referee Backhouse obviously then had been given a new pencil as he saved his lead until the last minute and then injury time to make two bookings. Symington first being yellow carded for a foul on Pratt before two minutes into time added on McLaughlin was booked for a bad tackle on Jones 25 yards out from the Bury goal. Symington's strike from there with his right boot on the free-kick sailing wide as the final whistle blew when the ball came to rest behind Webster's goal.
So, five wins in a row now for Carlisle with a bumper 17 goals scored in those games too, top scorer Alex Salmon, with his brace today, also now having netted a very healthy nine times in his opening eight games for United. Still, next Saturday morning comes one of the hardest youth opponents of the season as the Blues look to keep their run going at Creighton in an 11am kick-off at home to a perenially strong Burnley outfit.
United line-up :
Jordan Parker, Will James, Lance McGlen (c), Josh Todd, Brad Staunch, Dillon Morse, Dave Symington, Jack Lynch (Brandon Gwinnutt 80), Mark Beck (Dan Jones 87), Alex Salmon, Tom Berwick (Patrick Brough 57).
Substitutes :
Jamie Clarey and Dale Minor.
Bury line-up :
Jake Webster, Tommy Toth, Marcus Tremarco, Wade Joyce, Jordan Melia (c), Levi Clarke, Dale Jennings (Joe Thornton 63), Dalton McLaughlin, Thomas Pratt, Connor Loftus, Liam Boswell (Matthew Prickett 81).
Unused substitutes :
Luke Beastall, Connor Keane and Tom Rouine.
Referee - Mark Backhouse.
Assistants - M Hunter and S Henry.
Youth Team Results : Click here

Youth Team Squad : Click here
Youth Team Table : Click here