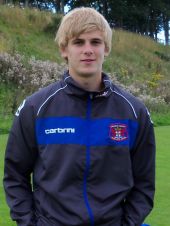 Back to action at Creighton at last for the boys then as they lined up for only their second home match in three months with the way the weather has been. United taking to the field with one change to their regular eleven as Brad Staunch dropped down to the bench, Brad Potts moved back into a centre-half spot and trialist Danny Dixon came into the midfield ranks, while another unnamed trialist took a place amongst Carlisle's substitutes.
It was Dixon too who almost scored the opening goal of the game in the second minute too when on a Dave Symington cross in from the left he seemed to jump well six yards out with Wigan goalkeeper Michael Cottrill to win a header that ended up in the net, referee Mark Backhouse saw things differently though and chalked the goal off for a foul on Cottrill, who turned out to be the Latics man of the match in the end.
With ten minutes on the clock Carlisle did take the lead though when Symington set up Jack Lynch for a right-footed strike from 18 yards out, Cottrill however making an excellent low one-handed save away to his right only to see Mark Beck pick up the pieces and slot the loose ball into the net from close range. The visitors then looking to respond sixty seconds later after Josh Todd had brought down Bradley Anderson 30 yards out, Anderson himself though curling the free-kick well over the top from there with his left boot.
Anderson then, who was one of not very many who had a good game for the Latics, shooting left-footed but straight at Blues goalkeeper Jordan Parker from distance after 14 minutes. The Cumbrians then coming back shortly afterwards with a low Symington cross in from the left, which broke to Lynch for a 15-yard left-footed drive that zipped away inches wide of Cottrill's left-hand post.
After 16 minutes Wigan's Luke Ainscough had a left-footed shot from just outside the Carlisle 'D' easily saved by Parker, then six minutes later Joel Kerwin swung a corner across for the visitors, but Ryan Meadows was only able to head over the top from the middle of the penalty area. Potts then sixty seconds later found a lovely pass for Symington to race onto down the left-hand channel, Symington then cutting in and side-footing an effort on goal with his right boot from 15 yards out, but Cottrill dealt with it very well as he parried it strongly away from danger.
It was Anderson once more in the 24th minute looking to get something going for Wigan, but again Parker made a comfortable save on his left-footed strike from distance, Rakish Bingham then six minutes later shooting over the top with his left boot from 22 yards out as Carlisle kept the visitors pretty much at arm's length, with Blues man of the match Potts (pictured) having a strong game in the heart of the United back four.
That good work in the defensive ranks meant that the Cumbrians were able to push forward and make it 2-0 with 29 minutes gone, Lynch and Alex Salmon working a lovely one-two on the edge of the Wigan penalty area, with Lynch's low ball in from the left-hand by-line eventually breaking to Beck at the near-post for a bundled left-footed close range finish into the net beyond the reach of the diving Cottrill.
Ten minutes before the break and it was Carlisle pressing again, when Symington fed Beck down the left-hand channel, Beck though pulling his left-footed 15-yard effort across goal and wide of Cottrill's far-post, Beck then two minutes later shooting, following a Lynch pass to him, straight into the arms of the Wigan stopper with his left boot from 15 yards out. The last chance of another goal in the first-half coming in the 44th minute when a right-footed inswinging cross by Anderson from the left flashed past everyone in the Blues box on its way inches beyond Parker's left-hand upright.
During the break United boss Eric Kinder made his first change in personnel as his second trialist of the day came on in place of Lynch in midfield. Wigan then having the first shot on goal four minutes in when Anderson's left-footed shot from just beyond the Carlisle 'D' took a deflection off Dillon Morse on its way safely into the arms of Parker. Carlisle though making it 3-0 sixty seconds later when Beck set up Symington for a fierce right-footed strike into the visitors net from 22 yards out, game over.
With 53 minutes gone Dixon made a good run forward from his midfield spot but his curler on goal with his right boot from just outside the penalty area drifted away wide of the visitors far-post. United attacking again shortly afterwards when Todd's cross in broke to Symington 18 yards out on the left-hand angle, Symington from there trying a right-footed chip on Cottrill's goal only to see it float across the area and wide of the target.
Bingham then tried his luck for Wigan with 65 minutes on the clock but his 25-yard right-footed effort on goal was anything but as it disappeared away miles high and wide of Parker's goal. Two changes for the Latics and one for Carlisle then coming during the break in play as Darius Waters replaced Jamie Gibson at right-back and Omar Thompson came on in midfield for Kerwin for the Latics, while Patrick Brough replaced trialist Dixon for the Cumbrians, with Brough slotting over to his usual left-wing berth.
Moments later and and visitors left-back Jonathon Lynch fed possession over to Bingham on the edge of the Carlisle box for a right-footed shot from there, Bingham though seeing his effort on goal tremendously blocked by the legs of a diving Potts. Wigan now having a slightly better spell in the game but Meadows could only shoot over the top with his right boot from 22 yards out in the 72nd minute.
Three minutes later, from an Ainscough corner, and it was the battle of the two captains, as a Ryan Astles header from ten yards out on the United goal was hacked away from danger by Blues right-back Lance McGlen at the back-post. With 77 minutes gone it was back to Carlisle attacking though when Beck played in Salmon, the United striker took a bit of a heavy first touch though 15 yards out and that allowed Andy Mason to make a good block on Salmon's right-footed drive.
Salmon then again in the action in the next two instances of note as pencil hit paper, his 20-yard right-footed curler following a Potts pass to him, going straight into the arms of Cottrill in the 79th minute, while then sixty seconds later he was substituted as Tom Berwick took his place in the Blues eleven. Wigan then looking for a late consolation goal with 85 minutes gone but, after cutting inside Carlisle left-back Dale Minor, Bingham could only drag a horrible left-footed shot wide of Parker's near-post from the edge of the United box.
Parker did have to make a good save in the Cumbrians goal three minutes from time though when a left-footed strike from 18 yards out brought a sharp one-handed stop out of the the Blues goalkeeper low down away to his left. The last real action of the game then coming in the 88th minute when Symington made a good run forward deep in the Wigan half only to to thump his right-footed shot from 15 yards out wide of Cottrill's near-post.
So, back to winning ways for the young Blues on the back of a good performance, in which Mark Beck moved on to 16 goals for the season at youth team level, after two defeats in a row pretty much derailed their title challenge. Things certainly get tough from now on in though as United's next four games are all away from home, the first of those coming on Monday 5th March in a 2pm kick-off at Bury.
United line-up :
Jordan Parker, Lance McGlen (c), Dale Minor, Brad Potts, Dillon Morse, Josh Todd, Danny Dixon (Patrick Brough 65), Jack Lynch (A Trialist 46), Dave Symington, Mark Beck, Alex Salmon (Tom Berwick 80).
Unused substitute :
Brad Staunch.
Wigan line-up :
Michael Cottrill, Jamie Gibson (Darius Waters 65), Jonathon Lynch, Bradley Anderson, Ryan Astles (c), Andy Mason, Joel Kerwin (Omar Thompson 65), Luke Ainscough, Rakish Bingham, Ryan Meadows, Abubakar Sheego.
Unused substitutes :
Calvin Hare (GK) and Patrick Christian.
Referee - Mark Backhouse.
Assistants - Adam Pattinson and M Clements.
Youth Team Results : Click here

Youth Team Squad : Click here
Youth Team Table : Click here