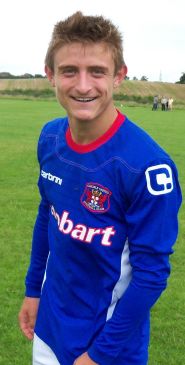 After four away games on the bounce it was finally back to Creighton Rugby Club today for the lads against a lower mid-table Macclesfield outfit. United, after a short bout of drizzle thankfully ended, starting the game with only three subsitutes with top scorer Mark Beck being away with Workington Reds. A change also being made in the Carlisle back-line for the second game in a row as Dale Minor dropped to the bench, skipper Lance McGlen moved over to left-back and Brandon Gwinnutt slotted in to McGlen's usual role on the right.
The Blues quickly at it though in the first minute as they kicked down the slight slope, Brad Potts setting up Josh Todd for a 22-yard right-footed strike that whistled narrowly wide of Macclesfield goalkeeper Andrew Mills' near-post. Carlisle having a good chance again two minutes later when a McGlen long ball up found Tom Berwick away over the top down the left, Berwick though taking a touch too long to make his mind up on a shot as George Whiteoak got across to put Berwick off and force him to shove a left-footed strike wide of the target from 15 yards out.
With ten minutes on the clock it was the Blues once more when when Dave Symington (pictured) chipped a ball across from the right to the back-post, Todd though only able to lash a 12-yard right-footed half-volley over the top. United did take the lead in the 14th minute however when Symington sent a lovely diagonal ball over the top of Town right-back Kieran Kenny for Alex Salmon to take down on his chest on the edge of the box, Salmon then firing confidently into the net with a left-footed half-volley to make it 1-0 to the Cumbrians.
Three minutes on and it was the first chance for the Silkmen when Jordan Trinci-Lyne controlled a Joel Swift ball up with his chest in similar style to Salmon, this time though the same resultant shot not finding the net as, from 18 yards out, it zipped inches wide of Jordan Parker's back-stick. United making the visitors pay in the 16th minute as they made it 2-0, a Potts pass up being flicked on by the head of Salmon for Symington to race through down the right-hand channel and bury a right-footed shot across goal from just inside the Macclesfield box.
Salmon then trying to do things himself shortly afterwards when his right-footed effort from almost the same position, but on the left, went narrowly wide of the visitors left-hand post. Macclesfield then forced into an early change after 27 minutes when Jay Burgess went off with what looked like a groin problem to be replaced by Darnell Smith. Town then having a shot on goal on the half-hour mark when Potts fouled Trinci-Lyne 25 yards out, the Macclesfield striker then from the resultant free-kick hammering in a right-footed effort which Parker was able to claim in the air at the second grab.
Four minutes before the break and Town were again attacking when, from a corner Carlisle weren't able to clear, James Bolton cracked in an 18-yard right-footed drive which deflected off Dillon Morse before pinging off the base of Parker's right-hand post and away from danger. The last opportunity of the opening period coming shortly afterwards when Paul Lewis and Trinci-Lyne played a neat one-two on the edge of the United box only for Lewis to side-foot weakly wide with his left boot from 12 yards out.
During the interval Town boss John Askey made a change in personnel as Matt Dolan replaced Swift, Dolan sadly for him missing a glorious chance to score within about 60 seconds of the restart. A cross in from the left from Smith seeing Dolan somehow send a diving header wide of Parker's back-stick from no more than four yards out. Carlisle then wasting a harder chance after 48 minutes when Berwick's cross in from the left saw an unmarked Jack Lynch head over the top from the middle of the visitors penalty area,
Two minutes later and Town went close again after Salmon had conceded possession, Trinci-Lyne then able to run through unchecked down the middle only to drag his right-footed shot from the Carlisle 'D' wide of Parker's left-hand post. Macclesfield attacking once more in the 55th minute when a corner in from James Foley found Bolton heading wide of the Cumbrians back-stick from ten yards out.
Back to United shortly afterwards though when Salmon sent Symington forward for a right-footed 15-yard shot that skipped inches past the Town far-post. It was all go on the hour-mark however when a Lynch ball over the top saw Salmon, clean through, be dragged to the floor by Bolton on the edge of the visitors penalty area. Hard to tell whether it was a spot-kick or not from my angle but how referee Backhouse didn't even talk to Bolton never mind show him a card of either colour is all the more confusing.
Salmon dusted himself down though to thump the free-kick goalwards, but Mills was up to the task as he palmed the shot behind. Berwick's corner in then eventually seeing play break to Symington who expertly dribbled his way past a couple of Town defenders before smacking an unstoppable 12-yard right-footed drive into the visitors net to make it 3-0. Blues boss Eric Kinder then making his first substitution during the break in play as he brought 17-year old Danny Dixon on for Berwick.
Macclesfield then making their third and final change in personnel with 65 minutes gone when Tom Stott replaced Foley. Sixty seconds later and it was Carlisle pushing forward again when Salmon was fouled by Matt Harris 30 yards out on the right-wing. Dixon curling across a lovely free-kick from there, with Salmon left disappointed when his flicked header across goal from the middle of the box bounced away from danger off the face of the Town crossbar.
Carlisle's second change in the ranks coming after 69 minutes when Jamie Cleary came on for Lynch. Four minutes later and it was McGlen sticking a cross in from the left but Dixon's looping header from ten yards out at the visitors far-post proved an easy one for Mills to catch. Salmon and Potts then working a good opportunity in the 75th minute only for Potts to see his 12-yard right-footed shot well saved by Mills, with Bolton then able to hoof clear for Town.
Things soon taking a turn for the worse for Salmon in the 80th minute though when he hobbled off on his left ankle to be replaced by Minor. Macclesfield then wasting a good opportunity to find a late goal sixty seconds later when a Smith throw-in was flicked on by Lewis only for Stott, with just Parker to beat, to thump his 12-yard left-footed half-volley over the top. Stott then at least able in the 87th minute to work Parker, although his right-footed drive from 15 yards out, on the back of a Dolan cross in from the right, proved an easy one for Parker to gather in.
The Silkmen then having the final opportunity for another goal in the game a minute into injury time when Morse fouled Trinci-Lyne in the middle of the Cumbrians 'D'. Lewis touching the ball off for Trinci-Lyne for a right-footed strike which pinged out for a corner off the United wall. Jake Vernon's resultant flag-kick in seeing Stott, leaning back at the far-post, head well of Parker's left-hand post from six yards out.
United line-up :
Jordan Parker, Brandon Gwinnutt, Lance McGlen (c), Brad Staunch, Dillon Morse, Jack Lynch (Jamie Cleary 69), Brad Potts, Josh Todd, Alex Salmon (Dale Minor 80), David Symington, Tom Berwick (Danny Dixon 60).
Unused substitutes :
None.
Macclesfield line-up :
Andrew Mills, Kieran Kenny, Matt Harris, Paul Lewis, James Bolton, George Whiteoak, Joel Swift (Matt Dolan 46), Jake Vernon, Jordan Trinci-Lyne, Jay Burgess (Darnell Smith 27), James Foley (Tom Stott 65).
Unused substitute :
Georgie Robinson.
Referee - M Backhouse
Assistants - S Lewer and S Henry.
Youth Team Results : Click here

Youth Team Squad : Click here
Youth Team Table : Click here