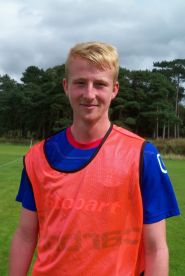 After going down 4-3 at Rochdale two weeks ago Carlisle were looking to get back to winning ways against an Oldham side who hadn't played since the 13th of December with the recent inclement weather. To be fair to the Latics though, on a heavy pitch at Creighton, they showed no signs of rustiness at all and played some neat passing football at times against a United team who just couldn't find their stride in the game.
With no injuries for the Cumbrians it was a full strength side out too, but it was Oldham, with the strong biting wind in their favour on a horrible cold, soggy day who had the first chance of the game after three minutes when Jack Laird turned well before shooting left-footed over the top from 22 yards out. Carlisle then responding five minutes later with a Jack Lynch pass through for Symington down the right-hand channel, his 15-yard drive with his right foot across goal though sliding away wide of the far-post.
The Latics then had to make their first change in personnel as early as the 11th minute when Luke Wandless limped off the field to be replaced by Chris Sutherland. Sixty seconds later and visitors skipper Ryan Burns, who unusually took inswinging corners from either side with both his feet, stuck a flag-kick in which produced a hefty goalmouth scramble in the United six-yard box before Dillon Morse was able to hoof clear.
With 21 minutes on the clock Oldham coach Tony Philliskirk was left with his head in his hands as a cross in from the left by Joe Edwards took a slight nick off Blues captain Lance McGlen, as Danny Bell then somehow sent a diving header wide of Jordan Parker's left-hand post from close range. Two minutes later Carlton McIntosh hitting a long range effort over the top of the United crossbar with his right foot on the turn.
Carlisle then came about as close to scoring as they would day all game in the 26th minute when Symington's cross in from the right broke to Alex Salmon 22 yards out at the far-post, Salmon though seeing his curling right-footed effort expertly tipped over the top by Latics stopper Dale Connor, with Lynch's resultant corner then producing nothing for United. Back up at the other end though five minutes later and Sutherland's 18-yard right-footed strike deflected behind off Lynch, only for Burns to then produce a rare poor delivery as he hit the flag-kick straight into Parker's side-netting at his near-post.
It was Oldham again attacking in the 35th minute when Danny Gosset's cross in the from the left was headed well wide by McIntosh in the middle of the Carlisle box. Shortly afterwards the Blues responding when Dale Minor stuck a good ball over the top for Brad Potts to run onto, Potts then laying the ball back for Salmon for a right-footed 25-yard strike that only flew straight into the grateful gloves of Connor.
Mark Beck (pictured), who just about nicked the man of the match award for the Cumbrians, was then looking to turn provider for the Cumbrians in the 37th minute with a cross in from the left which Symington struck very well on a left-footed volley from close range only for it ping back away off the legs of Latics centre-half Alex Parkes. Potts then the volleyer, after a short corner routine by Lynch and McGlen, with his right foot from 12 yards out only for his effort to sail away over the top.
Just before half-time and it was from another Carlisle corner, stuck in by Lynch, that a goalmouth scramble ensued in a muddy penalty area, Oldham though able to clear their lines in the end. The last kick of the half then producing the only goal of the game when McIntosh picked the ball up unchallenged 28 yards and fairly lashed an unstoppable right-footed effort straight into the top left-hand corner of Parker's net.
It was the Latics going forward again then straight away in the second-half when Burns played in Gosset for a 20-yard right-footed drive that whistled away wide of the target. United then pressing themselves in the 47th minute when Josh Todd fed Salmon down the left-hand channel, but the slightly off-form Carlisle striker's first touch was a bit heavy and he was unable to produce a penetrating cut-back from the by-line.
In the 52nd minute it was then Gosset for the visitors shooting straight at Parker with his right boot from 15 yards out, with Oldham having a good spell in the game at this point as Laird three minutes on dragged a right-footed drive from the edge of the Blues box wide of the far-post, then in the 57th minute Parker had to make a good diving save away to his right to parry away a powerfully hit 20-yard right-footed drive from, not unusually, Latics right-back Tom Jones.
Bang on the hour-mark and it was Symington and Potts combining for Carlisle however to set up Beck down the left-hand channel, the United frontman off target though as he thundered his left-footed shot from the edge of the box over the angle of far-post and bar. Oldham then two minutes later seeing Bell slice a right-footed 25-yard drive miles wide of the target before it was the Blues again in the 67th minute when Salmon, from middle of the Latics 'D', cracked an effort with his right foot over the top.
Midway through the second-half and Bell was the first player booked by referee Backhouse for a blatant pull back on Lynch 40 yards out on the left, Symington though wasting the free-kick badly as he pulled a right-footed shot from there wide of Connor's near-post. The break in play then seeing a relatively rare occurence of a substitute being substituted as for the Latics Sutherland was replaced in the wide areas by under-16s player Will Kinder.
With 20 minutes to go in the game McIntosh cut in from the left on his right foot only to pull his 20-yard right-footed drive wide of Parker's right-hand post, with United boss Eric Kinder then making his first change in personnel before the resultant goal-kick as the Blues went 4-4-2 with Patrick Brough coming on for Lynch. Three minutes later one of the Oldham substitutes, in Kinder, trying his luck on a loose ball 15-yards out but his left-footed half-volley disappeared away wide of Parker's left-hand post.
It was then another one off and one on before the goal-kick as for the Latics Bell, on his return from a long injury lay-off, was replaced by Jack Poxon. Sixty seconds later and after a Minor cross deep into the visitors box Connor could only punch the ball straight to Potts 20 yards out, Potts from there getting as close as United would to getting an equaliser as his placed effort with his right instep slid agonisingly inches wide of the left-hand post. And, yep, it was then another substitution before a goal-kick as the Blues went three at the back and five in midfield as Brandon Gwinnutt came on for centre-half Morse.
After 83 minutes it was Minor and Salmon producing something coming forward for the Cumbrians when they set up Beck for a left-footed drive from 18 yards out in the left-hand channel which whistled across goal and inches wide of the target. The seemingly inevitable substitution before a goal-kick as things happened to pan out today being Carlisle's again when under-16s midfielder Kyle Dempsey came on for Symington down the right. Todd then three minutes later picking up a yellow card for the Cumbrians when he was rightly booked for dissent.
The last real chance United had to grab an equaliser, despite Mr Backhouse finding a remarkable near six minutes of stoppage time from nowhere, coming in the 87th minute when a Dempsey 20-yard right-footed curler went straight into the arms of Connor. So, a pretty disappointing performance and result for the Blues, albeit against an OIdham side who performed well given the conditions. The pitch at the end looking pretty cut up and I don't think it would take a vast amount of rain this week to have Carlisle's home game next Saturday morning, against Port Vale, looking in trouble.
United line-up :
Jordan Parker, Lance McGlen (c), Dale Minor, Brad Staunch, Dillon Morse (Brandon Gwinnutt 74), Josh Todd, Brad Potts, Jack Lynch (Patrick Brough 70), Dave Symington (Kyle Dempsey 83), Mark Beck, Alex Salmon.
Unused substitutes :
Tom Berwick and Jamie Clarey.
Oldham line-up :
Dale Connor, Tom Jones, Joe Edwards, Joe Cooper, Alex Parkes, Ryan Burns (c), Danny Bell (Jack Poxon 73), Danny Gosset, Carlton McIntosh, Jack Laird, Luke Wandless (Chris Sutherland 11, then Will Kinder for Sutherland 67).
Unused substitute :
Joel Coleman (GK).
Referee - M Backhouse
Assistants - S Lewer and M Coombe.
Youth Team Results : Click here

Youth Team Squad : Click here
Youth Team Table : Click here