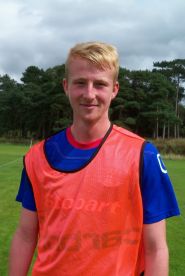 With Jack Lynch and Alex Salmon out injured, and Brad Potts away with the first team squad in Exeter, it was a weakened Carlisle side who took to the field this morning in their second cup tie of the week, after already defeating Sheffield Wednesday 4-1 at home in the opening stage of the FA Youth Cup on Wednesday evening. Blues boss Eric Kinder being forced to make up the numbers on the bench with two under-16s players and two non-contract players.
After a scrappy start to the game it was the home side who took the lead on 29 minutes, with United though having two good chances to make things level before half-time through Jamie Clarey, albeit to no avail. The young Blues then totally dominated the second-half and another host of missed opportunities looked like being the death knell until substitute Patrick Brough stuck a good cross in during the closing minutes for Mark Beck (pictured) to head home.
Carlisle even having a good chance to win the tie in stoppage time only for the City goalkeeper to make an excellent save from Brad Staunch after good approach play from Brough and Josh Todd. So, with no-extra time it was straight to a penalty shootout with the scoreline getting to 6-6 on 12 converted penalties, with Beck, Todd, Dave Symington, Lance McGlen, Dale Minor and Staunch all scoring for United.
And then came the controversy on unlucky penalty 13 for Carlisle when Bradford missed their spot-kick only for the referee to order it to be retaken as he hadn't blown his whistle, that seeing City get two bites of the cherry through that decision. The Bradford player then netted the second time, and when Dan Jones missed for United next up that saw the Cumbrians sadly exit the competition at the very first hurdle.
United line-up
Jordan Parker, Lance McGlen (c), Brad Staunch, Dillon Morse, Dale Minor, Brandon Gwinnutt (Patrick Brough 78), Josh Todd, Tom Berwick (Kyle Dempsey 77), Jamie Clarey (Dan Jones 75), Mark Beck, Dave Symington.
Unused substitutes :
Craig Rule (GK) and Josh Calvert.
Youth Team Results : Click here

Youth Team Squad : Click here
Youth Team Table : Click here