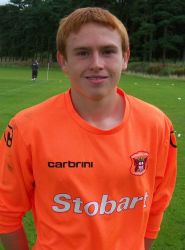 With top scorer Mark Beck now on work experience duties with Workington Reds it was always going to be a hard ask for Carlisle this morning at Preston's Springfields training complex. Both sides not starting in the best of fashion though before possession was given away once too often, with Matt Dudley the Lilywhites beneficiary as he fired a low drive in from 18 yards out which Blues goalkeeper Jordan Parker (pictured) did well to palm away from danger.
Carlisle then going close shortly afterwards though when Alex Salmon thumped in an excellent half-volley from distance which flew only inches over the top of the North End crossbar. United then almost finding the opening goal of the game again in the 23rd minute, Salmon this time, from a Dave Symington cross in from the right heading down into the ground at close range, with Preston stopper Jordan Watson then able to expertly tip the bouncing ball away from the roof of his net.
Just after the half-hour mark and it was the home side on the attack however when Sam Ade Osobe made a good run down the right only to see his cross-shot on goal from a tight angle evade everybody as it flashed narrowly wide of Parker's far-post. North End then piling the pressure on once more shortly after the interval when winger Will Hayhurst cracked in an 18-yard drive that was well saved by Parker.
Preston did finally take the lead in the 69th minute though when United once more gave the ball away, that allowing Reece James to cross in from the left for Osobe to head home beyond Parker. Doyle Middleton then nearly making it 2-0 for North End shortly afterwards, but his good run and shot from just outside the Carlisle penalty area only crashed into the Cumbrians side-netting at the near-post.
The best chance for the Blues to nick a point late in the game coming via skipper Lance McGlen as the United right-back pounced on a loose ball on the edge of the home box, only to be quickly closed down as he subsequently rushed his shot on goal a little and pulled it narrowly wide of the Lilywhites back-stick. Next up for Carlisle meanwhile after this defeat is a very tough away game at third-placed Walsall on Thursday afternoon, before they take on Macclesfield at home fewer than 48 hours later in an 11am kick-off at Creighton Rugby Club on Saturday morning.
Preston line-up :
Jordan Watson, David Kuba-Kuba, Steven James (c), Doyle Middleton, Dan Forbes, Ben Davies, Sam Ade Osobe, Luke Clark, Matt Dudley, Naim El-Harrati, Will Hayhurst.
Substitutes :
Draffi, Matthew Greenwood, James, Alan Scurry, Adam Thurston.


United line-up :
Jordan Parker, Lance McGlen (c), Dale Minor, Brad Staunch, Dillon Morse, Jack Lynch, David Symington, Josh Todd, Alex Salmon, Brad Potts, Tom Berwick.
Substitutes :
Pat Brough, Jamie Cleary, Kyle Dempsey, Danny Dixon, Brandon Gwinnutt.
Youth Team Results : Click here

Youth Team Squad : Click here
Youth Team Table : Click here