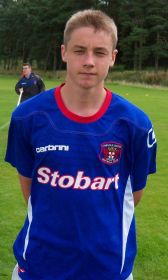 With Morecambe's pitch at Lancaster and Morecambe College waterlogged both sets of coaching staff agreed to switch the game to Creighton in order to get it played, the match though still officially being a home fixture for the Shrimps. As far as team news was concerned for Carlisle, Brad Potts came into central midfield with Dan Jones out with an ankle injury, that absenteeism also being the case for Brandon Gwinnutt with his own ankle problem.
That meaning that United fielded just four substitutes, although one of those replacements was 16-year old Kyle Dempsey who returned to youth team action after injuring his knee in a pre-season friendly defeat at Gretna in mid-July. And after defeating Morecambe 7-1 at home two months ago hopes were high of a good win this morning, perhaps infact hopes were a little too high as Carlisle produced a sluggish performance that contained maybe some slight complacency in the playing ranks.
Morecambe came out of the traps well too and after three minutes Matthew Parker struck a long distance right-footed shot over the top of the Blues crossbar. Two minutes later though and, after Phil Bannister gave the ball away for the Shrimps, Mark Beck fed Josh Todd in down the left-hand channel for a left-footed shot from 12 yards out that Morecambe goalkeeper Ryan Shepherd did well to block with his legs as he came out to narrow the angle.
Two minutes later and it was skipper Lance McGlen getting down the right for Carlisle with a cross over to the 'visitors' back-post which Beck headed over the top from eight yards out. It was Morecambe back at it though with 16 minutes on the clock but Parker, on a dropping ball on the edge of the Carlisle penalty area, could only send in a weak left-footed half-volley straight at Cumbrians goalkeeper Jordan Parker.
Sixty seconds later and Salmon's cross in from the left found Beck heading goalwards six yards out, only for Shepherd to claw the ball away for a corner. Jack Lynch's (pictured at top) delivery then eventually finding its way back out to him, but his left-footed 18-yard effort only flew into the Shrimps side-netting. After a quiet spell in the game Carlisle did take the lead after 29 minutes though when Todd's pass found Lynch making an excellent turn in the Morecambe box, Lynch then firing in a left-footed shot across goal from ten yards out, Shepherd doing well to parry that away to his left only to then see Salmon manage to bundle the ball home from close range at the back-stick.
With the Shrimps now looking for an equaliser their next chance came on 37 minutes when Parker's corner in to way beyond the Carlisle far-post saw left-back James Short only able to head well wide of the target from 12 yards out. Three minutes later and Brad Staunch brought down Parker in a central position 20 yards out, with Morecambe's Phil Bannister then seeing yellow himself for waving an imaginary card at refeee Peter Leonard. Short, after all the kerfuffle, then only able to curl the free-kick over the top with his left boot.
On 43 minutes McGlen set up Salmon for a right-footed 20-yard strike over the top of the Morecambe crossbar before the Blues endured a dodgy end to the opening period. Parker's poor clearance on the floor firstly seeing Kenny Taylor feed the visitors Parker for a left-footed shot from 15 yards wide out that dragged away wide of the target, then McGlen conceded possession on a hard to control Potts pass, with Short then thumping a left-footed 20-yard half-volley across goal but wide of Carlisle's left-hand post.
Two minutes after the break and Charlie Joyce played in skipper Ryan Winder for Morecambe for a right-footed strike from the edge of the box that took a slight nick off Staunch on its way behind. Winder's subsequent corner in eventually breaking out to Bannister for a right-footed drive from 18 yards out that he was only able to pull away across the penalty area and wide of Carlisle's right-hand post.
You could sense an equalising goal was coming and it duly arrived in the 50th minute when a Parker corner in came back to him for a left-footed 18-yard cross-shot that brought an excellent aerial save out of Parker away to his right, sadly though he could do nothing as the ball dropped down for a stooping Chris Doyle to head home into the United net from close range. Carlisle then looking to respond in the 54th minute but David Symington's cross in from the left was headed over the top by Beck from eight yards out.
Two minutes later and Potts brought down Joyce 35 yards out, with Short then curling the free-kick across left-footed for Doyle at the back-post, it was a very tight angle for the Shrimps centre-half though and his right-footed volley flew straight into the side-netting at Parker's near-post. United boss Eric Kinder then making his first change of personnel bang on the hour mark as he looked to get things going with 15-year old Patrick Brough replacing Symington on the left wing.
With 64 minutes gone Potts then played a good diagonal ball over the top to the left-hand channel, but it was a slightly heavy first touch from Brough and under pressure his right-footed half-volley from ten yards out drifted across goal and wide of Shepherd's left-hand upright. Midway through the second half and it was Taylor hitting a left-footed 20-yard half-volley wide of Parker's near-post, before in the 71st minute Joyce thumped in a powerful right-footed drive from 18 yards out which Parker did well to tip onto the crossbar, Brough then breaking away for Carlisle on the rebound only for Shrimps right-back Nathan Hawkshaw to go into the book for hacking down Brough.
With the Blues still struggling to get anything going Eric Kinder then made a double substitution as he brought on Jamie Clarey for Beck upfront and Dempsey for Potts in the Cumbrians engine room. Young referee Leonard was just starting to get a little fussy now and with 73 minutes on the clock Todd was brought down by a bad Joyce tackle in the centre-circle, it was Todd though who got booked for dissent for a little bit of backchat with the official.
After 77 minutes it was Carlisle on the attack when Lynch played Clarey in down the right-hand channel, Clarey though seeing his right-footed 15-yard strike tipped wide of the Shrimps near-post by Shepherd. Lynch's subsequent corner in then finding Staunch for a looping header from eight yards out which proved an easy one for Shepherd to take. Two minutes later and up at the other end Blues centre-half Dillon Morse fouled Parker 25 yards out in a central area, Joyce's right-footed shot from the set-piece then pinging behind off Brough, although Parker's resultant corner produced nothing for the Shrimps.
Ben Hardcastle was the next player to go into the referee's notebook for a foul on Todd in the 81st minute, then sixty seconds later the lanky James Riley headed on for Joyce, but Joyce could only hit a weak right-footed 20-yard shot straight at Parker. Riley then in the 84th minute setting up Parker for a right-footed curler from just outside the United penalty area which only disappeared away well wide of the Cumbrians left-hand post.
Carlisle then missed what looked like the only chance they would have to nick a late winnner in the 87th minute when Dempsey hit a fantastic long range diagonal pass over the top for Salmon, with the United striker then producing an even better touch to bring the ball down into his stride only to then blaze over with his left foot from 15 yards out. Morecambe left-winger Taylor then having to limp off a minute into injury time with a leg knock as Shrimps boss Richard Danson replaced him with Joe Bartlett.
To be honest a winner for Carlisle never really looked like coming but remarkably it did in the second minute of injury time when Brough sent Clarey away down the left-hand channel, with Clarey then sending a low cross in from there across the six-yard line onto which Lynch raced through for a straightforward tap-in into the empty net to leave the final scoreline at 2-1 to United, with a win being a win of course, but today was certainly a get out of jail free card.
Morecambe line-up :
Ryan Shepherd, Nathan Hawkshaw, James Short, Phil Bannister, Chris Doyle, Ben Hardcastle, Charlie Joyce, Ryan Winder (c), James Riley, Matthew Parker, Kenny Taylor (Joe Bartlett 90).
Unused substitutes :
Sean Johnson (GK), Lewis Gardner and Sean Wilkinson.
United line-up :
Jordan Parker, Lance McGlen (c), Dale Minor, Josh Todd, Brad Staunch, Dillon Morse, Dave Symington (Patrick Brough 60), Jack Lynch, Mark Beck (Jamie Clarey 72), Alex Salmon, Brad Potts (Kyle Dempsey 72).
Unused substitute :
Tom Berwick.
Referee - Peter Leonard.
Assistants - Alistair Stewart and Ryan Gregory.
Youth Team Results : Click here

Youth Team Squad : Click here
Youth Team Table : Click here