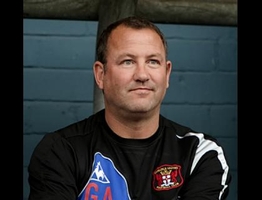 United boss Greg Abbott (GA) spoke to BBC Radio Cumbria's James Phillips (JP) following Carlisle's 0-0 League One draw at home to Scunthorpe, Abbott saying that it was hard to be critical of his players after the game :
JP
What have you been saying to the players after that one today?
GA
It is very difficult at the minute to be critical of the team, it is a probably a game where people are looking at it from the outside and they think we should win. In due respect, I think Scunthorpe now are getting themselves sorted out, they have got some big players, they have got a really big budget believe it or not and they will probably be OK next year and be challenging where we are.
So, in respect with the amount of games we have had I think it has been a terrific effort from the boys to get us in sight of the top six. It is not a good day results-wise today but we are feeling really low. We have got a point and we have felt in days gone by where these sorts of games against teams like Scunthorpe are decent results.
But, the disappointment in the dressing room is unbelievable, they are giving such an honest shift and such honesty in their performances that as a staff we can't ask much more. I just thought we needed something to happen for us today, there was a lot of endeavour, a lot of good attitude around the play but not that quality and not that spark that we have had in the last few games to be honest.
We have probably just found the ten games or so we have played in the last five or six weeks maximum just a little bit too much today. But, they are really on their knees, they are down and out in there at the minute in terms of the energy levels and we are going to shut them down for a couple of days, very, very light work for them. Then try to come back on Thursday with some spark and some energy back, because the last bit is the hardest bit.
They have been an absolute credit to be honest and we just couldn't find that goal today, it was always going to be a one-goaler, you could see that from the start. As much as our play merited it we just couldn't find that goal to maybe nick a win or ground out a win, and all credit to Scunthorpe for keeping us out.
JP
Mental as much as physical fatigue maybe?
GA
Both, yeah both, both. They have put in an unbelievable............. We have used near enough the same eleven players because of the depth of the squad and the way the eleven have done and maybe rotation now is something I have to think about because we needed some energy from somewhere. But, you can call it what you want and I don't want to make too many excuses but I am certainly not going to be critical of the players with giving that type of effort as they have done. It is not just today, it is over the past five to six weeks.
JP
Big question, what is the problem for Lee Miller?
GA
Yeah, I probably sound a bit down in my voice at the minute and I am because it looks like Lee has got a nasty groin injury that might see the back of him. But, I don't want to be too down with that and tell people that it is that because he is going to have a scan in the morning.
But, the big man is as honest and as brave as they come and he is not happy and Dolly (Neil Dalton) is not happy and I can tell the way they are talking to me and looking at me that there is going to be not great news tomorrow. So, I am going to prepare myself for that and that will be a massive, massive blow and that is probably in my voice of the tinge of disappointment to everything that has gone on, that is probably worse than the result today.
JP
Yeah, that could be the worse news so fingers crossed on that one I guess. In terms of the rest of the squad how is everyone shaping up after this run, I bet they are looking to a couple of days off?
GA
Yeah, they need to come out, to be honest we all do, and it has been an unbelievable slog. People from the outside look at it and think that it is an easy industry this, this is a really tough industry mentally, physically and the amount of effort and thought that goes into everything. The physical side from the players, the mental side from the staff, with the resources we have got it really grinds away at you.
At the minute we are probably thinking we just need a day away from this football club just to recharge those batteries and come back flying on Saturday. I know the crowd will be with us on Saturday because it is Charlton and it is a big game and they are powerful.
But, we have got to get ourselves ready for that and I think that game will take care of itself, then we are into the final run of the season. But, they have to keep going and they have got to keep believing and they have got to keep doing everything that they have been doing and see if they can get us over the line.
JP
In terms of that match against Charlton, I suppose as well when everyone is going to be a little bit tired and looking to get themselves up and hopefully not such bad news on Lee Miller, but whichever way that goes what you need is a really big game for everyone to look forward to. Not just the fans but the players in particular?
GA
Yeah, I mean Saturday will just take care of itself, it is going to be a big crowd, it is going to be a big performance, it is going to be a big match and this is what we said. We said if we can keep the season alive in the last three or four games of the season then we have done our bit and the season is more than alive.
We are in there scrapping and we are giving it everything we have got, we are now hitting on the reality of the depth of the squad and the importance of certain players to our team. But, listen, you know the team will come out fighting and scrapping and they will give everything they have got on Saturday to try to get that win that sees us still moving in the right direction.
JP
It is alright though because after you play the champions elect Charlton you have only got trips to Stevenage and Sheffield Wednesday to worry about?
GA
It looks like a doddle of the end of the season then, if anybody needed to cheer me up then you have just about not done it.
JP
In terms of the game today, we must focus on...... I know you don't like to go on individual performances but Tom Taiwo, are we starting to see the player that he might just turn into now?
GA
Yeah, I mean we knew what Tom can do, it is what he can't do that we are trying to improve all the time and that is to make him an all round better player. But, the one thing you can't take is energy and grit and people like that to break up the play, and then he is adding that passing to his game. We know he is not at the minute one that is the most creative, but that is coming and that is improving.
What he does is he gives you a platform for your other players that can do the other stuff, the chance to get forward and he is such an unselfish player. Listen, he is getting better, he is getting more mature and his type of player probably won't reach his peak until he is 26 or 27 when he has played 150 to 200 games.
JP
Also out there you made the decision to bring Lubomir Michalik in to the centre of defence and take Peter Murphy at left-back, did you maybe feel Matt Robson was just a bit short of match sharpness?
GA
Yeah, that was the only reason, but to be fair that was a decision that was absolutely right, we have kept a clean sheet and Murph has been terrific. Lubo has been ever so good, just a little bit wobbly at the end the pair of them, but listen, we have kept a clean sheet so you can't point any fingers at that decision. It is something we look at between now and the next couple of weeks, Matty is getting fitter, he is going to train tomorrow and Wednesday whereas the rest of the lads probably won't do as much and we will see where he is. But, there is certainly nothing against what the back four have done today for us.
JP
And just for any fans who may be a bit disappointed with the amount of chances created when you are pushing for the game, would you say it came down to the good efforts of Scunthorpe and also that sort of fatigue mentally and physically?
GA
Yeah, I don't think there can be too many grumbles, sometimes you have got to stand up and be brave and think about what the club has achieved and what the group has achieved. They have these performances, I have watched the Arsenals, the Manchester Citys, the Manchester Uniteds struggle to break down teams and they have got millions and millions.
£210 million I think Manchester City have spent and they are having a really tough time of it so for us spending our two and a half quid then you can expect us to have the odd performance which doesn't go our way. But, listen, I am not going to take credit away from Scunthorpe, fair play to them, scrapping for their lives, I think they have hit 50 points now so they are safe and they have put in a massive shift the same as us. They are probably at their wits end as well now looking for a break to recuperate and then gather their levels as well. So, at the end of the day, no complaints from me, I am certainly not going to be critical.
JP
You have obviously raised the biggest talking point now, the situation with Lee Miller, if that is bad news there is little you can do other than try to reorganise within what you have got is there?
GA
You are absolutely right, there is no magic formula, we have to look at a system now that suits the player we have got available, and maybe the system we have played today might not suit us without that big targetman that holds it up and gives us the platform to feed off him. So, we have to have a good look at that over the next couple of days, and I wanted a couple of days rest but I am obviously not going to get them now because I have got to put a gameplan in place that will cause Charlton problems, and that is the important thing now.

JP
Easier said than done of course?
GA
Absolutely.