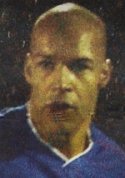 Preece: Miss of the season?

United remain six points adrift at the bottom of the league after seeing their unbeaten run shattered by York. Their 2-0 win was more comfortable than the scoreline makes it appear although striker Andy Preece will rue missing a sitter that could have brought the Cumbrians back into it.

Unsurprisingly Paul Simpson named an unchanged side from the team who defeated Boston last week. Ex-Carlisle star Darren Edmondson started his final game for the home side before suspension. A large travelling army of approximately 2,000 had made the journey from Cumbria.

City applied some early pressure with Darren Edmondson making a good raid to force a corner inside the first three minutes. United's first corner came on five minutes after Matty Fryatt appeared to push a York defender into the ball. However an infringement inside the box brought the Minstermen a free kick. Fryatt then beat two men and produced a left foot shot that was deflected out to McGill whose header forced a corner.

Edmondson was involved again on 13 minutes when he drove across the box but a final touch was missing. McGill went very close again when he met Preece's flick to head at goal but a touch from a covering defender brought another corner to the Blues. United kept the ball in the City half for several minutes as they forced another corner kick. Kevin Gray had to go off for treatment after a late challenge from Darren Dunning, who received a yellow card. A York corner on 28 minutes brought the breakthrough. Richard Hope won a header and ball floated into the net with no other touches evident, although City player-manager Chris Brass standing on the line apparently claimed it.

Hope towered above the Cumbrians' defence to win another header from a corner on 31 minutes as United came under more pressure. The Carlisle midfield was being mastered by the veteran Mitch Ward, who was making the home side tick. Simpson and Fryatt tried hard to set up Peter Murphy who let fly from distance but the ball flew well wide. Billy became the second man booked four minutes from the interval for a poor challenge on Dunning. The home team were good value for their one-goal half-time advantage, after having the upper hand for much of the game.

Fryatt tested York early on in the second half but keeper Mark Ovendale was quick off his line to deny him as he tried to wriggle through. But United's hopes all but evaporated within a minute as a quick move down the middle between Richard Cooper and Nogan gave Cooper the opportunity to hammer the ball past Glennon and extend the lead. United showed more urgency immediately and Arnison's ball was met by a good Preece volley that Ovendale was up to hanging on to. Kevin Henderson came on for the discomfited Gray with a switch to 4-3-3. The next action though saw a free kick punched out by Glennon as far as Lee Bullock whose shot brought a good save from the burly stopper who conceded a corner.

United should have got a goal back on 62 minutes but Fryatt's cross into the box was scooped over the cross-bar from barely 2 yards by Preece. The Cumbrians were looking more dangerous with the new formation but couldn't quite get the break that would get them back into the game. Preece fired well over after a good build-up. Craig Farrell replaced Fryatt with 11 minutes remaining. United still had plenty of ball but were looking like a beaten side.

Late on Billy delivered a cross but Preece headed wide. It turned out to be United's last chance.

Al's verdict: A big disappointment after taking such a large following to Bootham Crescent. It was inevitable our unbeaten run wouldn't last for ever and the big test now is how we react to this setback. The first half clearly saw the home team take a grip although clear chances were relatively few and far between. In the second half, United needed more quality in the opposition half but the early goal was a body blow and from then on, there was only really going to be one result. Preece should have pulled one back but it might have proved to be nothing but a consolation anyway.