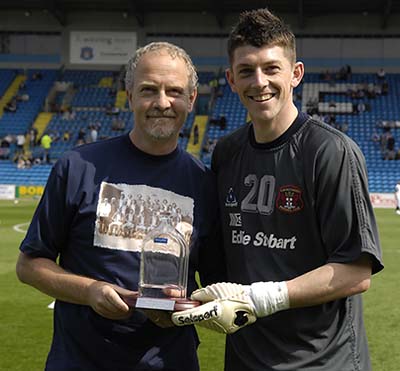 So, those of us who saw his first games in the Conference know that Keiren Westwood takes failure seriously. He played brilliantly in the tough away game at Stevenage and still beat himself up over their winning goal.
Watching Keiren improve over the following seasons was one of the greatest pleasures available as we stormed to two well-deserved promotions and he fought his way to a well deserved spot as the automatic first choice. His confidence and ability proved WE were right and Manchester City hadn't a clue, since they'd been the ones willing to consign him to the scrapheap.
When he made the Irish squad I can't say I was surprised to see him as an international. There was the odd pre-match banter about how "Irish" you could be with a Mancunian accent like that. But – by and large – the logic of what he did stuck with most of the people I go to games with. But recently….well, I wonder if he might regret the decision. Shay Given's return from injury has seen the man on fire and showing a hunger for the game befitting someone ten years his junior. Totally understandable when he thinks of players sitting on the bench as he plays for club and country.
The form of Joe Hart – England' current number one – brought about Given's departure from Manchester City. But it's debatable how much better Hart is than Given on his current form, and England fought their way to Euro 2012 qualification with Hart supported by Frank Fielding (the current #1 at Derby County) and David Stockdale (currently loaned by Fulham to Ipswich Town).
So – a couple of serious questions – are either of these two keepers better than the current bench-warmer at Premiership Sunderland, and, had Keiren Westwood decided to stick it out as English, would he have been fit to make the 23 man squad fighting to bring the European Championship back to England? I think he's certainly good enough to be in the reckoning, which means, at the back end of 2011, the only thing keeping him from an England cap would be the ability of Joe Hart's body to withstand injuries.
The most response I have ever had from one of these columns came when I discussed the woeful state of English goalkeeping. So it's obvious that a lot of people care about this issue as much as me, but the current debate in the press seems to concentrate mainly on the tonnage of foreign keepers at our major clubs and the ongoing calamities that have befallen the likes of David James and Robert Greene. Those of us who saw Keiren Westwood climb from the reserves to the point he was a magnet for scouts from other clubs got some insight into the way a player of real potential was disregarded by a major club, nurtured by a smaller outfit, and eventually brought to the point of delivering on the clear potential he showed from the start.
It's not an isolated story. Peter Shilton – England's most capped keeper – is one who has spoken out about the way goalkeeping coaches on the continent seem to bring out more in their charges than many British coaches. The cash crop they raise has been harvested by some of our top clubs and now we are faced with a situation in which Arsenal, Manchester United and Chelsea all have first choice keepers young enough to be looking at five to ten years more at the top and good enough to play against England should the need arise.
I might have missed it, but I don't believe any sports scientist or detailed television documentary has recently revealed a good biological reason why British keepers are genetically inferior to – say – Spaniards or Italians. In fact, if there is any genetic superiority to be gained in goalkeeping it comes from height and we have enough Viking genes in the British pool to produce plenty of potential goalkeepers. If anything, the Mediterranean countries should be behind us in that. So, it has to be down to coaching.
When I interviewed Tony Elliott for this column a while back it was obvious that he – in common with many goalkeeping coaches working in England – is passionate about his work and dedicated to bringing out the very best in the keepers he takes on. It's also obvious he knows what he is doing and has the ability to bring on good, talented, players.
He isn't alone, and the fact that keepers like Joe Hart – who learned things the hard way at Shrewsbury – and Keiren Westwood do come up through the ranks proves we still have the ability to develop international goalkeeping talent within the current league structure. For my money the problems start once that talent is leaving the group of "good" keepers and bordering the "exceptional" category. At that point, it seems, our top clubs would sooner buy, than develop.
And that takes us to a situation where some English keepers – like Stuart Taylor – can spend the best part of a career in the Premiership and remain anonymous because others are bought in and placed ahead of them in the rankings at their club. It is expensive to develop good talents to the point they are genuine international standard and goalkeepers are different.
Outfield players say so, their off-pitch eccentricities say so. But, also, the behaviour of our top clubs says so. With more money in their transfer budgets than would have been thought possible a couple of decades ago, and a crop of good goalkeepers being nurtured in Europe, (ironically by clubs close to their homes who still value local talent) our game has suffered from a lack of investment where the coaching of top domestic goalkeeping talent is concerned.
The current state in England – which for a long time had the reputation of producing the best goalkeepers on Earth – is the best evidence of this. And – frankly – I think in the current climate Keiren Westwood would be good enough for the England squad, even if a Belgian keeper is keeping him out of the first team at Sunderland. It'd be interesting to know whether he agrees, and how Irish he feels these days.
Neil Nixon continues to write about Carlisle United. His most recent Blueseason book is available as a paperback and as an Amazon Kindle download. His website can be found at www.neilnixon.com