You Can't Take Carlisle From the Boy
First off a warning; I've got a new book out and some of what follows is the usual shameless blather that people like me give out in such circumstances. But then again….WTF happened 43 hours into the season?! Give it a break, I'm out here trying to be inventive and play up the dramas of last season in a book and that lot on Warwick Road go and trump me with a real stunner. I've traded ideas in cyberspace - including my newish membership of United's Facebook page - but I'm not about to give you definitive chapter and verse on why he went here. Because, basically, I don't know. Anyway, anything I might say wouldn't get past the Footy Mad legal department. I will say the following:
1 - Macca worked with Sam Allardyce who denies everything they say about him and transfers and has the money to hire decent lawyers. He's a great guy, big Sam. So I've heard, like. So the 'Macca wants to be like Sam' argument must be referring to Macca's ambitions to boss a big club.
2 - I've met Macca too. He struck me as determined, focussed and a man anxious to do a good job. In other words, no idiot.
3 - I'd also say the same about Fred that I just said about Macca.
None of the above means I'm that well in with anyone. I'm just sharing the bits I know. So there's rumours, possibilities, and -basically - wall to wall confusion. I'm believing nowt I hear in a crowd, on a message board or over a pint until the documentary proof follows it. The good news? Well, when Fred has to make a tough call he does, and when he has to dig for the club in terms of putting in the work or coughing the cash for a transfer, it seems he's willing to do so. If we're forced into rapid managerial changes for reasons we don't know we can - at least - console ourselves that it's not Knighton all over again. We know that part of Simmo and Macca's successes were good assistant managers and the current caretaker team will hold it steady at least. So will the current mobile, fast and goal hungry strike force. So I'm stunned, but not panicking. Good season on the cards, I think. That new Wembley looks nice, for a play-off final, or the Johnstone's Paint Trophy final.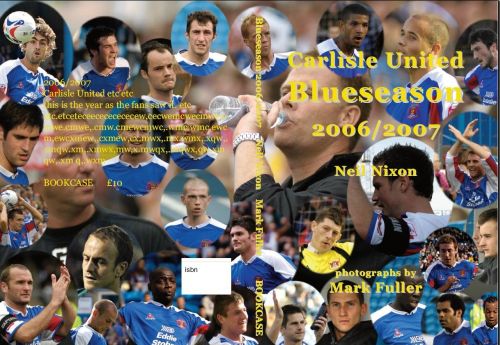 Okay, that book thing: Last year Books Cumbria asked if I'd be interested in trying an annual book, covering Carlisle's season. Match reports, gossip, other stuff as appropriate, fairly short, affordable etc. Obviously I said yes, I also suggested they contact a good photographer - like Mark Fuller. The result, Blueseason 2006/2007 came out a week before Macca's last game in charge. We were so confident he would stay we made his picture more prominent than the others on the cover! Thanks to those of you who've bought the book and taken the time to e-mail your comments. This is not Singin' The Blues it's more an account of a season but it has some decent pictures and does also gather the best of the gossip and a couple of laugh out loud stories from the crowds.
If you're up for a copy and exiled you can get it online at: Books Cumbria: http://www.bookscumbria.com/cgi-bin/trolleyed_public.cgi?action=showprod_2835
Failing that it's in Bookcase, and Bookends. Last I heard the publisher was 'talking' to the club about putting copies in their shops. Amazon should pick it up around mid-September.
Okay, I'll see you in a month or so, we'll still be in a play-off place, obviously.
London Branch:
http://www.carlislelondonbranch.org/
Neil's site:
www.neilnixon.com