Match of our Days
By Al Woodcock
Updated Sunday, 5th January 2003
Views: 1397
United don't get on TV that often, but when they do they briefly become the focus of attention, none more so than in their rare appearances on the Beeb's Match of the Day. We look at the history of CUFC on MoTD.
MATCH OF OUR DAYS

United have appeared 13 times on Match of the Day

Carlisle United are not the most over exposed club when it comes to television coverage. It usually takes a special occasion for camera crews to head up to Brunton Park. With the demise of the BBC's Match of the Day in 2001 as a regular Saturday night programme, our chances of appearing on the famous BBC flagship programme appeared to be gone forever. Just recently of course we were being lined up to appear in the Third Round of the Cup against Leeds United but that chance disappeared with replay defeat against Scunthorpe. In the past, United have recorded a total of 13 appearances on what is now recognised as a national institution, a Saturday night fixture since August 1964, a few months before I myself was born. So there now follows a complete rundown of United's televisual fame, with Match of the Day as the main feature:

THE COMPLETE MATCH OF THE DAY RECORD:

1969-70 v Huddersfield (away)
1971-72 v Birmingham (away)
1972-73 v Arsenal (home)
1973-74 v Orient (home)
1974-75 v Chelsea (away), Liverpool (home), West Ham (away), Mansfield
(away)
1976-77 v Oldham (away)
1977-78 v Man Utd (home)
1984-85 v Man City (away)
1996-97 v Sheff Wed (home)
2000-01 v Arsenal (home)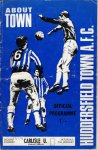 Programme for United's 1970 visit to Huddersfield

Carlisle United made their Match of the Day debut on January 31 1970 when they visited Leeds Road to play Huddersfield Town in a Second Division match. The Terriers, top of the table at the time, claimed a 1-0 win thanks to a Stephen Smith goal. That first appearance back in 1970 was the only time we were introduced by the old Match of the Day signature tune, which was called "Drum Majorette", a less well known ditty than the now very familiar "Match of the Day" which replaced it for the start of the following season.

I found an interesting article by the late Sam Leitch who used to be the producer of Match of the Day in those days, which was in an old Topical Times annual where he referred to that Huddersfield match. An irate viewer apparently wrote him a letter saying whoever had decided to put on Huddersfield versus Carlisle "needed their head examining". Leitch explained that there was a quota of games which meant the Second Division had to be featured a set number of times per season as well as the Third and even the lowly Fourth. Match of the Day used to truly represent all stratas of the game, unlike today of course. Whatever the rights and wrongs of that decision back in 1970, it was made and it marked United's first truly national appearance on "The Box".

We made another away appearance on MoTD in 1971 when their cameras followed us to St Andrews for an early season clash with Birmingham City. Promotion contenders tended to be picked for games in lower divisions and Brum did indeed go up that season. They won this contest by 3-2, with United's goals coming from Bob Hatton and Stan Webb, so the Cumbrians were still winless on the Beeb up to that stage. What's more, City were so impressed with Hatton, that they bought him a few weeks later. Never mind, we went out and bought Sir Stanley Bowles OBE as a replacement for a bit of loose change from Crewe - a fantastic bit of wheeler-dealing, eh?

And so to February 24 1973 and the home FA Cup tie with Arsenal. This was the first televised game I ever attended, as well as being the BBC's first visit to the cathedral of football that is Brunton Park and it was an absolutely awe-inspiring afternoon. Arsenal were top of Division One when the game was played having gone to Anfield a fortnight previously and beaten Liverpool 2-0. They had a bit more difficulty with us, but then again, we were some team in those days! Alan Ball scored in six minutes when we failed to clear a corner kick but we got back into it before the interval when Dennis Martin headed home John Gorman's cross - a beautifully taken goal. Frank McLintock eventually ended our resistance with a late winner but this was at least a tigerish Cumbrian performance captured on the cameras for a nation to appreciate. Barry Davies, complete with make-up (yes the commentators actually wore make-up), was the man behind the mike.

Within a year the Beeb were back. Carlisle had finally attained the status of bona fide promotion contenders so the home clash with fellow top-flight wannabes Orient was an important game and the cameras were all there, arranged at the front and back of the main stand and on a scaffolding platform behind the Waterworks End. This time they captured a Carlisle victory that had all the qualities associated with Alan Ashman's teams of that era. Skill in the shape of Chris Balderstone who laid on the first two goals for Frank Clarke and the bustling striking attributes of Smokin' Joe Laidlaw, who hammered home the third in the second half, right in front of where I was stood in the Warwick Road End. I remember a Parka-clad youngster running on to the pitch to pat Joe on the back. Such innocent times. The 3-0 result set United up for a thrilling climax to the season in which we all know now that Orient drew their final match with Aston Villa at Brisbane Road to allow us to go up by a point.

Les O'Neill scores at Stamford Bridge

The following season, with Cumbria now boasting a top-flight club for the first time in history, the Beeb were keener than ever to feature the small club who had defied the odds from the northern tip of the country. United's so-called "country cousins" or if you prefer "rustic rebels" were the star attraction on the opening day of the season when they ran out in front of Chelsea's new multi-million pound cantilever stand. This game was undoubtedly United's most famous MoTD appearance. Bill Green stabbing in a Balderstone free kick at the second attempt after a mere 106 seconds - the fastest goal of the season! Then in the second half, the yellow shirts of Carlisle swarmed forward again and Les O'Neill, picked out by Dennis Martin's crossfield ball deceived the Chelsea keeper John Phillips with a cross-cum-lob. Did Les mean it? Hard to say, but it was watched by millions on TV who could make their own minds up. Chelsea 0-2 Carlisle. Within a week we were top of the Football League.

United went on to make a record-breaking FOUR appearances on MoTD that season, including the visit of Liverpool in October which marked the return to action of Kevin Keegan after his FA ban which was imposed on both himself and Billy Bremner for their infamous sending-off at the Charity Shield. The final view of Carlisle during that campaign was at Fourth Division Mansfield in the FA Cup in February when Bobby Owen struck the only goal at Field Mill to take the Cumbrians through to the quarter-finals for the only time in their history. "Carlisle show their First Division class," ran the words of the commentary. Unfortunately we didn't remain in First Division company for much longer.

As United descended gracefully towards the Third Division their trip to Boundary Park to play Oldham Athletic was recorded for posterity in the autumn of 1976. The only man to enjoy the game much for the Cumbrians was full back Steve Hoolickin who scored our only goal against one of his former clubs. Unfortunately the 4-1 defeat was rather typical of many of their results that season under Dick Young and Bobby Moncur and relegation was the outcome.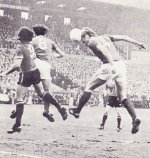 McDonald equalises against the Red Devils

By the time the BBC's outside broadcast vans trundled into Brunton Park again in January 1978 for the mouth-watering FA Cup clash with mighty Manchester United, the Cumbrians were half-way down Division Three. Three years earlier, they had been a division ABOVE the Red Devils. With an all-ticket sell-out crowd, and 7,000 fans from Manchester packing one half of the Paddock and the whole of the Waterworks End, the ground was crackling with atmosphere. Those massed ranks of Mancunians were celebrating within three minutes. Lou Macari took advantage of a rare Allan Ross slip-up to side foot the FA Cup holders into the lead. But within 10 minutes Carlisle had scored a sensational equaliser. George McVitie's free-kick was floated to the far post where the pairing of Ian McDonald on Stuart Pearson proved unequal. McDonald nodding back across goal into the opposite corner past Paddy Roche. A great trademark header.

Close to half-time, with the score still 1-1, Brian Greenhoff was caught out by a Mick Tait pass, put up his hand to stop the ball and received a red card. Greenhoff's walk of shame to the dressing room was to set up a tense second half, in which the home side dominated possession but couldn't find a way through the visitor's defence although McVitie had a valid-looking claim for a penalty when he was brought down inside the box by Ashley Grimes. Unfortunately BBC viewers didn't see any of that, as a technicians strike meant the whole of the first half and none of the second was shown. There was no Jimmy Hill, no studio pundits, just the action. Thankfully the key incidents were all in that opening half so the drama of the occasion was there for all to see. The replay went Manchester's way by 4-2 and was shown on the midweek Sportsnight programme.

Unfortunately after that United didn't get any televised MoTD exposure for seven years. That was criminal! Criminal that the young Peter Beardsley was never shown to a nationwide audience. Criminal that the 83-84 side who managed a sustained bid for promotion should be ignored totally and criminal that we only got on in February 1985 because of postponements at other grounds.

Maine Road was the venue and the promotion-chasing Manchester City side of Billy McNeill were at home to United's struggling team who had done so well the season before. This match marked the debut of Jon Blott in the United goal. Blott made only one other appearance for the indisposed Dave McKellar. Some years later he was jailed after admitting a string of rapes.

Blott was picking the ball out of the net after just two minutes when David Phillips hit one of his trademark rasping long-range efforts past him. But by half-time Carlisle were level when Paul Haigh's cross was met by Mally Poskett. Into the second half and the Cumbrians moved in front when Ian Bishop combined with Don O'Riordan to score. Poskett's second goal was the icing on the cake - a deserved and totally unexpected victory for Bob Stokoe's men - but we didn't get another featured game on Match of the Day for 12 years.

Various changes to the format of the programme meant our chances of getting on it were much reduced and the coming of the Premiership left us needing a juicy FA Cup draw to have any chance. In 1994-95 we were down to play Spurs if we could win a replay against Sunderland and the BBC chose our tie as their live Sunday afternoon game. Unfortunately the Mackems took the replay 3-1 at Brunton Park to leave our Championship side starved of television exposure. But two years later we got on again.

After knocking out First Division Tranmere Rovers in Round Three, Mervyn Day's progressive 1996-97 team were paired with Sheffield Wednesday, managed by David Pleat, in the Fourth Round. Jon Champion commentated as the Premiership side proved too tough an obstacle. Lee Peacock wasted a glorious early chance and after that Wednesday gradually assumed control with Guy Whittingham and Andy Booth claiming the vital goals. Mervyn made a particularly suave looking appearance afterwards when he was interviewed by Champion with 50s-style slicked-back hair.

In January 2001 Ian Atkins had taken over at Brunton Park and although his side were six points adrift at the bottom of the Third Division they earned a highly-lucrative 3rd Round tie against Arsenal, at the time second in the Premiership. Sylvain Wiltord drilled in the only goal, although the match was far more memorable for Richard Prokas's controversial challenge on Patrick Vieira, which brought comdemnation from certain sections of the media. A rare case of a United player suffering "trial by television". Prokas escaped even a booking as it seemed the referee missed the incident, although he had plenty of chance to review it on the telly afterwards!

There's no doubt we will be on the box again and indeed many more televised appearances on the various ITV channels and Sky have been left out of this article because they are really too numerous to mention. ITV screened United more often than Match of the Day but the Beeb's flagship footy programme is still the show to get on.

DOWNLOADS:

The Match of the Day theme (1082k)
Bill Green's goal v Chelsea (979k)
Les O'Neill's goal v Chelsea (1137k)
Ian McDonald's goal v Man Utd (1013k)
Richard Prokas tackle (631k)


APPEARANCES ON ITV/SKY:

1964-65 v Mansfield (home-Border)
1966-67 v Coventry (away-ATV)
1967-68 v Everton (home-Border)
1972-73 v Fulham (away-LWT)
1974-75 v Luton (away-LWT), Newcastle (away-Tyne Tees), Wolves (away-ATV),
Fulham (home-Granada), Everton (home-Granada), Derby Co (away-ATV)
1975-76 v Chelsea (away-LWT)
1976-77 v Wolves (away-ATV)
1979-80 v Sheff Utd (away-Yorkshire)
1981-82 v Portsmouth (away-Southern), Fulham (away-LWT)
1982-83 v Fulham (away-LWT)
1994-95 v Birmingham (AWS Final-Border*)
1995-96 v Wycombe (home-Border*)
1996-97 v Cambridge (away-Sky*), Mansfield (away-Sky*), Colchester (AWS
Final-Sky*)
1997-98 v Preston (home-Sky*)
2004-05 v Burton (home-Sky*)
2004-05 v Morecambe (home-Sky*)
2004-05 v Halifax (home-Sky*)

* Signifies live coverage


Interact with us