Missing the same four players with minor knocks as they had done in Saturday's 3-1 defeat against Warwick Wanderers it meant the Blues were once more left short of options as Tom Berwick, Pat Brough, Jack Lynch and Alex Salmon all watched from the sidelines on yet another soaking wet summer night up at Raydale Park in Gretna.
The young Blues therefore lining up in the same diamond formation that they had done in that disappointing loss, only with the addition of a new face in a trialist at left-back in place of Dale Minor while there were a few other changes in personnel across the starting eleven:
Jamie Clarey - Greg Peel
Declan Watson
Connor Hammill - Connor Thomson
Kyle Dempsey
A Trialist - Brad Staunch - Dillon Morse - Brandon Gwinnutt
Jordan Parker
3 mins - United's trialist sends a ball in from 30 yards out on the left which Peel heads straight at Queens goalkeeper James Atkinson from the middle of the box.
9 mins - Queens attack. Pat Slattery fouled in the corner by Gwinnutt, Ian McShane swings the free-kick in which bounces unguarded across the Blues six-yard box before Shaun Handling nods it in from close range, 0-1.
10 mins - Queens attack. Handling low drive from 20 yards out gathered in by Parker.
12 mins - Clarey to Watson to Hammill across the face of the visitors box, Hammill low shot in from just to the left of 'D' seems to go through Atkinson a little on its way into the net, 1-1.
23 mins - Dempsey makes a good run forward and plays in Peel for a side-footer across goal from just inside the box on the right which pings back off the base of the far-post and into the arms of Atkinson.
24 mins - Dempsey corner in cleared out by Scott Hooper, Staunch half-volley from 22 yards out pulled well wide of the target.
25 mins - Queens attack. McShane sends a deep ball into the Carlisle box from which a free Steven Black heads wastefully wide of the back-stick from the middle of the Blues box.
32 mins - Dempsey sends Clarey away down the right, cross into the box which is slightly behind Watson and so he pulls his 15-yard volley narrowly wide of the near-post.
37 mins - Queens attack. Handling cross in from the right, Staunch heads out, Liam Park powerful half-volley from the edge of the box well tipped over by Parker. Dean Smith corner in, Gregor Anderson close range header flies away from danger off the shoulder of Staunch.
39 mins - Queens attack. Pacey Smith away down the right-hand channel before cutting in for a well hit 20-yard drive which Parker does well to parry behind.
41 mins - Anderson pass to Handling, shot from distance which he pulls wide of the Blues near-post.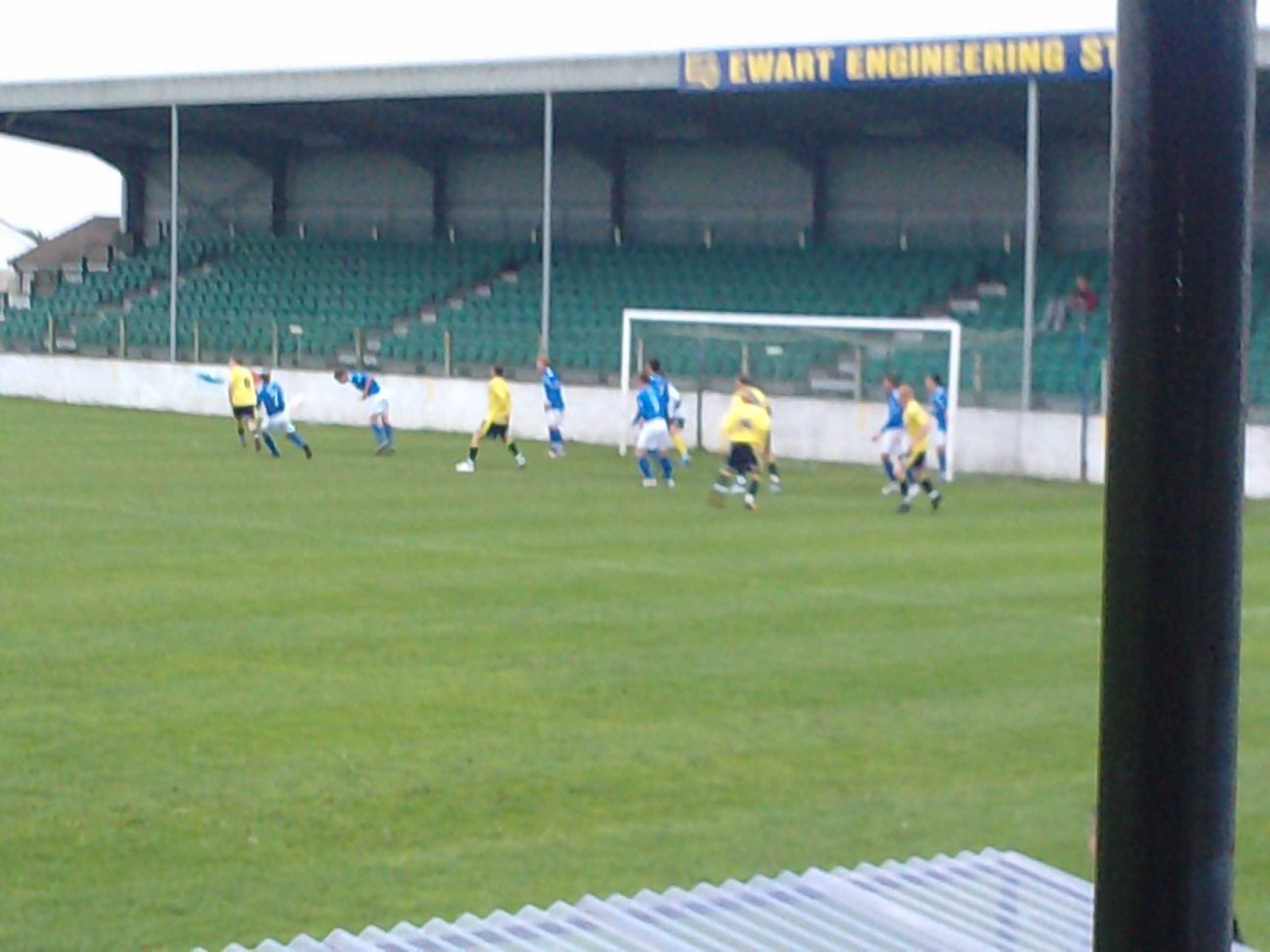 46 mins - Queens attack. Handling pounces on a loose ball on the edge of the Carlisle box before seeing his shot bounce away from the target off Staunch.
47 mins - Queens attack. Handling in possession again, 20-yard effort across goal zips wide of Parker's right-hand post.
49 mins - Carlisle substitution as Dale Minor comes on for Morse, Minor goes to left-back and the trialist moves into a left centre-half spot.
53 mins - Queens attack. Park feeds a pass through for Malcolm Burgess who bundles the ball over the top of the trialist only to be stretching as he then thumps a 12-yard drive well over the top.
58 mins - Another change for United as Evan McEvoy comes on for Clarey. The resultant shuffle around mainly seeing Watson move upfront and McEvoy go to right-back in place of midfield bound skipper Gwinnutt.
60 mins - Queens attack. Staunch foul on Handling 28 yards out to the right of the 'D'. McShane, the visitors man of the match, swings the free-kick in but Hooper heads well wide from the middle of the Cumbrians box.
63 mins - Queens attack. Good run forward by Park, doesn't get hold of his low 20-yard drive though and Parker easily takes.
64 mins - Queens attack. Slattery plays in Burgess on the edge of the Carlisle box, Burgess half-volley on the turn well gathered in by Parker diving away to his right.
65 mins - Carlisle make what proves to be their final substitution of the night as Danny Dixon comes on for Hammill in midfield.
68 mins - Queens attack. Park cross in from the right chested down by an in space Dean Crozier to an also unmarked Handling in the Blues 'D'. Handling lashes at his half-volley though and it zooms away over Parker's crossbar.
75 mins - Queens attack. Handling pass to Burgess fully 35 yards out, Burgess half-volley from there disappears away well wide of Parker's right-hand post.
75 mins - During the break in play the visitors make a change in personnel as Connor Graham comes on for Crozier.
80 mins - Staunch chip into the edge of the Queens box, Gwinnutt unlucky to see his excellently hit goalbound scissor kick ping away from danger off the legs of an unsighted Black.
82 mins - Queens make their second and final substitution of the game as Park is replaced by Ross Hunter.
83 mins - Peel works hard to rob possession off Hooper 18 yards out before hammering a low drive into the net beyond the reach of Atkinson, 2-1.
85 mins - Queens attack. Dempsey foul on Handling 35 yards out on the right. McShane once more swings the resultant free-kick in but Black is only able to head well wide of the target from around the Blues penalty spot area.
86 mins - Queens attack. McShane charges into the right-hand side of the Carlisle box off the back of a Burgess lay-off, fantastic sliding block by Staunch 12 yards out denies him just as he pulls the trigger though.
88 mins - Queens attack. McShane again the danger man as he makes a good run forward only to pull his 22-yard drive wide of the target.
90 mins - Queens attack. Minor fails to stick his boot through a cross in from the right by Handling, with the ball in a cluster of bodies eventually flying up off Minor's hand for a clear penalty. McShane steps up to take it and while Parker dives correctly away to his right the spot-kick is too powerful and it flies into the corner of the net, 2-2.
90 +1 - About ten seconds after we kick back off the final whistle goes.
No-one could deny Queens a draw and to be honest they perhaps even deserved a little more after shading the game with some easy on the eye football from some useful looking youngsters. As for United four goals conceded in the last three minutes in three of their last four friendlies is certainly a habit the lads need to get out of. Their next two chances to do that coming on Saturday morning at Blackburn and then next Tuesday evening at home to an Annan under-20s outfit in their final two pre-season matches.
United line-up :
Jordan Parker, Brandon Gwinnutt, A Trialist, Dillon Morse (Dale Minor 49) Brad Staunch, Kyle Dempsey, Connor Hammill (Danny Dixon 65), Connor Thomson, Declan Watson, Greg Peel, Jamie Clarey (Evan McEvoy 58).
Unused substitutes :
Lewis Brass (GK) and Jake Chisholm.
Queen of the South line-up :
James Atkinson, Steven Black, Gregor Anderson, Liam Park (Ross Hunter 82), Scott Hooper, Pat Slattery, Shaun Handling, Dean Crozier (Connor Graham 75), Malcolm Burgess, Ian McShane, Dean Smith.
Unused substitutes :
Euan Drysdale (GK), Matthew Coombe, Ross Gray, Craig Neill and Liam Weir.
Youth Team Results : Click here

Youth Team Squad : Click here
Youth Team Table : Click here