I honestly haven't watched it in years, and it's not really something that gets talked about a lot in football matchday programmes, but something new happened on EastEnders on New Year's Day. That being that on the evening that Pat Evans died the soap opera for the first time showed the Olympic Stadium in its opening graphics, with a BBC spokesperson saying: "As we say farewell to a legend of over 26 years we welcome in what will be a truly remarkable New Year in E20 by adding the Olympic Village into the opening title sequence."
It might, probably not, be interesting to see how the EastEnders script writers deal with having the Olympics around and about their patch, but what goes in the stadium after the Olympics will be a lot more interesting to the real locals, some of whom will be here at Brunton Park today supporting Leyton Orient. The original deal for West Ham to move in post-Olympics collapsing in October, with legal challenges from Tottenham Hotspur and Orient themselves, alongside the Olympic Park Legacy Company (OPLC), government and mayor of London agreeing that the stadium would remain in public ownership being cited as two of plenty of reasons for the deal dying.
The situation of who and what after what promises to be a fantastic two and a bit weeks of sport in the summer doesn't seem to have become any clearer either recently. Infact it could be, albeit an unlikely thought, that it isn't football that ends up at the stadium with Andrew Altman, the chief executive of the OPLC commenting two weeks ago:
"We welcome football but it's not solely dependent on football. There are combinations of other sports, concerts and activities that can also provide revenue. What we are going out for provides maximum flexibility for the public sector to make sure we return value for money. We are just looking to see how we can populate the calendar with as many things as we can that can be compatible and work together."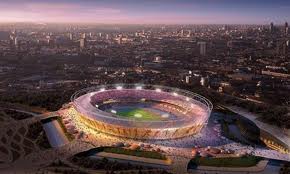 The fact that the retention of the athletics track is non-negotiable seems to be a stumbling block for some but with the OLPC setting a deadline for 2014 for new tenants to move in to the stadium the clock is ticking away. Altman has said though that there has been interest from two Premiership rugby clubs, believed to be Saracens and London Wasps, an American football team and there has been an enquiry from cricket as well, with Essex the county side tentatively involved at this stage. Again though, as far as Essex are concerned, it's that running track causing problems as it would need to be either turfed or artificially turfed over in order to make a large enough playing surface.
It's tough to see how the stadium won't be a drainer on the public purse though unless a big football club is involved there. Tottenham however lost out to West Ham in the first place last February after saying that they would rip out the athletics track and start a football ground from scratch on the site, while at the same time investing in the traditional home of athletics, Crystal Palace, to therefore leave an athletics legacy. That idea wasn't a go-er in the eyes of the OLPC and Spurs have now got their eyes firmly on the 'Northumberland Development Project', a project which would see a 56,250 capacity ground built on an expanded area on and around White Hart Lane.
So, we're at a bit of an impasse at the moment with West Ham the only big football club to have an interest in taking the stadium on, but Leyton Orient are understandably extremely unhappy about the thought of a big club moving in on part of the supporter catchment area of the O's. Perhaps to help negate the chances of the Hammers in making their move from Upton Park, Orient themselves in October applying to become tenants only to, like others, have concerns about the athletics track.
Orient chairman Barry Hearn last week on SKY Sports before their game against Charlton describing the stadium as 'a disaster for football' and heavily suggesting that the O's won't be on the move there due to that non-negotiable track and the infeasibility of putting seats on it. So, where we go from here is anybody's guess, West Ham are looking like the only answer but with the majority of their fans seemingly against the move, there are plenty of twists and turns to come yet. Suffice to say in this country we seem to have got ourselves in another mess as far as national stadiums are concerned.