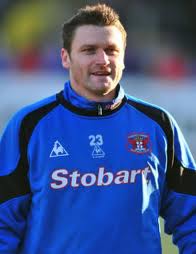 United goalkeeping coach Tony Caig (TC) spoke to BBC Radio Cumbria's James Phillips (JP) this evening ahead of the pre-season friendly at Workington, Caig first talking about a return for him to a club where he spent a season as a player :
JP
Here we are then, the latest friendly and against a club who you were playing for recently, what is it like being down here?
TC
Yeah, I mean it is good to be back, I mean people are very welcoming when we come down here, they make it a good game for us and as ever it will be very competitive because a lot of the lads that are playing at Workington have been at Carlisle in the past and they are looking to try to prove a point. Which is good for us because it gives our lads a really competitive game.
JP
And they are a team who play just one level above Kendal, so they are sort of a gradual step up in the standard of opposition as you build up towards the season?
TC
Yeah, I mean we try to play as many Cumbrian teams as we possibly can because geographically it helps us out building up to Barrow on the weekend. But, like I say, Kendal to tonight, which will be a tougher game tonight definitely going into Barrow, so yeah, it should be good.
JP
And is it nice to be able to come here and not meet a sort of plot the downfall of your former team, you can just go out there and work on various things and the result I guess isn't quite as important as a good performance?
TC
Yeah, I mean we will have two different elevens out tonight and there are one or two trialists sprinkled in there as well, so it is a good opportunity for them to show us what they have got. It is good to get our main players a good bit of fitness and game time in a competitive game. It should be a good run-out for us because as ever Workington are always quite tough.
JP
Did you ever have to go on trial in your playing career?
TC
Once yes, I went to Hibs for a couple of days many years ago, I had a couple of days there and then got sorted out from there.
JP
It must be so hard for these lads who are out there tonight?
TC
Yeah, I mean it is getting more difficult every year, there are more players available this year, there are hundreds available so the players that are starting to get put to teams at our level two or three months ago probably wouldn't have been put to us. But, now you are getting a higher level and a higher calibre player who are looking to get themselves fixed up for the coming season.
JP
And what is it like when you are trying to blend them in with the players who are themselves trying to get fit and ready to pick up where they left off last term?
TC
Yeah, I mean it is difficult for the players coming in on trial to kind of blend them in with us because they are really looking to just to try to impress on a personal level. The rest of the lads that have been here who are under contract for this season and beyond know how it works now in pre-season, how the manager (Greg Abbott) works and how we all are together. It has got to be a quick learning curve for the trialists.
JP
And as we started we will now finish off for now with you, great to be back here at a club where you had a very, very happy time with them and got on very well with everyone involved?
TC
Yeah, I mean I can't speak highly enough, I mean I came here and unfortunately it was only one season. I thoroughly enjoyed my time here and we had a relative amount of success in the FA Trophy and in the league getting to the play-offs and just falling to Alfreton in the play-offs. But, you know, I really enjoyed it, made me feel welcome, it was very professional, the lads went about their business in a good manner and it made for a good year.