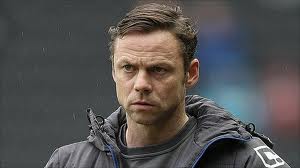 Oldham boss Paul Dickov spoke to BBC Radio Manchester and his club's official website after his side's last day of the League One regular season 2-1 win at home to Carlisle, Dickov saying the Latics were desperate for that Boundary Park victory :
"We were desperate to finish with a win, too often this season we have let the fans down and disappointed, especially at home, it has been a few games coming so we were desperate to go out on a win. I can't speak highly enough of the youngsters who played today, I would have liked to have played them a bit sooner. I wouldn't say it was easy for them today but the pressure was completely off, so they can go and express themselves.
"The likes of (James) Tarkowski, (Kirk) Millar, (Carl) Winchester, (Connor) Hughes, (David) Mellor, it really bodes well for the future now because they have played ever so well. If we can keep the team that was out there today, all the young boys are contracted for next year, and the squad that we had today, and add good quality additions to it then it sets us in good stead for next year.
"All of them are talented boys, but what they need to do now is grow up, and when you go out on a football pitch regardless of how old you are you have to be a man and make the right decisions and be mentally tough. They have had a taste this year and next year we are really looking for them to kick on because we believe that they could be big assets to the team here.
"I want to try to build something for the future here, everybody wants results straight away but with a young squad you are not always going to get it. But, in a way with the injuries we have had it has been an achievement staying up this year with the young kids we have had."
"Tarky (Tarkowski - first goalscorer) is a threat from set-pieces, we just want them to do what we work on sometimes and that doesn't always happen in the heat of the game and everything else. But, the pressure was off them today, it was on them because we wanted to win the game, but all the pressure was on Carlisle today and we wanted them to go out and express themselves and show the fans here that we are building for the future and that we have got a decent team.
"It was credit to the players that were out there that after they equalised we came back and won the game, because too often this year we have gone ahead and ended up drawing or losing the game. So, on that account it was nice, they came back into it and even after we scored we threatened again.
"I have just had a chat with Oumare Tounkara there and it shouldn't take me to leave him out of the squad last week to get a reaction from him. He has not quite hit the ground running since has come in Oumare Tounkara, but like he was when he came on today with the bit between his teeth at this level is a proper handful.
"We will sit down with him in the summer and see if we can do anything with him next year because we know what he can do, we all love him, and no more so than me, the players, the staff, everybody around the football club alike. I don't mean it in a nasty way as he is a lovely kid but he needs to get nasty for his size and his strength and his pace when he is on the football pitch."
"Shefki (Kuqi) is here next year unless he comes and tells me that he doesn't want to be here next year. As much as the goals haven't come for Shefki recently I don't think anybody can question his commitment to the club, and the way that if things aren't going well for him he will work his socks off and that has got to be the mandate for everybody that plays here.
"There are a lot of people coming up to me and saying that I can sit and relax now we have got the last game out of the way. But, this will be my busiest time, I think I have got nine days off over the summer period so it will be nice to get away and relax, but no doubt I will be working when I am away anyway. So, we will sit down and reflect now on where we have gone wrong on a lot of occasions this year, as we have been doing in the last few weeks anyway.
"I know it has not been good enough, starting with myself all the way through it. We need to get players through the door and possibly a slightly different structure in place next year, because the nucleus of the team that we have had this year was more than good enough to be further up the table. I have said to the boys well done today, but it is not going to paper over the cracks, because we knew where we have gone wrong, we know where the team has gone wrong and we want to put it right next year.
"It is never nice letting players go though, I first experienced it last year, but I have got to do what is right for the football club and that is all I want to do. There are players that are going to be disappointed and there are players who are going to be offered contracts that we don't know whether they are going to take them or not, so the building starts now for next year.
"The fans have been fantastic, me more than anybody else understands the frustration that they have had this year, especially from Christmas onwards. I am not going to make any excuses for it but we have won one today, and as I say, it doesn't paper over the cracks. So, we will be doing all we can, everything we can, to make sure that we can put it right next year."