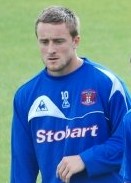 United man of the match Matty Robson (MR) spoke to BBC Radio Cumbria's James Phillips (JP) after Carlisle's 1-0 defeat at home to Leyton Orient, Robson saying the Blues were disappointed to come out of the game with nothing to show for their efforts :
JP
Man of the match today but on a day when you get beat I suppose that doesn't mean quite as much as it often does?
MR
No, it doesn't, if it had been on Saturday then it would have meant a whole lot more, obviously we are disappointed that for all the effort we put in today we have come away with nothing.
JP
What do you think was behind that today? Why could you not find that way through to goal when you seemed so likely to score in the last few games?
MR
It wasn't through lack of effort really, we chucked everything but the kitchen sink at them really. They defended well but the ball just didn't land in the right place for someone to smash it in the back of the net.
JP
At times their goalkeeper (Lee Butcher) the young lad looked a little bit dodgy with some of the flaps he made at it. Chris Lumsdon was saying in commentary to just get a few shots at him because he looked like he would throw a rick in, but is it a compliment to the way that Leyton Orient defended that they stopped you getting too many opportunities to have cracks at goal?
MR
We picked up on that in the game that the keeper from down there (Jamie Jones) wasn't playing, and down there he was magnificent. So, we saw it as a chance to get crosses in and give him a test, and he was a bit shaky but the lads in front of him are obviously experienced enough to help him out. They didn't really come and attack us really, they got us on the break and again he (Jonathan Tehoue) mishit it when he did score. But, it was just frustrating really, we were all disappointed in there that we didn't get any points out of the game.
JP
A strange one isn't it, a fortnight ago one of the most exciting 0-0 draws you are ever likely to see, today though because of the way Orient played at times, a largely boring for fans 1-0 defeat for Carlisle?
MR
It was, they sort of killed the atmosphere really by the way they were playing, for all our effort they were nullifying our attacks. It is hard on the fans wanting to come and see a bit of excitement but in football you don't always get that. It wasn't through lack of effort with the work we were putting in but we will hope to put it right over the next two games.
JP
Disappointed dressing room after the match to have let that good run of form that the club had started to build up towards the end of the season slip away like this?
MR
Yeah, I mean obviously we wanted to go the remainder of the season unbeaten to get a number of points on the board and hopefully solidify our place in the top ten. It is still possible, we have got two games left, six points to play for and we will be going for the six points. But, there is a bit of disappointment in there, but I am sure it won't take long for the lads to pick themselves up and we will go again.
JP
We must talk about your goal two days ago, the big dipper back out, your free-kick, you must have patented that style of free-kick taking as very few people can do that?
MR
I think I have said before, it is obviously having the confidence in your ankle really, because you have got to keep your foot pretty much straight. Sometimes it pays off and sometimes it doesn't and Saturday (at Rochdale) was perfect really, it went in and looking back it was a fantastic game there. A big credit to the fans coming down as well, they chanted all the way through the game and it was just disappointing that we couldn't continue that on here today, and it is something we will look to address in the next game.
JP
And also quite brave from you as you say, if you hit the floor, and you can do with that style of free-kick, you really can hurt your ankle doing that, but also pushing Lubo Michalik off the free-kick, you are taking your life into your own hands there aren't you?
MR
Yeah, I am sure he will be on the next one after this one didn't go anywhere near the goal. So, he will be stamping his big Slovak hands over me to get off the next one. But, it is just who feels confident on the day, we all know Lubo can hit them as good as anyone but on the day whoever wants it will take it.
JP
Of course a great way to win a game it was two days ago, sadly couldn't repeat that today, likewise Carlisle United with a defeat this time around. Two games left now and you will I am sure as players want to end the season with a flourish and sort of set yourselves up for next year?
MR
The word momentum has been said a lot recently and that is what we wanted to do, we wanted to continue the way we have been playing and carry it on to next season. Obviously a little blip today but we won't let that affect us, we go to Dagenham, and no disrespect to Dagenham, we go there and send them down. We have got a job to do, we are not going to take our foot off the gas, no-one else would do it to us if we were in the position that they were in. So, we want to go and try to get all three points and come back away from there.
JP
And just one final one on your future, still to be resolved exactly what will happen going into next season, I know the fans would love to keep you here, I am sure as you have been saying you would love to stay as well?
MR
Yeah, I have said I would love to stay, I have had a very positive two years, if you had said to me two years ago that I would have played over 100 games I would have thought you were taking the mick. But, I have thoroughly enjoyed it here and I am just waiting for something to be thrown my way and then we can start talking through it and hopefully negotiate something positive.