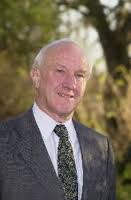 Carlisle United Director Lord Clark of Windermere (LC) spoke to BBC Radio Cumbria's Tom Burrows (TB) early this week, Lord Clark first looking back on the 2011-12 campaign for the Blues :
LC
It has been a very good season, at the beginning if we could have seen Carlisle end up in eighth position then we would have been delighted. But, it was a disappointment because we were so close and the opportunities of playing the big teams in the Championship would have been marvellous. But, anyhow, there is always next year and we have got a good squad, and when Rory Loy is back, when Lee Miller is back, when young (Chris) Chantler is back we have really got a good squad then, and I think we can really do something next season.
TB
Are you confident as a director that the club will be able to hold onto those key players?
LC
Well, you can never tell of course, I mean at least one or two of them, or possibly three of them are under contract, so we are alright for the timebeing. But, by and large if a very big club came in for any players it is only to fair to the players to look at the offer and see if we can make some money and buy some other players. But, that isn't on the market at the moment, we are just intent on keeping the squad together so we can make progress next season. That is the priority of the directors.
TB
So, if a big offer did come in you would have to consider it though?
LC
Well, that has always been the policy at Carlisle because it is only fair to the players. Because, players come to us sometimes from biggish clubs, very talented players, and I think they have an understanding and a sense that if a major club comes for them, I am talking about a big club and puts a big offer in for them then we would look at it. But, at this stage that isn't on the table, we want to keep the squad together, we want to keep our good players.
TB
What about adding to the squad? Is there going to be money available for the manager to further improve the squad?
LC
Well, next season is going to be difficult in that the all the League One clubs and the Championship clubs, the amount of their wage bill will be related to the size of the crowd. In other words, that clubs will not be able to overspend themselves. But, that still causes a difficulty, I mean at Sheffield Wednesday at the weekend they had 38,000 people there, now we only dream of 10,000 at Carlisle. So, you are up against it, money is going to be tight as always, but players come and go and there are always changes. We have never stopped Greg (Abbott) signing players that he has wanted in the past, but next year is going to be tight, no doubt about it. That is why we want to keep the excellent players that we have actually got.
TB
In regards to additional players, do you think again next season will be a case where it is perhaps loanee signings as opposed to permanent deals?
LC
Well, that has always been a way forward for League One clubs in recent years because you can get some real quality young players from the Premier League clubs, and they have got star quality, and sometimes they end up like Liam Noble signing for us. So, you have got to look at that route, you have got to look at every route really. Because, the one thing we are determined at Carlisle as a board is that we are going to run the club sustainably. We want to make sure the club is here to stay as it has for the past number of scores of years, and therefore we are not in the business of running up huge debts. We have got to try to make sure we cut our cloth to suit us.
TB
Very narrowly missed out on the play-offs this season, I mean how much did Carlisle United need to be in that top six?
LC
Oh, it was very important, not only for the fans but also for the players and also for the finance as well, because you do get a lot more money if you go up into the Championship each year from the Football League, so that was important. But, the key point was it was really to give our fans the opportunity to see our team playing against teams like Wolverhampton Wanderers and possibly Bolton, possibly Blackburn, big, big mega teams and that would have been a real thrill for our fans, and our players. That is what we wanted to do and that is what we want to do next year.
TB
Do you think that is quite a realistic goal for next season?
LC
Yes, I think it is, I mean we have shown this season that we were nearly there, and if we hadn't lost Lee Miller I think we would have been there, who knows?
TB
Obviously, the fans were quite optimistic, I know the odds were against you in that final game but 1,729 travelled to Oldham, what would you say about the travelling support?
LC
Oh, the travelling support is marvellous, we must have one of the largest percentage of our usual crowd who go to away matches, and when we go to away matches it is not like if you are Oldham and you are going six miles to Bury. Every journey is 50, 60, 70 miles, that is the minimum, and many are hundreds of miles, and we have probably the best travelling support of any club in the Football League.
TB
What would you say to those fans who perhaps haven't been going to the games this season?
LC
Well, I mean the answer in a sense is that if we want more players we will have to have bigger crowds, that is going to be one of the rules of the Football League in essence. Because, as I say, the amount of money you pay your players is related to the attendances you get at the gates. So, we will need people to come back, and being fair in Carlisle we did have this dip in season but towards the end of the season as the excitement grew the crowds grew as well. So, compared with last season we are just about the same in terms of the average crowd.
TB
As a director how disappointing was it for you that Carlisle didn't quite make it this season?
LC
Well, it was a real disappointment that we didn't go up, at the beginning of the season we planned to try to get us up, we thought we were going to do it, the injuries to our strikers of course were severe setbacks for us. But, we still thought we had a chance even up to the last game, so it was a disappointment and a lot of planning isn't going to come to anything, but on the other hand it has been such a great season. We have come eighth and we are well poised next season to do even better.