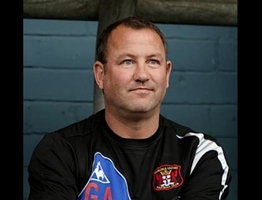 United boss Greg Abbott (GA) spoke to BBC Radio Cumbria's James Phillips (JP) following Carlisle's 3-1 League One win away to Yeovil, Abbott saying the victory was an absolute credit to the players:

JP
It is a miserable night here, it has been a miserable day in terms of weather but I am sure it doesn't feel quite so miserable for you this evening?
GA
It has been a miserable week to be honest, we have just said in the dressing room how tough the week has been because of all the stuff that goes on outside the ground. But, I think an absolute credit to the players today that have produced a really, really good determined, honest, hardworking, sometimes good, really good in terms of quality performance. We have got a six hour journey, I said to make sure we are not going home for six hours with nothing and you are giving the snipers the chance to really get their voices going. But, it was a really, really good reaction from the players today.
JP
And after especially some people had suggested they weren't giving you that sort of reaction, how important was it to get a performance and a display like that from your team?
GA
It doesn't surprise me if you look at Brentford and Preston, what has happened is we have produced some nonsense performances at home and people have seen the worst of us at times this season. On our travels we are pretty alright and we have probably got a decent away record that is up there with anybody's. But, that is then where if people only see you at home they can only say what they see, and quite rightly some of the performances at home have been weak. But, it was a tough one today and I am absolutely delighted.
JP
When a team is having a tough time like Carlisle have been, having so many kids in might not always seem like the most obvious thing for a manager to do, but the kids just looked absolutely fearless out there for you?
GA
It is not ideal, let me tell you now, it is brave from everybody but they are good players so we want to go in and we want to go out with them. But, I thought Brad Potts, I know Mark Beck has got his goals but Pottsy was immense in midfield, he has put in an unbelievable shift. We lost David Symington a little bit towards the end of the game but he was wide on this right, we don't like him when he is away from us, we like to play his game for him.
But, he could have scored the fourth goal with a tremendous run and Becky has scored two fantastic goals. So, that is what we are at the moment, we are young, we are inexperienced, we are still waiting for the experienced players to come back to give us that group strength and we think we will be alright, well we know we will be alright because there is a really decent team in the making.
JP
The whole performance was a response, but when they get one back the fact that it took you just two minutes I think it was to go up the other end and restore your two goal lead, what did that tell you about your players?
GA
Don't tell me we meant that, if I could order a goal every time somebody scored it would be fantastic.
JP
But, their heads didn't drop and they didn't cave in I am saying.
GA
Their heads don't drop, sometimes things go against them in games but their heads don't drop. We have made mistakes as the season has gone on but the dressing room is fantastic. This is what I need to tell people out there and I hope they just believe me, I will tell you when the dressing room is not right because it will be time for things to change. But, the dressing room is absolutely fantastic to a man, sometimes we under-perform but it is nothing to do with the state of their heads and the mindset in the dressing room.
We have just hand an awful run of injuries, an awful run of bad luck at times, sometimes we haven't played as well as we need to do, fair comment, I give you that, but the heads in the dressing room are absolutely superb. I don't expect any different from them, that is their job, out there their job is to go out and play football and they enjoy doing it and they try their best. At times sometimes this season it hasn't been good enough, but today it certainly was.
JP
At times it takes a performance, but you have had some good performances in and amongst the tricky run you have been on, but without getting a win, today you got both?
GA
Yeah, if you look at the Preston and Brentford, which was a really tough week when we thought we were terrific in both games, we could have had certainly four but easily points. Then the whole picture of the table and the club and everybody looks totally different. But, you have to earn your wins and we said that if we keep working hard and we keep believing in what we are doing and we are right on the training ground and we prepare right then we will get our day. Today was our day and we have got that and it is a start, it is a start for improved performances where confidence will grow and momentum will jump and we will be alright.
JP
The first step on a recovery now such as it is?
GA
I am not so sure, I mean if that is what you want to call it then it is. You need to get that win, we have had three defeats on the spin, probably the only one we should have got beaten was the one at home. But, listen, we haven't got beat, this is a win, it is an important win because the state of the table and the state of our points tally looks a lot healthier. We can't wait now for next week, we can have a breather with that, next week is cup week, we have got another two weeks to get another couple of players fit and ready and further down the line. So, we will be stronger and we will have a bit more depth to the group. So, it is a really important performance.
JP
Having that break again, is it helpful or would you like a game on Tuesday just to keep a bit of momentum?
GA
You are having a laugh aren't you? We need a break honestly with the problems we have had. It just gives us a bit of time, we have got one or two players nursing serious problems, not serious problems but problems that stop them playing. So, the last thing we need is game after game after game, and to be honest it would kill the kids as well, even though you would think they will respond as quickly as anybody. You can see what that took out of David and Mark, at the end they were absolutely on their knees but they are entitled to be after 90 minutes hard graft.
JP
One thing you said a week ago is that nine of the eleven players didn't win their personal battles, do you think you maybe took eleven today?
GA
Well, you have just said eleven so I am agreeing with you, if you have said eleven then I am agreeing with you, I don't think there were many that came up short today.
JP
How do you get that then a week on?
GA
I don't know, I will have to go and check the bottle, check the recipe. We just keep working hard.
JP
Because, these weren't poor Yeovil by any stretch?
GA
No, of course they are not, you have just seen how strong Doncaster are with their performance, they have beaten somebody 4-0 out of sight. So, it just put it into perspective where we are, I said this after the Bury game that Bury would have a run and look what they are doing now. They are tough games, all these teams are tough, everything you get you earn and our team earned the win today. What we have got to try to do is regroup again, work as hard as we have done this week in training and put Bournemouth under a hell of a lot more pressure than we did the other week.
JP
There were 3,300 people there on Tuesday who were still with you clearly with the way that they reacted, there were those who have lost faith, do you think you can win those people back if you can keep getting this?
GA
Like I said, that is their opinion, over four years we have done wonderfully well, wonderfully well right. So, if we are going to make rash judgements after three games then maybe that is a little bit premature that situation and that statement. Football is a little bit fickle because in three or four weeks times if we have won six or seven games then I will be everybody's favourite and the group will be everybody's favourite and the players will be everyone's favourite. At the minute we are not winning enough games so that is the response you get, but I can't help that, that is people's opinions.
JP
How happy were you with the way, happy or not, I will leave you to volunteer the opinion, with the way that your side defended today?
GA
It was difficult today wasn't it, you have seen goalmouth action at both ends and balls zipping across the grass and smashing into the goalkeepers and sliding across the floor. It was difficult conditions but we defended the goal well I thought.
JP
Happy with that because that has been one of the problem areas hasn't it?
GA
Absolutely delighted, I thought you were taking the mickey. No, it is tricky today isn't it with the wet grass and the rain and all that. I thought Adam (Collin) has parried a couple, their goalkeeper (Marek Stech) has parried a couple, it was one of those days and you just hope that when you did parry because of the speed of the ball and the wetness of the pitch and that, that you got a defender there to clear it.
I think we did, I think we made some great tackles in protecting our back four, I thought Mike (Edwards) and Danny (Livesey) were excellent to be fair, but I thought Brad and James Berrett has probably defended as well as he has defended all season in front of him.
JP
And that was the point I was getting on to because with the scrutiny they are under as well as you as a manager with the goals your team has conceded, they were so much more solid against a team who have been scoring goals?
GA
Yeah, it is something we have to improve on, but like I said, in open play we have defended quite well for a few weeks, the set-plays have been killing us. At least today we have scored from a set-play and I don't think we conceded from a set-play did we, so much better.
JP
I know you want to get away but I must just ask you quickly about Valentin Gjokaj, I am sure you are probably happier I said that one for you, what can you tell us about your new defender?
GA
I thought he was a dancer. Listen, I have had a good chat with Sean (McGinty) as well and explained the situation to Sean. So, now we have got two players there that are both 6'1 that can both come in if we need them. I think experience with the amount of young players that we have got, it is vital that we get as many of them on the pitch, but we have got two there that are ready to play. He is a tough, aggressive centre-half and one of our old favourites thinks a lot of him in Richard Keogh, so he has come into the group, he has enjoyed what he has seen so far and let's see where it goes over the next month.