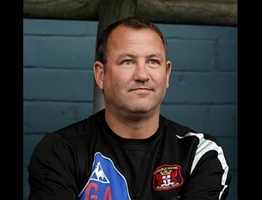 United boss Greg Abbott (GA) spoke to BBC Radio Cumbria's James Phillips (JP) following Carlisle's 1-0 League One win away to Tranmere, Abbott saying that the Blues are in a great place at the minute:
JP
You must be absolutely delighted, you have just come here and won at the League One leaders?
GA
Yeah, I mean we are in a great place at the minute in terms of the dressing room and what we have worked all on week. We changed things round and people might have thought there are some changes there, and we have proved today that we have got a squad, we like the whole of the squad, we think everybody is going to play a part.
I have said that from the start of the season that we need everybody in different circumstances. You see the state of the pitch, that is not conducive to playing midfield football and passing football, it is a pitch where the team that makes the fewest mistakes is going to win. I thought we were absolutely outstanding today in our work-rate and our way that the gameplan that we set out to play right from Tuesday has worked today.
This team is resilient, Tranmere are resilient, dogged, doesn't make mistakes, doesn't give anything away, and they have got confidence and momentum going and we have been the better side today in my opinion. We have been the better side today and fully deserved to go away from here with three points.
JP
Talk us through how you thought you managed to get that today, what was it that you did that Tranmere didn't, these are the league leaders, they have been flying, they have been beating teams that you wouldn't expect them to, not beaten you guys today though?
GA
Yeah, but listen, give credit to Tranmere because they have done something that we have been striving to do for four or five years. They have got similar resources to us, they have had tough times but this season they have been magnificent. We said today that everything will be going their way, they run, they work, they don't give up, even right to the death they are still trying to get the goal with ten men.
But, today I thought our gameplan worked fantastically well, everybody was up for it, that is 13 points in our last 7 games you know, that is probably as good as Tranmere's form. We believe that when we get all our players fit we are a decent side. We can defend, today was our best defensive performance of the season, forget anything else, it was our best performance defensively as a unit.
I don't think they created anything, they did have efforts on goal, don't get me wrong, but as in terms of tearing us open and looking like they were likely scorers I thought that was not the case today. They won us the game as well today did our defensive performance and our determination.
JP
People are going to talk about the red card and say that was the turning point in the match, but that almost does you a disservice doesn't it?
GA
We were better than them to it, the red card ruined it, we were on top by a country mile. The red card actually evened it out because we then, we get our goal, we think we are going to win the game, we sit back, we invite Tranmere on top of us. They have got that crowd behind them, they have got energy behind them and we were not really too fussed with the red, we would have rather played eleven v eleven because then you are top of everything, you have got to keep going the way you were. I thought they probably had as good of it as we did after the red card, and up to then I thought we were the better side.
JP
What did you make of the red card? It was a barmy decision from the player (Jean-Louis Akpa-Akpro)?
GA
It was right in front of us and we were staggered that he just kicks out at him (Frank Simek). In this day and age you just can't do it, he has got no complaints, it is something he will regret, it is something that might hurt Tranmere later on because it is a three match ban. But, that is Ronnie (Moore's) problem, he has got enough good things going on, he will deal with that because he has done a fantastic job here with this group of players. We just venture on to Stevenage next week and try to continue our good form.
JP
You must have been smiling inside at me when I was asking you about why Rory Loy hadn't been involved in the press conference on Friday, knowing that you were going to use him today, and what an impact he had?
GA
Yeah, I mean it is a game for Rory because we needed some pace up the top to put Tranmere's players under pressure and we got that from him and he got his goal. He run out of steam in the end which is obvious, but, like I said, we are going to need the whole squad. I am not going to tell you on a Friday what team I am playing, I will give you as much as I can in other things. But, that might have just surprised Tranmere a little bit today and certainly Paul (Thirlwell) was included and I thought he was absolutely outstanding by the way today.
Brad (Potts) is having a time where he is hitting a period where we thought he needed a little breather, and as you have seen by the pitch and the type of game it was, it was a blood and guts and thunder and a game for experience heads. I thought their best player was Andy Robinson and he is one of their oldest players. Sometimes that experience is invaluable and I thought today it was a perfect time for him to come in. I thought him and Bez (James Berrett) in midfield, especially up to the red card were absolutely outstanding.
JP
Loy in particular getting that goal, it must be huge for him, it was a bit of a scuffer but what Chris Lumsdon said in commentary was that if he had it fully it probably wouldn't have found its way in?
GA
It was better than David Symington's goal last week because it got us three points, and that only got us one.
JP
At Tranmere as well?
GA
At Tranmere. No, listen, there are good things that will be said about us this week, so let the players take a few plaudits. We have come under a little bit of scrutiny as the season has gone on, but there is still a long way to go, I think it is 17 or 18, whatever it is, games left to play, and if we can have a powerful finish we can bring back that optimism and that belief that we know is there. We don't think, like I said, when we have got the full complement, that we are a bad side.
JP
How important has the addition of Sean O'Hanlon been to your defence, I know that they do it all as a unit and there wasn't a bad performance from one to eleven from your team, but he is a bit of a beast in there isn't he. At times when they were pinging it forward to their smaller strikers your defence just looked like beasts next to them?
GA
Do you need me to answer that? Do you need me to answer that question?
JP
Please do.
GA
Yeah, I know you want me to but I think your question is answering it. He has been immense, that is one goal in the three games he has played and I think that is seven points out of nine since he has been with us. So, he has been a really good addition and we are delighted with him, and we have got four centre-halves now that really on form any two from four could play in most teams in this division we think they are that good.
But, they haven't proved it this season, we have had lapses there but there is competition now and they are all hungry and they have all got to fight for their place. Like I said, I am not bothered which two play as long as it is nil against my name and against our team's name every week. Fair play to Sean since he has come in, he has been a good character, the players like him already as a person. Uncomplicated, James Berrett type, comes in, trains and goes home, comes in, turns in, plays a match, goes home.
JP
Like in the Coventry game there was that delightful chant of 'United, United' from those travelling fans, you must really enjoy nights like this on their behalf?
GA
Yeah, I mean it is all about the fans isn't it, it is their club, not my club you know. Players and managers and staff pass through but those fans will be coming for another 20 or 30 years hopefully, and some of the younger ones even longer. So, it is their club, they need to see it develop, they need to see it run properly and on the right lines. Our problems this season have been exhausted in the press, I hope everybody knows where they are with it.
But, we are going to come through everything and we are going to be better and stronger, and like I said, whoever is playing, whoever is managing, it is the fans' club and I hope it progresses, It is certainly a club I want to just give everything I have got and a bit more so that they can go home and enjoy their trips out and enjoy coming to watch us week in and week out.
JP
Is this the sort of result that makes football worthwhile when you have those dark days and dark periods that then you come and beat the league leaders on their own ground?
GA
Well I have had Saturday nights and you can imagine with some of the interviews you have found difficult when I have been 3-0 down at home two or three times this season and a lonely person. Tonight I might have a few friends and I might have a few people saying well done, which is a much nicer change.
I think we are over the worst of it, but a lot of hard work to do, we want to finish right up there, we want to push our way up the table and keep winning and keep the fans believing. Because, preparing for next season as well, it is important to be ending this one right in preparing for next. There are short term goals and there are medium term and there are long term, and everything matters, every single game matters and today is a good one for us.
JP
What is the situation with Chris Chantler, just not quite making it once again with his injury?
GA
He couldn't change his sunbed appointment, so he has altered that now and he will be available hopefully for next week.
JP
Come on, what is the situation, is it going to be a problem for him?
GA
What, his sunbeds?
JP
His injury.
GA
No, he is going to be fine, listen, he needs a bit of time, if we keep playing him he is going to run the risk of getting a long term injury which sees him out for the rest of the season. So, you know, we are going to let it heal, he wants to play so he is not that far away but there is a ligament that is slightly torn in his ankle and the other ligaments are protecting it. But, Dolly (Neil Dalton) is conscious that if he gets one bad blow on it now after the two bad ones that he has had that that might be the end of him. The last thing we need is to be without Chris because he has been superb.
JP
And ahead of a few midweek games for you, with him and the likes of (Danny) Cadamarteri and others still with knocks, how important is a full week off ahead of the Stevenage match?
GA
Well, I think we are going to get prepared for some long trips aren't we, we have got some midweek games, some long trips, some important games. So, you know, we are coming into sort of the last third of the season if you like, you need everybody available and we are in a decent position with that, and numbers-wise we are OK as long as people are fit. So, it is vital that we don't take silly chances and risks with players that are valuable to the team.