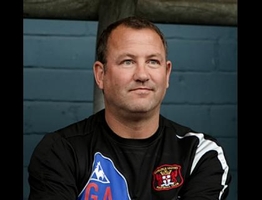 United boss Greg Abbott (GA) spoke to BBC Radio Cumbria's James Phillips (JP) following Carlisle's 4-0 League One defeat away to Swindon, Abbott saying the result was down to the difference in quality between the two teams:
JP
What did you make of that today?
GA
Big difference in the two teams wasn't there with the quality. We think the last four games with a bit more luck and the improvement with the performances we have had we could have probably won four on the trot and we would be coming into similar what Swindon is. But, they are off the back of two 5-0 wins at home and playing very, very well, they are very strong to be fair and they showed today their strength.
Maybe the game was one too many in a short space of time for our players who have literally done the whole lot. We don't rotate do we, we haven't got enough players to do the rotation, and the ones that have played have played the whole lot. Today we looked tired, couldn't get close enough to Swindon and came up against a really, really decent side.
JP
In terms of the goals, I mean it could have been anything the score couldn't it, we counted 11 good chances that they had, I mean I know they are rampant at the moment but was it a bit concerning how easily they were seeming to get at you today?
GA
Yeah, we were second best weren't we, there is no excuses for that, I have told the players what I think and to be fair they have agreed. We have eight days now where we need to sit back off the pace a bit, take stock of the games we have had in the last few weeks, the couple of weeks, or few days, and regroup and bounce back like we have done several times before.
But, we couldn't get close all over the pitch, we were way off, we allowed them too much space, too much territory, and then they pass it because we don't get close enough to stop the balls. You are right, there were more chances to make it more goals, but we started alright, better second-half for the 15-20 minutes before the goal. I mean the third and fourth goals were terrible goals, really, I mean we were in possession, I mean both of them really comfortably.
It makes it difficult for me to comprehend what sometimes goes on, and then what happens then, it gets to three and four, is that heads drop, there is nothing you can do about that, it happens to all teams, and we get well beaten in the end. But, apart from the last four games we think we are improving, we have got to treat this as a one-off situation, we have to bounce back against Coventry. It is another team that is going well and get back on the right lines.
JP
Is your reading of it then that it was just a game too many against a team who, I mean they made three changes today which is a nice luxury to be able to do that after a 5-0, is that the feeling it was, just one game too many and hopefully with this break now you can just draw a line in the sand under this one?
GA
Yeah, I mean I am not just going to brush it away, it hurts, I mean that is probably the most vociferous I have been in my career at half-time, managerial career at half-time. Because, it is alright, I am asking players to help me but they have got to help themselves, they have to help themselves. I stand and take responsibility for everything, but I think there are a few players in there think they maybe could have offered a little bit more.
If it is fatigue then it is fatigue but it is only part of the problem, it is not the excuse, the only excuse, we were second best in quality, second best in determination. Yes, fatigue might have played a little part of it, we looked leggy, Rory (Loy) certainly looked leggy and Lee (Miller) was out on his backside, the young players, Brad (Potts) has found it really, really difficult in these last couple of games and I hope people don't get too carried away with him.
He will come again and he needs to probably come out for a bit, but needs must and we have had injuries to other players and he has gone in and he has done a sterling job, but today even form the start he seemed really lost and dumbfounded by the whole situation. As did others, I think they have thought, well this is a club that should win and we have come here and we have sort of allowed them to win a little bit too easy. We should be showing them respect, well we should be showing respect but we should be certainly thinking we are a capable side on our day.
With the four performances we have had we should be better that, and if we are saying, or I am going to say there might be a little bit of tiredness in there, which is a justifiable statement, but it is not an excuse, it is not the reason that we got beat. We got beat because they were a better side than us and too many managers would play down and say that, it is easy for me to say we were tired, I am not going to use that as an excuse. It is a contribution, but we got beat by a better team.
JP
It seemed like you tried to adjust with bringing off Potts at the stage that you did, I mean you had to obviously with Mike (Edwards) picking up the injury, you seemed to go to the diamond, then you seemed to try more 4-42, was that just trying to find a way just to stop them coming at you time and again?
GA
Well, we have to try to find the best system with the players we have got available. When we have got four midfield players against two we should dominate that area and we didn't, even with four in there we didn't. So, that makes life really, really difficult because the flaw in the diamond is opposing full-backs. Now, if you don't have the ball they are going to get it and we have to keep it better than we did, and we just didn't keep the ball well enough.
So, we changed to 4-3-3 to stop the full-backs getting out, it didn't really work because we still didn't get on the ball in the middle of the pitch and get the ball up to Lee with any sort of quality, he was chasing dead balls really for the first sort of 45 minutes. Then you think, well, a 4-4-2 against a 4-4-2, let's go man for man and try to match them and stop them that way, but they were better than us today and it doesn't really matter what system you play. If teams are better and want it more than you and appear to have more energy than you then we are going to struggle.
JP
With that apparent more energy, you have just said there that the four couldn't dominate the two, how does that happen then and what can you do about that as a manager when you set up to try to win the centre of the park battle and it inexplicably doesn't happen?
GA
Well, you know, that is where you have got to have players that have got to be better on the ball. You have got to keep the ball better than that, I don't know what the thing is about Swindon and the situation, whether because they have had the good results, but we gave it away, we just smashed it. I mean certainly our centre-halves just kicked the ball anywhere for the first-half and didn't get any quality on it.
Then the midfield players that were so hurried in possession, which is so is unusual of the three that we have got in there, certainly Bez (James Berrett) and Nobza (Liam Noble) and Brad is a much better player than he has shown today. So, you surrender that formation because we haven't passed the ball well enough.
JP
Is your job a lot harder than Paolo Di Canio's, we know because he has got more players to look at, but I don't want to get into like squads and budgets with you and I don't think the fans want to hear about that either. But, when he is saying he is very confident that he has done his homework, he is saying in his programme notes and I heard him this morning talking about the fact that he knew where your threats would come from and he could stop them. Is there less for him to look for in terms of your threats because there are so many different varieties and variations and things that they can do, is it harder for you to almost prepare for what they could do because they could just throw in something different?
GA
Listen, on paper they have got a stronger squad, you are right, let's not talk money and budgets and finances, they have got a stronger squad than us, simple as that. So, we have got to find a way of trying to stop them with our lesser quality of squad. But, on our day we have proved we can be a match for anybody, so we can't use it as an excuse, but the top and bottom and black and white they have got a much stronger squad, it is much stronger.
Look at their bench, just have a look at their bench and that tells you how strong they are. So, it always is going to be difficult coming to powerful clubs like this and these at the minute are powerful in this league, they might go three or four years and not be so powerful, they weren't two years ago, they got relegated. But, they have found that strength in resources and quality of squad and depth of squad, so they are a powerful outfit at the minute.
JP
It is now nine times this season that you have conceded three or more goals, I know today is a bit of a one-off game, it is a bit of a culmination of things, but it is nine times you have you let in three or more, that can't continue can it otherwise you are going to struggle to get anything out of anything?
GA
Yeah, but the last four games we have looked much better, take this one out of it and you are right, we are going to have to put this now as a one-off because we have been a little bit better than we have, and certainly defensively we have been a little bit better. It is an area of concern, absolutely for sure.
JP
246 fans made it here today, a few of those who were here today have said that as fans they deserve better than this, what would you say to that and to them in particular?
GA
I absolutely agree, I thought the fans were our best player today, they were absolutely fantastic. It upsets me because I know, I am from a humble background myself, I know how much it means to fans, I know how much it costs and it hurts me and it has got to hurt the players as well, it has got to hurt us that they spent that money and probably feel a little bit undervalued today.
JP
And there is a kid in here saying it was £17 for juniors to get in today, I can't believe that, but paying that and coming all this way to do this, it just puts it into focus for you I am sure?
GA
Well, you can't blame the £17 on me I am afraid, but you can blame the performance. Listen, I have just said that I think they feel undervalued and I would agree with every single one of them.
JP
With the break that you have got now, how important is it that you get a performance against a team where you got one of your better performances this season earlier?
GA
I just know we will, we will, , that is what we are and again there has not been too much response to what I have had to say, which I suppose makes me feel a tad better. I wasn't cutting any corners and I wasn't pulling any punches. We will see where we are next Sunday.
JP
And you are confident that you can get a reaction, I know that you have got them in past, are you confident that you will get it from the players who just couldn't seem to find it when they needed it today?
GA
I have no choice, that is the players I have got so they have to react otherwise they are going to find themselves in a little bit of trouble as well. So, as a group we have to do it together, it is not any one man, it is not any one individual, not me, not one player, not one member of staff. It has to be a collective effort and we have to be collectively a lot better than we were today.