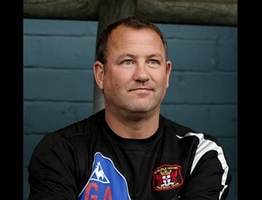 United boss Greg Abbott (GA) spoke to BBC Radio Cumbria's James Phillips (JP) following Carlisle's 1-0 pre-season friendly win at home to St Mirren, Abbott saying it was a decent game of tempo :
JP
You have just beaten a Scottish Premier League side, you must be delighted?
GA

Yeah, we are, I mean we have played a couple of these teams before in the past and found them really good friendlies, nice and competitive without being daft. That was a real decent game of tempo and some nice tackling without any nastiness in it. It is perfect probably for St Mirren, it is certainly perfect for us and it was our first real test against quality opposition, and we have come out unscathed and reasonably happy with our performance.
JP
Another game where you have not conceded a goal, that must be one of the things that you are happiest with?
GA
Yeah, I mean it is something we have to improve on, well every team has to improve on it, you don't want to concede any goals, but that is five pre-season games now and even though the opposition that we have had previous hasn't been spectacular there has been a Conference side away from home on a dodgy pitch and there has been a fiesty Workington side that always cause us problems.
So, it is really impressive and really something we need to be pleased with and try to maintain. It has got to be our aim to improve that side of it, we think we can score goals, we think we can create stuff, it is the other part of the game that we need to do better with, and we have done so far.
JP
Given that you had a blend of youth and trialists and a lot of experience in there as well, how happy are you to largely control a game against a side with so many big names in there, some really good names in there, the likes of (Lewis) Guy, the likes of (Gary) Teale, some big names, Steven Thompson coming on and you were the better team?
GA
Yeah, I mean it is absolute real positive for us to think at the end of the game that everybody we had fit played tonight, the rest of the lads that didn't play are all carrying some sort of knock, pre-season knocks, nothing too serious but pre-season knocks. So, we had a lot of really young kids on there at the death for a good 15 to 20 minutes, I think 20 minutes, we made the subs on 70, so that is pleasing to see them all coming through.
I thought they handled it well and they competed well and it is a real good experience for them against tough opposition who I think are only a week away from their start of the season for real. So, it is a credit to the whole 20-odd players that we used tonight, and really, really pleased with them.
JP
Tricky decisions now for you to make on your trialists, I will talk to you about that in a minute, a tricky decision to make on Brad Potts isn't it?
GA
He was outstanding, no, listen, he has been absolutely.............. I mean people have been talking about Mark (Beck) because of his goals, and rightly so, he has created interest in himself and I didn't think he did too shabbily when he came on either, which is great and it augurs well for him. I think he is a little bit further behind though getting his place in the team, maybe with Lee (Miller) in front of him than Brad is. I have said all along how well Brad has been doing, I thought tonight I don't think he put a foot wrong in the 90 minutes, so he can't do much more than that. So, headaches, nice headaches, two aspirins, but they were still be there on Monday morning.
JP
Frank Simek then, has he got just a little bit of a knock at the moment?
GA
Yeah, Frank could have played if it had been a league game, at a push Frank would have played this but it is not the right time to be taking any risks. He will be training on Monday, he has worked exceptionally hard, he is going to be fine. But, we have just found some competition for places, again on both full-back positions I might add.
JP
Yeah, let's talk about that then, let's start with your trialist, (Jonathan) Meades and (Alessio) Bugno, competition for who did the better for you tonight?
GA
Yeah, I mean it is not a............. Well I suppose it is a case of if you are judging them both as left-backs, Johnny can play right-back so in that respect he is versatile. But, I think Ally has done ever so well, he has been comfortable on the ball, he has shown good pace and he has shown good recovery when people have gone past him.
He is a really good size and the one thing that was pleasing was the look of our back four was bigger and more imposing, and that is a quality that you need in League One football, you need in any football to be honest, the game has gone big, you look at Senegal last night, everyone was about 6 foot 12 and England found it difficult. So, we have looked a bit bigger, a little bit more imposing physically.
JP
GB found it difficult?
GA
Who?
JP
There are a few eyes around here..............
GA
The Scottish people wouldn't even play, they haven't anybody there, they can't complain. Just a bit of banter with you lads, just a bit of banter, that's all. GB sorry, I can't help it, GB.
JP
Mark Lawrenson got it wrong as well in commentary on a number of occasions.
GA
Excuse me, excuse me to the Welsh people involved, I can't say sorry to the Scots because there weren't any there.
JP
Alessio Bugno though, an extra element in that is that clearly the Carlisle people have taken to him, he got a blooming ovation when he came off?
GA
Yeah, but I was one of them, no he was very good, he was very good, his performance was full of pace and endeavour and some quality. So, we have to make decisions, we are always talking about people coming in that are going to be as good or better than what we have got, or if they will make the squad better and the strength of the squad better, and he looked decent tonight didn't he.
JP
So, you have always said that you didn't want to be rushed on those, can you still take your time or has now the time come to make a call?
GA
Well, I can't tell you first can I what I am going to do because he doesn't even know himself, he is still in the shower. But, I will talk to everybody probably Monday, make those decisions and as soon as we have told the boys what they are we will let you guys know. But, I thought it was positive tonight his performance and now the tricky bits are sorting out all the other things.
JP
Have you seen enough from (Dale) Hopson so far? He didn't manage to get on the ball a great deal but he has looked impressive in what we have seen from him?
GA
Yeah, I mean he has flittered, I mean he did really well in the early games, it is a tough pre-season, the tiredness has kicked in with him a little bit. He is maybe one there that he's done very well with us but will he be better than what we have got, we have to make those decisions. I will sit down with the rest of the staff tonight and maybe Monday morning then we will make all those decisions for you.
JP
(Mark) Kerr and (Ryan) Donaldson not involved tonight, does that spell the end of their time?
GA
Mark has gone back, looking at our midfield and the three that has started and Paul (Thirlwell) in reserve, Bradley Potts can play midfield as well. I think we have real quality players to be honest and we felt Mark coming in wouldn't be for the benefit of him or us really. So, he has been brilliant, a really good lad, a decent player, one if you already had at your team you would be comfortable with. But, I think he has gone back to Scotland, I think he has got a couple of options up there so we are going to let him do that. Ryan Donaldson is possibly going to come back next week and train with us for the full week and we will see a bit more of him.
JP
One or two fans just asking about Danny Cadamarteri, not been around for a couple of games now?
GA
Tight hamstring Danny, just below his backside so he is going to be probably four or five days with that and then we get him back in. It is a typical pre-season injury that some get.
JP
Have you enjoyed your time away and what will you be doing with the boys this week leading up to the Middlesbrough game?
GA
Just working. I was having a conversation with Andy (Hall) our media guy who is with us now about what we do and how we do it. What we try to do is work through the whole system that we play and work through all the units with the ball and without the ball, and we are on that process already. Some of the work we have done we can see the benefits, and certainly the defending work we look to have got that pretty much spot on up to press, but we will get a kick up the backside soon with that, that is what happens in football. But, we just go through all the stages and all the process of styles of play, shapes of play and particular roles within that team. So, we will be doing more of that next week.
JP
Any more progress on the targets that you are looking at outside of the trialists?
GA
No.
JP
You can't nod and say no.
GA
I am still trying, I am still trying, no, we have made a few enquiries and we will be getting a little bit more excited about them the closer we get to the start. We want to bring in one or two, certainly one or two more to give us that type of player that can win us matches when things are really, really tight and we are looking. But, you are looking at what we have got and it is very difficult with the money we have available to bring in better because the boys are doing really, really well. But, we are going to search and we are going to search and take a pop on one of them, there are four or five names that we are keen on and we will try to make one of those happen.
JP
And at the risk of pushing it too far, any timescale on when we might hear the decision on these trialists?
GA
I would love to able to say tomorrow, I mean tomorrow would be fantastic because it would mean my job would be done, it would be complete and I could relax and work with the group I have got. But, it isn't going to be tomorrow and we have got to wait and some of the targets are with clubs already that may or may not want to keep them for the forthcoming season. They are making those decisions like we are with some of our players to see who we think is going to be part of the squad, and who we think would be better for going out somewhere else. So, we are in the same boat as a lot, so we have to be patient, but listen, I am trying like mad to make it happen and as quick as I can I will.
JP
On the trialists though, any timescale on when you hope to tell them?
GA
I am going to do that on Monday, so I will speak to all them first and by mid-afternoon Monday we will talk, whether we do an open house or I do it through Andy, but certainly everybody will know by tea-time Monday what we are doing.
JP
Thanks for you time, I am sure the fans enjoyed that tonight.
GA
And me, I did as well, thank you very much.