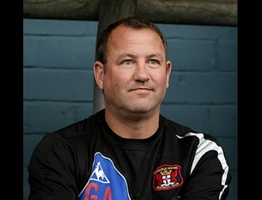 United boss Greg Abbott (GA) spoke to BBC Radio Cumbria's Andy Wood (AW) following Carlisle's 1-1 League One draw at home to Scunthorpe, Abbott saying a point apiece was a fair result:
AW
In your eyes a point gained or two dropped this afternoon?
GA
No, I think it was a deserved point for both sides, I don't think either side probably did enough to win. We certainly didn't first-half, I think we weren't really………. You could tell we had had a week off from playing the game first-half, I thought second-half we actually played better and put them on the back foot a bit more, and then we conceded the goal in that period.
But, we lose it in midfield and pay the price for that where Karl (Hawley) is a bit of a sniffer, he knows what to do when the ball goes in there. But, I thought our play deserved a reward and we didn't think it would come like it did, we thought it would come with one of the crosses into the box that we were getting, or maybe off a set-piece. But, I certainly think it is a point that both teams deserved rather than two points lost for either side.
AW
Your lads seemed a little hungrier second-half, first-half maybe a bit lethargic, second-half they just needed a bit of a kick-on?
GA
Yeah, I agree with that, I think for whatever reason, I mean we didn't pass the ball as crisply and as quickly enough as we need to do when you are playing with three midfield players. So, that it makes it difficult to get the ball into Lee (Miller) with any quality and then work off him. I don't think the service into Lee was good enough today and that is why we made the substitution to go 4-4-2, it seemed to spark us into a little bit more energy and give us a few more options.
Sometimes we have to do that and sometimes the 4-3-3 works, but today the two substitutes, I thought Mark (Beck) did well, a lot better with his introduction than he was last time. David (Symington) is capable of that and nearly got us a winner with the shot later on.
AW
Yeah, superb goal from Symington, up there with possibly the best I have seen here for certain?
GA
It is the best I have ever seen, as simple as that, if that had been in the Premier League now it would be goal of the season done and dusted, finished, finito. It was an unbelievable strike such as the like you will never see probably again, it was amazing.
AW
Other than the goal he always seems quite determined as well Symington, is it going to feature in your plans that eventually he will step up to be one of your first-team players?
GA
Yeah, well he is in with the batch of six of them, there is Josh (Todd) that is not just quite there, but Mark is playing regular now, Brad (Potts) is coming in and he is playing his football. David and Becky have had their pitch-time, they have had their goals haven't they and they have had their little bit of joy. But, where we are going with the club those types of players are going to be vital to us.
He is learning his trade as are one or two of the others, they are not always as consistent as you would like but that is what you get with 18-year olds and probably his introductions at the minute from the bench are as effective as when he starts.
AW
In unpretty and scrappy games like that Sean O'Hanlon comes into his own, and again a faultless performance from him this afternoon?
GA
Yeah, I mean I think we have found a real number five there and we have needed that. He is tough and he is brave and he is honest and I think he has put in a terrific display, because they are a handful, Karl and (Sam) Sodje is a good signing, he is decent in the air, he has got presence, he has got a bit of movement and he really denied them too many clear-cut goalscoring opportunities. But, he heads it, he kicks it, he clears his lines and he organises and probably that is what you ask for of a League One number five.
AW
How frustrating is it that you have had to change your back four again this week with Chris Chantler's injury?
GA
Well, Chris has been one of our best players I think this season, he has been Mr Consistent, he is really comfortable on the ball and when you have got some big players around him physically they can guard him against that. But, we certainly miss his quality on the ball, he is very, very decent, but Matty (Robson) has done the role before and fair play to Matty, whatever you ask of him he gives you absolutely everything he has got.
Second-half I thought him and Welshy (Andy Welsh) were pushing down that left-hand side to make something happen with a bit of a cross or an overlap. He is versatile for us, he has got seven or eight goals already this season, second top scorer and he puts in a shift at left-back and you have to give him credit.
AW
What is the situation with Chris and how long do we expect him to be missing for?
GA
Well, I am hoping he is going to be available for next week, he actually trained yesterday, half of it, and then he just couldn't strike balls properly, so we pulled him out because we played him a couple of weeks ago and we probably shouldn't have done, on his wishes. But, by not playing him today possibly he might be available next week.
AW
Away from today's game I think it was this week you mentioned you could only bring players in if you were to offload any, have any thoughts gone through your mind as to whether that is what you are going to do, or are you quite happy with what you have got?
GA
Well, I can't do anything unless somebody takes one of the fringe players, the finances have to add up, and again the 3,800 today is not going to give us enough revenue to go out and do anything else. So, if people want to come in for ours and we have got a list of two or three that we would like to do then we can make them happen, if not we have to wait until the budget comes at the end of the season and do it then.
But, they are difficult times you know, talking to Brian (Laws) the Scunthorpe manager and he is in exactly the same boat, they can't do anything either and there are probably ten or twelve clubs in our division in the same boat. So, it is nothing uncommon at the moment where League One football is going.
AW
A mention on your groundstaff, a lot of people if they had come down here last night and seen it covered in snow wouldn't have thought a game would have been playable today?
GA
Yeah, if it had been up to Dave (Mitchell) we probably wouldn't have played, he doesn't like anybody playing on his pitch. He is a phenomenal ground manager, he does a great job with the pitch, I mean even the pitch has been covered and snowed on for about two weeks and they are still complimenting us on how nice it looks. When the grass starts to grow again and it greens up it will be in tip-top condition, he does a fantastic job again with resources available to him and they are a credit, him and his team.
AW
And Tranmere next who are another task altogether on the back of today, it was a scrappy team today but a little bit more quality you would think in Tranmere next time out?
GA
Yeah, but again, I don't think are going to be any more difficult, Tranmere away, Scunthorpe at home, they are top of the league and they have got a great momentum and confidence running through the team. But, we won't go in there next week with any less ambition than we have gone with today, we wanted to win today and we will go there and try to win next week. But, to be fair they are the team of the season with the resources they have got and Ronnie (Moore) and his team have done an unbelievable job there, but let's hope we can put a blip in their ambitions.
AW
Yeah, and try to avoid the Andy Robinson show all over again?
GA
Well, his three goals were as good a hat-trick as you will ever see anyway, and that is probably the best hat-trick I have ever seen. But, it will take some to beat the one we have seen today, so more of that and less of the Andy Robinson.