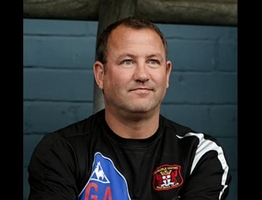 United boss Greg Abbott (GA) spoke to BBC Radio Cumbria's James Phillips (JP) following Carlisle's 1-1 League One draw away to Portsmouth, Abbott pleased with a point from the Fratton Park encounter:
JP
Your thoughts on the game today and with the point you have got here?
GA
We are sort of pleased with a point, going ahead and taking it into maybe the last sort of 10 minutes protecting a 1-0 lead we might feel a little bit disappointed we didn't get the win, possibly had one or two chances to make it 2-0 and that would I think probably have seen us comfortable winners. Protected our goal really well, faced a bit of a bombardment of long balls in the last sort or 20 to 25 minutes, (Jon) Akinde and (Patrick) Agyemang were really powerful.
But, probably sitting here a little bit disappointed. I know it has not been a tough place to come, but their players are playing for these fans and you are always up against it sometimes. I thought the boys were really competitive, the attitude of the play was excellent and sometimes it is a sob story for Portsmouth and they are playing in sort of emotion country at the moment and I think that has probably got them the point. They will think they deserved it and we are just a big aggrieved we haven't got three, but I am not complaining too much.
JP
They certainly played their part, they fought very hard, they kept trying to do the basic things right but do you think that you should have been able to get the three points, you should have maybe been able to get that second goal?
GA
Well, yeah, Rory (Loy) is probably kicking himself that he hasn't got a couple or even a hat-trick, and that is the difference between winning and losing games. We have probably felt a bit aggrieved that we haven't got the three points, but, listen, that is football, you have to get that second goal and that cements victories, and we didn't get it so that is where we are.
JP
Are you satisfied that you made enough chances in the game against Portsmouth, with the ones I guess Loy had and even (David) Symington late on carved one out for himself?
GA
I think again you have answered the question again, David should have…………. It was a great save from the keeper (Simon Eastwood), I don't think he knew much about it, J-P (Jon-Paul McGovern) has hit the inside of the post and it bounces and hits the keeper on the chin. There is Rory's two chances and his goal, there are five proper, proper chances to score and we haven't really come under too much threat, our goal hasn't had many scares really.
But, it is more a determined performance from Portsmouth than actually scaring our goal, that is why we are disappointed they have had one attempt, it is the penalty, I think it is a penalty. Then we end up with only the draw, but that is football, we have certainly created enough chances, definitely.
JP
Were you a bit fearful when the penalty went in that Mark (Gillespie) might have actually gone, it looked like he could have been last man actually, the referee (Carl Berry) opted to go with the yellow though?
GA
There is only one person in the ground shouting red and that was Adam Collin. So, unfortunately Adam didn't get his wish, Mark stayed on and deliberately dived out of the way of the ball to make sure justice was done I suppose. But, sometimes it goes your way and sometimes it doesn't, I think it would have been a little bit harsh, but that is the way it is. You can't really tell from up here, you have probably got a better view than me whether there someone covering or not, I couldn't really see from down where I was.
JP
Akinde maybe went a little wide of goal actually. The second-half obviously got going a lot more, a lot of chances, a lot more chances in the second-half, I think we only wrote down one notable one in the first-half, was that down to Portsmouth really trying not to create anything or do you think maybe Carlisle perhaps weren't quite out of the traps as quickly as they might have been?
GA
Yeah, we had a bit of a grumble at half-time that we didn't pass the ball as well as we did, we passed the ball really nicely second-half. We got the spare man in midfield on the ball and we looked like a three man midfield in the second-half. It was bypassing that area and we couldn't………… The pitch is really lively to be fair, it is a lively pitch, it is bobbling and bouncing and we couldn't get hold of good enough possession. We had a bit of a grumble at half-time, I thought we were much, much better second-half and thoroughly deserved our pieces out of the game that we got.
JP
You obviously opted to change formation and bring Liam Noble in, what was the thought behind that ahead of this one?
GA
Well, we knew that they would play……… We thought that they would play with a three man midfield and we were conscious that (Jed) Wallace who we think is a decent player would get on the ball in the hole. We like that system, it suits us at times, we thought it was the right thing to do and I think we have been fully justified with Rory coming in.
We knew Rory would score off that as he was playing as a second centre-forward rather than as a wide player. He got his goal doing exactly what we talked about Thursday and Friday, so in that respect it worked OK, and just unfortunate that we couldn't see it out.
JP
One moment, real moment of quality in the goal itself that you scored, I mean it was delicious from the three of them (Loy, Lee Miller and McGovern)?
GA
Yeah, well we know Rory is never going to hug the touchline, he is always going to come in off his shape and link up well. I think it was the three Scots lads that were involved in the goal and I suppose they will be talking about that in the heart of Glasgow tonight. But, an ordinary goal from three ordinary players.
JP
I guess you mean the opposite of that. One call from the fans is for Dave Symington to start getting a bit more pitch time and maybe even start a few matches. In particular he came on again and ravaged that right-hand side of Portsmouth, is he getting closer to maybe featuring from the start?
GA
So, they want me to take Rory out of the team and put David in and Rory has got three goals in four games, I can't win can I?
JP
Is your job to find a place, the fans want to see a bit of him though, they really desperately do at the moment?
GA
Yeah, and I think you are desperate as well, so leave them desperate.
JP
Is he getting closer though to maybe featuring from the start?
GA
Of course he is, he has been fantastic. He is brilliant when the game opens up, he is absolutely brilliant when the games opens up. We are loving him and he is doing a great job and he is better at the minute when the game opens up. You have seen what he has done in the impact games he has had, when he has actually started games he has not been quite as impressive.
But, he is learning the game all the time, he is 18, there is no rush, why is everybody rushing? He is doing a terrific job for the team and the squad and he is pushing and pushing and pushing, and his performances will push him closer, that is what he is there to do and we are absolutely delighted with his progress.
JP
And we have learnt today that at least one club, Brighton, are looking at your goalkeeper Mark Gillespie, is it no surprise to you that he is attracting the attention of other clubs at the moment?
GA
It really surprises me, I don't understand it all.
JP
I am sure you don't mean that either. I must push you on one last thing, I know that you missed some chances that were good chances, but do you feel going home all the way back to Cumbria or wherever you are going home to this evening, do you go home feeling that you did create enough and you did do enough against a Portsmouth side who most teams in the division have put to the sword?
GA
Listen, we have got more points than we had when we came, it is a long journey back, you are not going to dampen my spirits with that stupid remark you have just given me.
JP
So, very much a point gained rather than a couple lost?
GA
They are always points gained, listen, these will win a game, I will tell you now, next two or three weeks they will win a game because they can't come in front of this 11,000 and 12,000, whatever it is, and just fall down and die, the crowd won't let them. So, you are playing the crowd as much as the team at the minute and they have been phenomenal for the team and they have given the team an unbelievable amount of backing and are an absolute credit.
That is what will make sides come here and face difficult tasks, and we feel a bit unlucky that we haven't got three points. But, there are no sob stories connected to it, we are going back with another point chalked off and we embark on our seven hour journey.