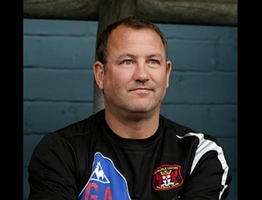 United boss Greg Abbott (GA) spoke to BBC Radio Cumbria's James Phillips (JP) following Carlisle's 3-0 pre-season opening win away to Kendal, Abbott saying there was a good competitive edge to the game :
JP
You must be delighted with that for a start to pre-season friendlies?
GA
Yeah, I mean we say in the dressing room before the game that our season starts now. We come every year now, we really like coming here, the people at Kendal look after us and we like the games, we like the competitive edge to the game and it has been a good performance from us tonight. The lads, I said a couple of days ago were looking really, really good, really sharp, reasonably fit, and tonight has proved that. Generally your trained eye on the training ground is not far off and I thought tonight there were some terrific performances and a lot to be optimistic about.
JP
First and foremost, great to see Lee Miller and Chris Chantler back in there, and Chris Chantler hasn't half bulked up hasn't he?
GA
Yeah, I mean I think Chris has grown up as well, he played development football at Manchester City which is not as fierce and as competitive. I think the ten or so games he had with us in the first team have helped him, and he has been away, he has had a long rehab from his hamstring. He has done a lot of weights and he has done a lot of gym work, and I mean to be fair he looked Spanish tonight he was that good, I mean let's not get stupid about his performance but I don't think he gave the ball away in the whole of the second half, and he was a really good foil for the other two in (James) Berrett and (Liam) Noble to absolutely control the second half.
JP
A good display and even in this match, in the first match of pre-season, you realise what you missed at the end of the season without him but also Lee Miller?
GA
Yeah, we knew, we knew what we missed with Chris, we knew he was going to be a good player and again, it is a good relationship with Manchester City to get him here. they sort of told me, they didn't say trial him, they said sign him. They said to take him in as he is going to be a good player, they couldn't fit him in and it is a shame with the attitude and the quality he has got.
The big fella, you see in the first five or ten minutes, I don't think he moved the ball more than three or four yards with his one touch passing, but setting up three or four chances. That is how important he is, he gets his goal, he gets on the end of stuff, he got involved in a fight which is good because of that physical thing, not the fight, the physical thing that he gives us to allow the likes of Noble and Berrett and Chants to express themselves. He is a good foil for them and he gives us that presence.
So, they are two really big players for us back and Rory (Loy) just missed out today. He was going to think about playing but he pulled out this morning because he is feeling a bit stiff from the effects of pre-season. He is back on the mend as well so we are looking all-in-all pretty decent right now.
JP
I was going to ask you about him, so he is fine and maybe involved for Tuesday or just keeping an eye on him?
GA
Probably not Tuesday but he is going to train another full week. He missed a day's training so he has done sort of seven days on the bounce, missed today, but we are going to try to get a full week in him. That is the key with him, the games aren't massively important right now because he needs to be making sure he gets all the fitness work in, builds his strength up and his strength then we would hope would carry him through the games.
JP
Jon-Paul McGovern just on the injury front has picked up an injury, but hopeful that he will be fit for the start of the season?
GA
Yeah, he has got a groin problem that we think may be a hernia. If he does he will have to have that done and seen to, but probably a three week injury at the most. So, it gives him time to get back fit and another week or ten days full training before we start.
JP
And Peter Murphy just off to sort family problems?
GA
Yeah, no problem with that at all.
JP
What about the rest of your mainstay players in there, how happy were you with the workout they got today? There were some opportunities to shine, I mean some of the passing from Liam Noble was brilliant, James Berrett hit the post and the bar a couple of times I think?
GA
I thought the midfield three, we deliberately, well I did deliberately set up like that with the more experienced or the ones that have played first team football all together, and the others all together to see how they handled it. You could see the difference. infact Nobs has had 100 games now and Bez has had 100 games now and Chants has had his games. So, you could tell the difference, they are ahead of the others and we did it that way deliberately. But, I thought there were good performances all over, there weren't many that disappointed to be honest.
Everybody has tried to do it the right way, it is a difficult pitch because of the length of it which you always find at this start of the season. But, some of the passing and movement, and the determination was great, and Kendal contributed as well to make it sometimes fiesty, which is what you want. You don't want this to be like a testimonial, you want it to be like a proper game which you are going to get later on in the season, so it was a really good workout.
JP
Your two signings, so far so good on those, both really looked the part out there?
GA
Well, I said before the game didn't I that I was really pleased with them and how well they have done in training. I thought Danny was as good a player as we had in the first-half and I thought Mike, it looked like a testimonial to him he made it look that easy. But, there is going to be some competition all over the pitch for places and those two have come in and slotted in really, really well as people in the dressing room, which is important as I have said before, so delighted with that.
JP
In goal as well, a bit nervy at the start for Mark Gillespie but he made some pretty good saves didn't he as that half drew on?
GA
He made some great saves, I mean we said to him, don't over-play at the back because of the pitch and he tried to do something clever, and we don't want the goalkeepers to be clever because one mistake there and it is in the back of the net and you could get beaten in the first game of the season 1-0 because of a mistake there and you would be upset.
But, he made three fantastic saves and he has been really, really impressive in training, so he is going to be pushing Adam (Collin) all the way. We never quite saw anything of Adam because we were so much in control second-half. But, there is going to be good competition for that number one spot I hope this season.
JP
And the trialists, all reasonably impressive, some had more opportunity to impress than others just because of where the ball was on the pitch. What is your feeling on them at this stage?
GA
I thought they all did ever so well to be honest, I don't think anybody blew us away, but there were good performances, not average, good performances and I don't think anybody was particularly weak. I think it would be difficult for Ross (Lindsay) in the middle of the park because we have got such quality in there and I don't think he was better than what we we have got on first impressions.
The two left-backs (Alessio Bugno and Jonathan Meades) did ever so well, the right-back (Harrison Blakey) is young but he will be reasonably pleased with what he did. I thought Dale (Hopson) looked lively, really lively, he is one that is different to the type of midfield player we have got. He is one that wants to drive forward and link up with Lee Miller, so really quite happy with them.
JP
Have you got an idea of when you will sort of make decisions on those? Will they sort of bleed towards the Workington game and maybe get another look?
GA
Yeah, something like the middle of next week. To be fair us and to be fair to them if we are not going to do it then we tell them as quickly as we can. But, at the minute there is nothing there to suggest, possibly Ross I thought was a bit as only as good as, well not better than what we have got from first impressions you know. But, apart from that they did alright and we will look to resolve that maybe in the middle of the week. But, there is no rush, there is no rush either way.
JP
And just finally, a relationship that continues to grow with the people here, the lovely people here at Kendal?
GA
Brilliant, brilliant, and two of the best chocolate biscuits I have ever had before the game, and we have to come back next year to make sure I get the rest of the packet.