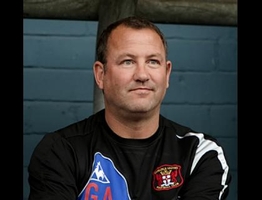 United boss Greg Abbott (GA) spoke to BBC Radio Cumbria's James Phillips (JP) following Carlisle's 4-2 FA Cup first round win at home to Ebbsfleet United, Abbott saying it was a response to some hard work from the Blues:
JP
You described this one as the most important game of the season, you will be delighted then with how it all panned out?
GA
Yeah, delighted with the result, and a response to the hard work we have done during the week. It wasn't a perfect performance but it was certainly some decent stuff along the way, edgy, nervy at times, obviously the effect of the crowd is playing a part on the players, a low crowd and that little bit of grumbling that has been going around, which is understandable but it is there. The players are working hard to deal with it, worked their way through it, there were a few players off their game, but there was some good performances as well and some good football at times. Ebbsfleet played their part as well in making life very, very difficult for us at times.
JP
There is no doubt as you have said there was some nervousness with some of the players, it was an ideal game in a way to have just for that to allow them the opportunity?
GA
Do you think so? Do you think so?
JP
Well, would you rather that or Sheffield United here?
GA
I would probably rather Sheffield United because the crowd get behind you and they don't expect too much, today they just expected a walkover victory. You just do not get walkover victories at this.............. We have had Tamworth, Grays, my game against Grays we were five or ten minutes from going out, we were a goal down before the floodlights failed.
We won comfortably in the end but they are really tough and Tamworth even, tough. When you are on a bit of a low key-up, or according to everybody we are on a bit of a low key-up, and performances are down just a tad these are the type of performances that if you don't get them right they really do influence peoples's opinion and get everybody grumbling very, very noisily.
JP
When they equalised it was actually quite a good goal, their equaliser from (Nathan) Elder who had only just come on the pitch, were you a little bit worried at that stage?
GA
You are always worried, I was worried until the 90th minute, we needed the victory. People talk about this being an FA Cup final, this was our FA Cup final today, it was the biggest game we have had in a long, long time because of the recent run of results and the goals conceded at home. The players have come through it and to be fair give them a little bit of credit, let's give them a bit of credit, without grumbling too much we tick this one off and we move on again.
I am not going to let too many people get right into this dressing room because it does affect them and it does affect everybody's mindset. They have given a positive performance with some edgy performances, but more of this and they will work their way out of that and we can get back to where we are. We are buying time until time we get all our injuries back, I mean you are talking about the five or six players missing today and that is a big chunk out of a League One side.
JP
Only able to name six on the bench because of that?
GA
That's right, and that leaves us really short and just shows you where we are. But, on the pitch at least the ones that played finally probably broke the resistance of Ebbsfleet and got a result.
JP
You said people saying you are on a low ebb, when the players are a bit short of confidence it is important that they pull their socks up and do the simple things, and for the most part they did that today?
GA
Yeah they did, and we played two wide players with pace and tried to get in behind the full-backs to hurt them there and have a solid feel to the team. I thought Peter (Murphy) did a terrific job in the middle of the pitch by and large and used his experience to get through it and allowed Nobza (Liam Noble) to get forward with James Berrett.
But, like I said, it wasn't the perfect performance but we played some decent stuff, I thought the first goal was as good as you will see anywhere today in the country, a fantastic counter-attack and four or five passes and the ball ends up in the back of the net. But, it wasn't 100% cushty but we got there in the end comfortably.
JP
Yeah, it wouldn't maybe have helped you so much if it was an easy 6-0 whitewash though would it?
GA
It would have helped me, it would have helped me quite a bit to be honest.
JP
You would have been happy with that?
GA
I would have been absolutely delighted, 6-0 or 4-2? Are you going do-lally as well?
JP
Maybe so, it was a great goal that first one, another great goal today, James Berrett's, what a strike?
GA
Yeah, I mean we have just reminded James that we were playing in blue by the way after the game, I don't remember Bez.......... There you are talking about edgy performances, he is a good footballer right, he is a good footballer, today was nervy, he was edgy, he has given the ball away more than he does in a long time but he scored a wonder goal, the goal that we know Bez can deliver. He has got to do more of that more often and cut out the other stuff.
But, you have to pat him on the back for continually trying, he got a header as well that he got completely wrong, could have had a couple of goals, and his performance then and his passing is forgotten about. But, he has been a bit edgy just lately and we need.......... That gives him confidence.
I thought Joe (Garner) was poor today, or below his best, we have told him that but in a nice way because we are there to protect and help. But, as long as they are giving a good shift and working hard then rewards come, and maybe Joe and Bez got their reward today for continuing to keep at it.
JP
Another backwards thing for me to say, but as important as getting through today, just getting that return to form here at Brunton Park in front of your home crowd and hopefully edging up that gate?
GA
Yeah, I mean listen, all that will come based on winning performances and good home performances. Listen, we go into Tuesday's game in a better frame of mind, we know how important that is and we know how important Saturday is, but at least we are on the right lines.
JP
But, you need to do it together with the fans, but they will need it from you players and you as a club?
GA
Of course, everything is together, nothing is all about me or all about the team or all about the fans or all about the board. If there is one out of sync out of the lot of them we will suffer, the team and the club will suffer, I am telling you that. The only way to do it is everyone get through it, painfully at times, but that just shows how true a supporter you really are, and how honest the group is that play and how supportive the board are that back, and then I have to do my bit as well.
But, we are not going to shy away from too much. It is a funny one you know, we are actually talking about a team that is under-performing, there is a manager in the league (Dean Smith) on exactly the same points as us who has just been rewarded for his success and given a two and a half year contract on exactly the same amount of points as us.
So, maybe the run of good stuff we have had over the last two or three years is actually sort of coming back to hurt us a little bit, and the expectation is ahead of what it should be at the moment given the case of the injuries. But, it just shows you how much progress we have actually made if people are grumbling when we are sitting 14th with 19 points, the same as Walsall, and their manager has been told he is doing a fantastic job and he is going to get another two and a half year deal.
JP
Another aspect, you said that you would maybe have preferred Sheffield United here to perhaps this game, you have got a game similar to that on Tuesday night haven't you, what a match that is to pick up after this?
GA
Yeah, I mean listen, that should take care of itself shouldn't it you know. Today we have been fierce with the players all week and we were fierce again before the game to remind them what could happen and what the scenario is if that should happen. But, you know, Tuesday they know it is going to be tough, Preston obviously in good form, they have beaten Yeovil comfortably today and it will be a tough, tough test for us. But, listen, we are going there in slightly better form and better shape than we would have done if we had not got a result today.
JP
With the injury situation and with other things that have been happening are you hoping to add anybody else to your squad before that game?
GA
We have made a lot of phone calls, we are hopeful that we will have good news with Paul (Thirlwell) and Matty (Robson) by Monday. But, we will have to have a look at that, I can't give you an absolute guarantee yes because you look for a player, you find he is available and then the cost of bringing him in is too expensive for us. We are maybe looking at favours and when you are looking at favours you are looking at the bottom end of the financial scale and you sometimes get the wrong type of player in.
But, we have had a couple of really nice phone calls from two monster clubs yesterday around about tea-time, one right after the other, and they were very encouraging. They know where we are and they know we have looked after their players in the past, it shouldn't be too difficult to work out who they are, and are trying to see if they can help. But, whether they can is still dependent on one or two situations.
JP
So, fingers crossed for James Chester Mark Two if that is the area you are looking to strengthen?
GA
You have gone from do-lally to being a very bright reporter again.
JP
Indeed, something we must talk about as well, this was the FA Cup today, you are in the hat for the second round, that is a great position for Carlisle to be in forgetting everything else that went before it?
GA
That is the only thing that mattered today was getting through the game, sometimes you are looking for perfect performances and perfect results, but cup football you are looking to get through and progress, we have done it so let's move on.
JP
Who do you fancy in the next round? A nice small team at home again?
GA
Man United.
JP
Not yet.
GA
Oh right, I am do-lally now am I. It was a joke by the way, listen, I would like to get into the third round because that is the exciting one. The third round for League One and League Two clubs is a really exciting one, so it would be nice to progress through the next one and sitting here waiting for the third round draw, which is special.
JP
The first round in a way for league clubs can be the one where you are looking to avoid a giant-killing, by the time you get to the third round you are looking to maybe make one, so that is the round for you to look forward to?
GA
Yeah, it is really exciting when you are sitting on a Sunday and you are watching SKY and watching the other teams playing knowing you are in the hat for the third round. It is a really exciting time and when we drew Everton out of the hat I jumped through the roof, I was at my Dad's 70th birthday and I jumped through the roof, it was the biggest thing, fantastic.
So, that is the key and I think that sparks your season, at the minute we need a bit of a spark and we need a bit of encouragement for the fans. To be fair, there were 2,300/2,400 today but outstanding, they came, wet day, could sit in and watch four or five games on SKY and turn their backs, but they didn't, they came and for that we thank them and hopefully they have gone away reasonably happy.
JP
And for you and for them then let's hope for a good draw tomorrow and good luck with your efforts to strengthen for Tuesday.
GA
Lovely, thank you.