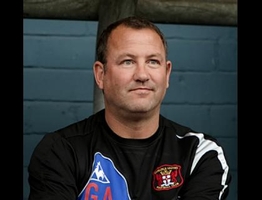 United boss Greg Abbott (GA) spoke to BBC Radio Cumbria's James Phillips (JP) following Carlisle's 3-0 pre-season friendly win away to Durham City, Abbott first talking about Blues midfielder Liam Noble :
JP
We are just getting an interviewing masterclass here, Liam Noble is being interviewed for the Carlisle United website and Greg Abbott is giving him advice as we are going along here, what advice are you giving him?
GA
Well, he has to concentrate really hard doesn't he to string all those important sentences together, but he is a good lad and he has played ever so well again tonight.
JP
Yeah he has done, worked very hard, your whole team will be happy with that run-out again?
GA
Yeah, difficult, when we took the game on we thought it was a great fixture for us because we were at Slaley Hall on our training camp, but I didn't the realise the pitch was an astroturf or a 3G pitch, which doesn't always favour people. Mentally they get it in their heads that it is not what they are looking for, they like the grass nowadays.
But, that was something that they coped with really well, we told them to move the ball one and two touch, first-half I thought we were really, really good, second-half the game got a little bit easier and we got a little bit......... Some of our play was a little bit sloppy, we gave the ball away a little bit and we chased it and it became a little bit more competitive in terms of people tackling and stuff like that. But, overall a really good exercise for us in terms of a training and a fitness thing that we are trying to get right.
JP
And a combination of sort of seasoned players, trialist players and young players out there for you?
GA
Yeah, well we wanted to give some proper pitch time to some of the younger ones, obviously with trialists we are going to have start making decisions (laughs), he is getting his own back now Liam Noble isn't he but I will get my own back tomorrow when I run him round that training ground. So, we have got to make decisions by Friday after the St Mirren game, so it was a good exercise for us in that respect, and you have seen Mark Beck again continue his education and his fantastic scoring run.
David Symington I thought was very good first-half, got a bit sloppy with it second-half you know. We were looking at Dale (Hopson) to find that spark and find that something different for us that didn't quite happen for him there at times tonight. But, some of your players that you know are capable showed up really well.
I thought Liam Noble was absolutely outstanding first-half, he actually controlled the game and that is why they put a big number five (Craig Hindmarch) on him in the second-half just to run everywhere he went. That is just a pat on the back to Nobs and he doesn't see that at times, but that is them telling him he is a good player.
JP
Chris Lumsdon is reminding us all the time not to get too excited at this stage about Mark Beck, but seven goals in four pre-season games, you can't ask for a great deal more than that?
GA
Yeah, of course, and he is right, listen, he is learning his trade and what he is doing is he is making people sit up and take notice of him. I said go out and score four and five and six because people when you score four and five goals in a game they really sit up and take notice. We know where Mark is at the minute and so does he, and he is improving all the time and he is developing all the time.
It has been a terrific pre-season for him in any stretch, if experienced players, if Lee Miller was sitting here with six and seven goals he would be absolutely delighted. So, Mark is going to get a bit of attention for that and that is fantastic, like I said, he is developing and progressing all the time and he is working his way into coming with us.
JP
You have hinted at it already, you have touched on it, that the plan now for the trialists is to get to Friday and have a look at them there for the final time and through your week training away with them, and then you will maybe make a decision over the weekend?
GA
Possibly, yeah, possibly, I mean I am not forced to do, I have to make what I consider the right decisions, and you know we have only really started opening our legs this last week or ten days with the games we have had. A lot of the work we did before was football fitness, so I have got to be making sure that what we bring into the club is going to help us in terms of making our squad stronger.
Whilst I don't think there is anybody there that is absolutely miles ahead of what we have got, there is certainly one or two that I have got to think closely about that can add maybe a little bit of depth and strength to our squad and give us that strength when we need it in terms of injuries and suspensions and things like that.
We are still looking for maybe one or two more from outside that are really impressive players that we are trying to find and that would make us a whole let better. But, at the minute with what is getting shown from everybody here the squad is in decent shape at the moment and I am pleased with it.
JP
I dread to think how many plates you have got spinning at the moment as you are trying to think of your trialists, your players that you have got and still trying to look for those perhaps outside it, anything imminent on that front?
GA
Nothing imminent but I think we have got four players that we think would make a big impact on the squad and we are chasing them down. One is a real long shot but he is one that I am going to chase and until he tells me he is going to do something different I am going to chase. The others are all impact players that would definitely add something to our squad that is probably better than what we have got. But, it is a bit of a patience game, we have got to wait until they become available and then try to strike. But, I would feel that out of that four certainly two of them might become available, but maybe not for a week or ten days just yet.
JP
Of your young pros, your first year pros that you have got with you this year, they have all done themselves no harm this year, have you got a plan on what you want to do with them perhaps over the course of this season, what they need to do?
GA
Yeah, I want them to get in the first team, I really do, seriously, I mean I think even though Becky has scored his goals I think Bradley Potts has been just as impressive. He has gone from centre-half to right-back tonight and he has bombed on forward, he has given us a indication of what he can do going forward as well because he is more defensive minded.
He has sat in front of the back four, he has played at centre-half, I think he is going to be a really good player for us, I think Becky is developing nicely, I think David has come and done really, really well in the two or three games, I think it is time with him. I am really disappointed for Josh Todd that he has picked up a hamstring injury and we haven't seen what he can do, but he is going to be decent as well.
So, I really think with these ones we have got a genuine chance of getting one in the team, and like I said, if they show they are better than what we have got or good enough to go in and make us better than what the team is out there then they will play. I think they are certainly getting the respect of the more elder players who have a lot of time for them, because they are decent, really decent players.
JP
And we expect to see a lot of the players who weren't involved tonight involved on Friday then?
GA
Yeah, I think it is a going to be a tough game on Friday and obviously people have had pitch time tonight, more senior side probably Friday night, think tank over the weekend to see where we are with everything and that is probably long enough for me to assess where I am with the group I have got. Then we need to make some decisions on where we need to improve and well, we think we know that, I think everything that we are doing now is justifying our thoughts from the end of last season, and we will try our best to put it right and get the squad absolutely in strength prime tip top condition for when we start the season against Accrington.
JP
And the standard of opposition is really starting to step up now isn't it with St Mirren as an SPL side, and they have all got a little bit more to play for with the way things have changed in Scottish football over the summer?
GA
Yeah, I mean of course, listen, in years gone by when we have been doing this job our pre-season friendlies have always been tough, Workington and Barrow, and I think we have beaten them quite comfortably. I think we were comfortably better tonight, even the Kendal game which has sometimes been tough, the first one when players haven't quite found their fitness and things.
But, I think in all the four games we have had we have been really comfortable, now people can say that the opposition is not as strong but it might be that we have made some progress as well and we are in better shape than we have been in the past. But, at the minute all the players can do is what they are doing and now the test will come, St Mirren, Middlesbrough, even Morecambe away is a tough game a few days before Accrington.
That will give us a real feel for what to expect in the Accrington game on the Saturday, so I am in a good place with what the players are doing at the minute. I know there is still more work to be done and that is what we are all working for, on the training field to get them fit and then on the recruitment side to make us even bigger and better and stronger. Hopefully if the signs are like what we are seeing at the minute are as good as what I am thinking then we get off to a flyer and we can really have a good go again this season.
JP
Just a quick one on the trialists, Jim McAlister wasn't around in the friendly on Saturday, I was away myself, is he still with you at the moment?
GA
No, Jim is off the radar at the minute, we have made a decision there between us that he wants to stay in Scotland. People that I want to take have got to want to come and die for the club and give everything they have got every week and if there is any uncertainty then really I have got a group of players at the minute that really want to play for this football club. We are working on those boys and only those boys and anybody that comes in has got to have that same attitude and that same philosophy as everybody else.
JP
Final one, how great will it be to back at the Brunt with everyone, with all your friends watching on there?
GA
Yeah, terrific, I mean obviously the pitch is going to be in unbelievable condition, it will be a quick pitch, we can get............. I mean I think we have passed the ball really well pre-season, we can get the ball moving and get it into front players with quality and see the ball zipping about, and show people that haven't seen us yet so far pre-season how well we have been doing.
JP
Certainly have, go and give stick to Liam Noble.
GA
I am going to do, he is probably eating my pizza and chips at the minute but I can do without as we go.