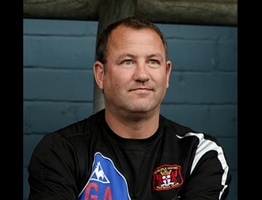 United boss Greg Abbott (GA) spoke to BBC Radio Cumbria's James Phillips (JP) following Carlisle's 1-0 League One defeat away to Crewe, Abbott upset and angry after the game:
JP
How do you feel at the end of this one today, disappointed or do you feel unfortunate that you haven't got anything out of this one?
GA
No difference is there? Disappointed, unfortunate, whatever you want to call it. We are upset, I am upset and I am angry, but we are not far off now, the team is playing a lot better. We have just given probably six points away on the travels the last two away games, we should be sitting here with six points and we have got nothing.
It is the fine line between being a really good side and barging your way up the league, and being a side that will find life difficult. Because, you can't keep giving points away when you perform alright, you have to win your games when you play like that, and today is another game we should be winning.
JP
What did you make of the goal that in the end separated the sides? It was a bit of a horror show wasn't it?
GA
It was rubbish, it was rubbish, absolute rubbish.
JP
Where do you think it went wrong? Were they all a bit high up? Was it just misjudgement on one man? What was your view of it?
GA
Well, Danny (Livesey) goes to head it and misses it and falls over, there you are, it is just an error, it is just an error. But, they are the things that have been carving us up really haven't they, we have seen it too often and we are going to get known as great losers unless we are very careful.
But, it is a horror goal and big Danny is the most honest man in the world and he knows he has made a mistake, he misses the header and then he falls and ends up the keeper (Mark Gillespie) make a great save and to be fair it is a good finish in the end. But, the damage is done with the slip and the header you know, and in a game as tight as this it has cost us a victory.
JP
As well as that he had the chance to atone, he had the chance to make himself the hero with the chance in the second-half, the shot on goal, but in the end he goes from villain to villain again really?
GA
Yeah, that happens doesn't it, that happens, he has made two errors, I think other people in the recent games against us have said it is both boxes. We make one at one end and then make another at the other, and we don't get anything out of the game that we deserved plenty out of, that is football for you.
JP
After the run over Christmas though you gave yourself that little bit of breathing space, so I guess you can carry days like this, but you must be able to be happy with most of the display here except for a individual mistake if that is what we call it at either end?
GA
I don't want to carry any days, we win today and we are looking at probably being seven or eight points outside the play-off positions, that is how ridiculous the league can be and how fortunes can change so quickly. So, I am absolutely gutted that we haven't got a result today in a game that was always going to be difficult on paper because Crewe have had a really good run and have played some good stuff and beaten some good sides and are on a great run themselves.
But, if we are going to have any sort of success going short term or long term we have to win these games 1-0, good sides win these games 1-0 and there is your difference. I mean Crewe will probably sit now comfortably in the top ten probably at the end of today and we are feeling sorry for ourselves. But, that is what happens if you don't score goals and you gift, gift goals away.
JP
Are the problems that are there then, those little issues that come, the individual mistakes, are they the sort of thing that you have to sort out in a transfer window or do you think you have got enough within the squad to be able to sort out those?
GA
Well, you have just seen the better side get beat today, so there you are. We have just got to cut out mistakes and they are important issues, but we never take down one person but an individual error has cost us today. There is nothing wrong with the team, there is nothing wrong with the performance, there is nothing wrong with the people we have put on as substitutes. So, there is depth there, there is quality there, we could be sitting here with four wins out of four with a little bit of luck.
JP
Another great away game to go and try and battle in now with Swindon, they have won heavily today albeit against a Portsmouth side in freefall, but it is an exciting game to get right back to action with?
GA
Yeah, I mean, that is it, I mean the positives are we have played ever so well, we have played well enough to get something out of the game. We have to dust ourselves down and feel sorry for ourselves today and then pick ourselves up tomorrow and Thursday and Friday and go and take on another form side in the division, which will be very, very difficult.
They are a better side than Crewe probably, with respect to Crewe they probably are, they have got more resources to go with as well. But, we just have to go in with the belief that we can on our day our game is improving and we will see how we get on.
JP
The huge positive today, getting to see Rory Loy back in action, what did you make of his display, he himself actually almost enginereed an equaliser for you?
GA
I thought Rory did really well and with a bit more care and a bit more play and a bit more pitch-time he might have got that equaliser. I think he had a couple of half chances that he snatched at a little bit, over the bar, but he looks quite sharp and another real positive. But, there were a lot of positives today, the only negative is the result, because like I said, we are upset that we are here now talking about a defeat when I should be talking about at least taking a point out of the game.
JP
Another negative potentially was though, I mean you tell me, was Brad Potts injured coming off or was that just a tactical one? He looked like he picked up a knock?
GA
No, we just looked at getting Rory (Loy) and trying to nick a goal and put the back four under even more pressure, that is the only reason we did that.
JP
What about one thing that a couple of fans have responded with, they have just said given his pace and given his energy running at a tiring back line, did you consider getting Dave Symington on a bit earlier than you did, he didn't really seem to have enough time to affect the game?
GA
Yeah, it is one of those, we were playing so well, we were playing well enough, would you have made a change for making a change's sake, yeah, he might have done, he might have altered it. But, J-P (Jon-Paul McGovern) was the provider to the chance that Danny missed, it came from the right, he was providing as much as anybody, so the change didn't need to be made. In hindsight would he have done it, I don't know, I am not a mindreader, I thought that Jay put in a tremendous shift and we were on top all the second-half. So, when you are on top you are making a change for what, for what reason?
JP
Yeah, and in fairness, Derek (Mountfield) said throughout the game, he talked about how well Jon-Paul McGovern was doing for you. So, fans ask the questions, we have to ask you them. Overall, over this Christmas period are you happy with what you have managed to get out of it? I know you haven't got this today, but six points out of nine is still a decent return with an away match in there as well?
GA
No, I am really upset, I am not happy at all tonight, I am absolutely not happy at all for the fans who were magnificent by the way that travelled, loads and loads of fans. Again, you can see by their reaction, they were delighted with the effort. But, I am not happy because we should be sitting here with nine points and we have only got six, and there is a big difference between six and nine, so there you are, I will be unhappy.
JP
But, a big game to come up now to try to get everyone back cheering with that match at Swindon?
GA
Yeah, another tough one, we dust ourselves down after tonight, a lot of positives to take out and that is what I will do tomorrow. I am really upset at the moment and I think our fans should have been sitting here with nine points out of nine, not six out of nine, but after tonight I will get myself sorted out and we go again Thursday and Friday. Certainly the performances are improving and the belief is improving and we are looking a better side at the moment.
JP
Have you picked up any further injuries today that you know of?
GA
Don't think so.
JP
Paul Thirlwell, any chance of him for the weekend?
GA
Erm, I wouldn't have thought so.