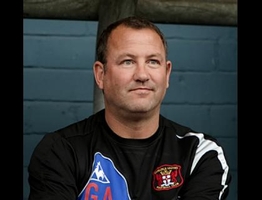 United boss Greg Abbott (GA) spoke to BBC Radio Cumbria's James Phillips (JP) following Carlisle's 1-0 League One win at home to Coventry, Abbott saying that the match was extremely tough:
JP
A third win on the trot here at Brunton Park in the league, you must be delighted with how that played out today?
GA
Yeah, I mean, listen, they are tough situations at the moment, the game was extremely tough, I think it was exciting, probably the best 1-0er you could sort of imagine. They were pressing and we were trying to hit them on the counter at times. We made little changes to what we were doing but the attitude and commitment of the players was of such that we didn't want to make too many changes. It was one of those games I think if you are in it is fantastic, trying to get into it would be difficult.
But, I think that is three wins out of the last five now and although I was really, really disappointed and upset with the performance last week and we told the players that we were all as a group, myself included and the staff, weren't very good at our jobs last week. Well, I said in seven days time it is amazing how different you can be, and we can be good players tonight and good staff and good managers and coaches and that, and I think we have at least got that right this week to deserve people saying well done against an unbelievable………
A really, really strong Coventry side who are on a fantastic run, nine or ten out of the last eleven they have won and they really are going to push up this league because they have got the strength and the resources to do it. But, I think we have given an unbelievably honest and committed performance today and hopefully it is a sign of more to come and it is a start. But, like I say, that is nine points out of the last five games which is decent form that.
JP
I was listening back to your interview from last week and you said that we will get an improved performance, you didn't promise an improved result but you said we would definitely get an improved performance and your players delivered today?
GA
Well, I know my group, listen, I know I my group, and somebody came and watched our training that had been watching Leeds United's training the day before and just said 'why have you struggled for results?'. He said the attitude and the quality of players is of such……. I actually had to turn round and say it is genuinely like that, it genuinely is like that, I come on here and I say it and people must think 'what is he talking about when we get poor performances every now and again'.
But, we were really pleased with the work they have done on the training ground and I think it spilt over today and whatever the result was we got an improved attitude and the players have definitely run harder than last week. That is something you can't explain, that is something we have got to try to bottle and make sure it happens every week and take it as a given that we are going to work as hard as we did today.
JP
You have brought in a defender, you have been forced to bring in a defender of course with the injuries that you have got, what a debut for your new man (Sean O'Hanlon)?
GA
Yeah, we are not in a situation where we can go out and get Rio Ferdinand, and I am not being stupid with that statement. But, we have to hunt and find people we think can do the job, and with his background and what we have seen of him over the last two weeks, albeit on sporadic training sessions I just begged John (Nixon) to do it and make it happen.
Sean has done himself proud today considering he has had a bit of a spell out of the game, sort of training on his own, training with part-time clubs and found life……… Maybe made a couple of decisions with clubs wrong and thought things were rosier than they were but he is here now, he is our player now and he can go on and carve out a career because he is only 30 and he played like a number five.
He proper played like a number five and we have needed that and he has set himself a standard, he has got to keep going and live up to that and help us and help Danny (Livesey) and help Chris Chantler who was unbelievable by the way Chris Chantler. I don't like singling people out but the little man with stitches in his head and he was sick all night, wasn't going to play at nine o'clock last night by the way, and I am telling you know he wasn't going to play. But, he rang up and said he just wanted to start and let's see how he gets on, and terrific.
JP
Certainly was, on your new defender Sean O'Hanlon, the fact that he has said that on arriving here that he is playing for his contract next year, that makes him really hungry doesn't it and that is definitely the sort of player you want to able to get into the club, not somebody sort of just looking for a payday, somebody who is hungry to earn more?
GA
No, message in what he is saying, League One and League Two now is going to get more like that where players aren't getting the deals and they aren't getting the length of time that they need and they will probably find some more hungry players because people know how tight money is. Not just here, I am on about across League One and League Two and the Conference, and people who have earned good money will suddenly find it is not there unless they really earn it. Whilst I think we give money away in the Premier League we are having to earn our corn in League One and there will be no free tickets from now on I don't think.
JP
A shorter turnaround because of this being a Sunday game to next weekend's match, in terms of your new man Sean what is the situation with his knock to the head and also Chris Chantler's?
GA
I have not inspected, do you know what, it is nice to see blood in your dressing room because it means that people have……….. We have not seen blood for a while by the way, I have not seen blood, that is the first thing I said, you have got blood but you have got three points and you have got a lot of credit and a lot of pride back. I want to see more blood because that is what it means to defend and stop balls going into our goal then what is what we have to do.
JP
And a third clean sheet of the season, it must be nice to get that under the belt?
GA
It is just getting common practice now for us isn't it. It is dead easy.
JP
But, seriously though, you must be delighted with that, that was the difference today, that resolute defending?
GA
You have no idea underneath wise how delighted I am, you have no idea because this is a lot of hard work. You know being a manager, if you are people like myself and Paul Lambert and Derek McInnes and you are walking down that terrace when results haven't gone your way and the crowd are howling at you and you are not this and you are not that and you are this and you are that. It is not a very nice feeling, let me tell you now it is not a very nice feeling, until you have been in that situation I will tell you now, it is tough, it is tough, and we have to be mentally tough.
My heart goes out to Paul, he is a great fella, and Derek, fantastic fellas. I have got lucky today with my result and I can sort of hold my head up high, but it hurts, the criticism at the levels it comes at, it really, really hurts and today to beat a side like Coventry after the back of last week, you know, I have to take a bit of pleasure. Please, please allow me to take a bit of pleasure for that today and just enjoy it and forget the blood for now, forget the blood for tomorrow, and I will see how much blood is coming out again on Tuesday.
JP
And we will find out that injury situation. One talking point that raised a few eyebrows or certainly was a talking point at the start, Lee Miller named as captain, what is the situation there?
GA
We did it to help Danny because Danny is a top, top guy. We know he has been fighting his game and I think when certain people are fighting their game it is difficult for them to influence others. I felt that Lee has got less pressure on him because the crowd really like him, the players in the dressing room like him, he generally performs to a decent level and I thought it was easier for him to spread influence from his position than Danny's right at this particular moment, and that is the genuine reason behind it.
JP
I notice that Paul Thirlwell didn't take it either, is that just because you were getting on with the game or is Lee Miller now the club captain?
GA
No, Paul is the club captain but Lee if he plays will be captain on the pitch, and Paul and him will work together as captains of the dressing room.
JP
And you talked about bottling that spirit that you showed and the difference between last week, how do you go about making sure that happens now and just keeping that going in them for this tricky looking match at Crawley?
GA
I have no idea, I am not that good a manager. Right, I will see you later.