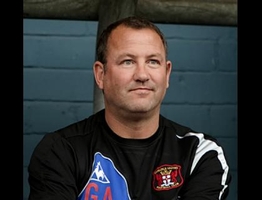 United boss Greg Abbott (GA) spoke to BBC Radio Cumbria's James Phillips (JP) following Carlisle's 1-0 League One defeat at home to Charlton, Abbott saying that he has to be grateful and thankful to the United players :
JP
It's a bit of a party atmosphere for the Charlton people, but it takes nothing away from what a fantastic effort it was from you and your team today?
GA
Yeah, in a funny way you are sort of as comfortable in your own mind with the players' performance. We have sat up here and we have been elated after great wins, but we are sort of in a way so grateful and thankful to the players. I feel sorry for our players today, everything that we haven't got and everything that Charlton have got, and we just got outdone with extra resources. I mean you look at the backroom staff they have got, they had more backroom staff than we had players.
They flew up, they have got assistant physios, assistant kitmen, assistant everything, and we have got just an honest group of players and resources win the day. We just couldn't quite match them or find the goal to give us that slight advantage that we might have been able to defend. But, fair play to Charlton, it is a very, very good side and that is what you get when you pay a lot of money.
JP
The noise is their fans as their players come back out with a flag saying 'we are going up', that could still be you, that could still be you at the end of the season with the effort of your team today?
GA
Yeah, listen, effort, guts, honesty.
JP
Quality?
GA
Quality as well, we have played our part today and if Liam Noble's shot goes in off the post, the inside of the post, then we might have been able to defend a lead. We needed everything to go our way today, because we knew we were up against a powerful team. But, I just cannot, I cannot pick anybody to pieces in our team for the level of honesty we have got. Our board and our fans should be grateful for that group of players, I have to say they should be grateful. What we have got to do now is what I have just said in the dressing room, we have got to keep going, make sure if anybody else slips up we are ready and we are in, and we see the season right the way to the wire.
JP
Is it too much of a knock to the players or do they feel the quality they have shown today?
GA
No, it is not a knock, because it would have been a knock if we had come here and not competed and been absolutely outclassed and got beat 5-0, like I think somebody has been beaten 6-0 in our division today, that would be a knock.
JP
They can see the positives though of their performance?
GA
Oh, absolutely, we won't let them see anything else. We tell them when they have done well, we tell them when they are right, we tell them when they are not right. We are brutally honest with them, and today the distance, the gap between the two clubs and resources, not the size of the............... The resources available is unbelievable, they had people like Paul Hayes who couldn't even get on the bench, we are bringing Mark Beck who is on £50 a week onto the pitch to try to win us a game against the best team in the league. So, somebody, somebody, take umbrance and see the balance in what we are trying to say and do here, it is a tough ask today but we nearly got there.
JP
I noticed at one stage they had six people warming their goalkeeper (Ben Hamer) up and they all had goalkeeping gloves on, so what on earth that was, that is the biggest goalkeeping set-up I think I have ever seen, it just tells you doesn't it?
GA
Yeah, yeah, well there you are. But, we know that we have got to keep going right the way to the end of this season and be proud of what we have achieved. If we make it, fantastic, if we don't we have got to build again and start again and do it all again next year. But, the effort with what we have got has been terrific and I think 99% of our fans have seen that and have accepted that, and they are sticking with us all the way like we are sticking with this league right the way to the end.
JP
Jordan Cook, what is the situation with him? Has he picked up a knock?
GA
Yeah, he has got a really tight................ He is struggling with his groin, he has not played............. It is just the ferocity of the game, the level of the game, and to be fair the amount of energy he has put in to that 78 to 79 minutes. He was just really struggling and to be honest with you he has got to play Tuesday and he has got to play again Saturday and he has got to see us through really. So, he is shouting to Dolly (Neil Dalton) that he is really struggling, and that is just down to the input he has put into the period he was on the pitch today.
JP
A massive game now on Tuesday night against Stevenage, a side who have really made a point themselves today winning 6-0 at Yeovil?
GA
Yeah, I mean that is our first defeat in about nine or ten and that is their first win in about seven or eight. So, it is a result that has come at the right time for them. So, listen, there are three or four clubs chasing that fifth, well it might be fifth and sixth spot, I don't know because I have not seen all the results yet.
JP
Sadly today you lose that fantastic run that you have been on at home, seventeen games without defeat, how proud are you of that and the team?
GA
I am gutted, gutted, that we haven't seen it through another seventeen. I don't like getting beat and I don't like seeing them celebrate and us have nothing to go at. I can't wait to get away from here because there is an enviousness and a jealousness, so pleased for Chris (Powell) and his players, don't get me wrong. But, I wanted to be out there, I want part of that and I am going to drive on until we are part of that and we get some success of our own.
JP
I won't keep you too much longer then, just to say though you had clearly worked and you could see the way you had worked the way things worked so well for you on the pitch against a Charlton side, there was none of the, dare I say, Lee Miller hangover effect from him being short?
GA
Well, I did say to you that they would give their absolute best, and I think they have given their absolute best, and that is all I can say.
JP
From everyone I am sure who was in here watching, please go and tell the players to keep their chins up and go at them on Tuesday night.
GA
Brilliant, thank you very much, I certainly will, I will pass that on, thank you very much.