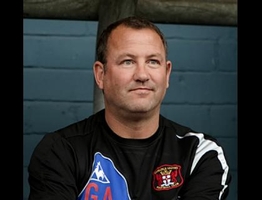 United boss Greg Abbott (GA) spoke to BBC Radio Cumbria's James Phillips (JP) at Friday's open press conference for the local media, Abbott first talking about the closure of the January transfer window last night:
GA
We are still as strong as we were yesterday morning, so that is good news. I think agents who were ringing probably about a month ago would have been very frustrated at League One level and League Two level as well because they are seeing the picture unravel now. I hope to the general public everybody is seeing that there is not a great deal of money there just in one particular month. The whole thing is shambolic to be honest, let's be honest, it is a restriction on trade, clubs across the board, League One and League Two, haven't got funds at any one period.
Sometimes after a cup run, I mean if Oldham had had their cup run maybe two weeks later then they wouldn't have been able to do any business either. But, it falls coincidentally just in time for them and it has enabled them to do something. But, across the board it just shows it for what it is, an absolute shambolic situation which the sooner it gets gone and finished with the better. So, let's talk about the game because it is a nonsense.
JP
Just on the other side of that though, the argument is that it protects clubs like Carlisle from having the bigger clubs fishing for your players all the way through the season and being able to take them then. But, do you not really hold with that?
GA
Small crumb really. It is a restriction of trade, you are actually saying that is the only time of the year you can do any business. Now, if certain clubs are on not great runs and crowds have dipped and revenue gets less then they are in different situations. Certain other clubs then just by coincidence, as Oldham have done, have been on a good run, had a good cup result and have benefitted from it. So, it is a lottery isn't it and we don't want to be working in a lottery, we want to be working on a level playing ground. So, let's work for 52 weeks of the year and let's do it properly.
JP
The emergency loan window opens shortly, is that where you think a lot of League One clubs will do most of their business? Maybe yourselves?
GA
Yeah, well it should be open all year and to be fair the emergency loan thing is. So, it is not by choice it is just by that is the way it is, that is all you can deal with. Unless somebody comes in from somewhere and puts massive revenue into League One and League Two then clubs find it difficult.
JP
On the transfer window you had said that if you were to do anything you would need one or two things to go the other way. Did anything come close on that front?
GA
No, and I would rather talk about the game tomorrow, the transfer window has gone, that is what it is. We have just told you what the situation is, I think it is an unfair state to ask league clubs to do it all in one go. I think we should be talking about Tranmere now, it has gone now and finished, and what happened happened, nothing. So, we need to be talking about a big game coming up tomorrow really.
JP
OK, Tranmere then, what a performance they have made this season, what a way they have done it on the sort of budget that they have got?
GA
Yeah, I mean they have had four or five years of struggles, jackpot season, and to be fair Ronnie (Moore) already for me is manager of the year. He has been absolutely outstanding and what the club has achieved has been outstanding. We had one last year where with a little bit of luck we would have been in the play-offs, we had four or five seasons we got in the play-offs. You just work as hard as you possibly can and you work towards trying to find the best players. When you haven't got the most money it takes time for you to get those players in, it doesn't happen just overnight.
What they have done has worked for them this season, as it has worked for us. Unfortunately, we have had to, and probably similar to Tranmere, they have probably ended up having to sell some of their better players and then it rolls them back into the pack like we have done in the past. If you look at the players we have sold, I think one (Danny Graham) went for £5 million in the last two or three days and that just is testimony to how hard it can be when you find that success and it is taken away from you.
JP
What is the injury situation like ahead of the weekend, anyone close to a return, anyone a doubt that we didn't know about maybe?
GA
There are no new doubts and Peter Murphy and Mike Edwards have trained yesterday and today so they are under consideration.
JP
What about Chris Chantler? Obviously, missing at the weekend, has he managed to shake that off and is he in better shape for this time out?
GA
He is in better shape but he is not quite right.
JP
So, is he unlikely to be involved or not involved?
GA
He is not a definite no but it is probably very, very doubtful.
JP
Obviously, there has been a lot of talk about people after Lee Miller, that didn't happen obviously because the transfer window has now closed. What is the situation with Lee?
GA
I don't know where that question has come from but Lee is our player and we really like him and hopefully we can get him on the scoresheet. He is back and he is fit and I think Lee is trying to get some games under his belt and get back his form that he has shown before his injury.
JP
Any indication though that we are any closer to maybe agreeing a longer term deal for Lee at the moment?
GA
At the minute it is Lee trying to get fit and let his football do the talking. Obviously, he has got a personal situation and he has got a professional situation. We are in constant dialogue with Lee but there is nothing to report either way yet to be honest.