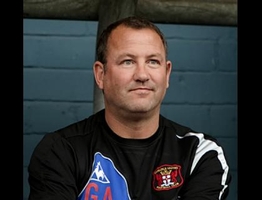 United boss Greg Abbott (GA) spoke to BBC Radio Cumbria's James Phillips (JP) shortly before Carlisle's pre-season opening friendly away to Kendal, Abbott saying the Blues are always well looked after at the Cosyseal Stadium :
JP
Great to be back, the team look like they are ready for it, how are you feeling?
GA
Yeah, pretty good, it seems only a short period since we were here last year and here we go again. We like to come here, we are well looked after, it helps Kendal out a little bit I think with the finances getting through the door, it is a good game for us so everybody is a winner tonight and for me now it is the start of the season.
JP
Yeah, and it is the start of the pre-season friendlies, you always have your team for each half, that is the way you like to do it to just edge them in at this stage?
GA
Yeah, I mean it is only seventh or eighth day back pre-season so it is two lots of 45 minutes. The key to us tonight is to make sure they get a nice hit with their football but we don't want to take any injuries and over-exert people just yet. I mean we are still a fair way off the start of the season so it is important tonight that we get the work, but don't carry any injuries.
JP
The two signings first, the two new signings, Mike Edwards and Danny Cadamarteri, for those fans that aren't able to make it down tonight, what can they expect to see from them?
GA
Well, they have looked really good in training, Mike is really uncomplicated, he is a bit like James Berrett, he is really uncomplicated, unflustered, he just comes in, he does his work and he goes home, which is great for me as a manager, he sort of manages himself. Danny has been really bright and lively round the dressing room, similar to like a Cleveland Taylor type personality. But, he has looked really sharp, really fit in training and I think he has come with that thing of I have got something to prove syndrome, and let's hope he does it. But, he has looked ever so good and Mike is just so uncomplicated, so hopefully they will fit in to what we do really, really easily.
JP
And you have already got a number of trialists that we knew about in as well, Ross Lindsay is the other one in there which is a new face and a new name to us. What can you tell us about him?
GA
Yeah, just a lad that was recommended from Scotland, it is the time to see what is out there and where we are as a club, if we can get one of these boys in that have struggled to find clubs it is a bonus because the wages are a little bit less than others. So, we will have a look at everybody, it is a good time where we can put them in these games without any pressure of winning or losing and just tell them to enjoy themselves, and if they are and they show that they are better than what we are and what we have got then we can make some moves with it. But, I am just hoping they all come and show a good account of themselves and enjoy their time with us.
JP
Yeah, and it is a tricky time for trialists, I mean it must be a really hard time in a young professional's career to know that you have got to do enough to impress but not try to do too much and ruin it?
GA
Yeah, I mean that is why we don't just have them for one game and make an assumption over one game. I mean they have been here with us for eight days now so we have told them just to relax, enjoy themselves, fit into the group you know, don't be too shy, don't be over-loud, don't be over-quiet. But, just come in and think that it is your club for the period you are with us, and I think they appreciate that. We have told them to relax and enjoy the game tonight and then we will have a little chat afterwards and see where all of them are in terms of coming back next week.
JP
We have got Paul Nixon in the studio, so I won't take up any more of your time, we will talk after the match. Just on that though, I know you are a cricket fan yourself, a Cumbrian cricket legend of course Paul Nixon and a real coup for us, what a player he was?
GA
Yeah, fantastic, and I think we are doing something to raise money for Eric (Kinder's) youth team in a couple of weeks time and he is the guest speaker and I am doing the MC'ing, so it should be a bit of fun, a bit of mickey-taking each way and let's hope the stories are valuable on both sides.
JP
He is going to sledge you.
GA
That's alright, I am pretty good myself so it will be a good game.