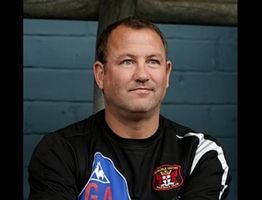 United boss Greg Abbott (GA) spoke to BBC Radio Cumbria's Tom Burrows (TB) early this week, Abbott first looking back on the news that Sheffield United will remain in League One next season after Huddersfield defeated the Blades 8-7 on penalties in the play-off final last Saturday :
GA
Absolutely great fun, can't wait, biggest and strongest team in the league. But, it is a lovely place to go, it is always a place that they are going to have a big crowd and a big excitement. They are a big team so they will certainly add a lot to the division next year and be very strong.
TB
League One generally, how strong do you think that league will be next year?
GA
It will be just as strong, you will find teams that find some strength in terms of their resources and their squads. It will be a really tough division again, probably looks on paper a little bit less formidable than last year, but I am sure when everything starts off it will be just as tough again.
TB
Preston have been pretty active in the transfer market, looks like a complete rebuilding job, what are your thoughts there generally with Preston? Do you think they are trying to turn things around?
GA
Well, I would think they will be trying, whether it works or not is a different thing, but they will definitely be trying. I have not really paid too much attention to what other clubs are doing, I have got my own issues to deal with at the minute. I know that they have made one or two signings, but we will have to wait and see with that one.
TB
In terms of your own squad what is the latest on the contract offers?
GA
Well, the players have got until the deadline on Monday to let us know whether they will be taking those options up or not. As soon as we know that then we can start to move things forward.
TB
So, is there a definite deadline for answers from them then?
GA
Yeah, next Monday.
TB
Definitely Monday. At this stage are you any more confident about those players actually signing a deal or are you in the dark as you were before?
GA
I will just wait and see to be honest, I will just wait and see, there is no point in me trying to second guess what is happening. I might as well wait until I get the firm, final answers and then I can start adjusting my program from there.
TB
And what about players coming in on deals, either loans or permanently?
GA
We are constantly talking, we have obviously got to wait and see what happens with the eight. But, while that is happening we are keeping quite a few enquiries alive and keeping quite a few players warm. When next week comes and I know what I need and what is going to come back and what is not then we can start pursuing them with a real determination.
TB
And what about trialists? Are you confident that you might get someone on a trial basis over the summer?
GA
I am sure there will be, I am sure there will be, that always happens that people haven't found the right move or the right club. So, I am sure that will happen, everyone is trying to get permanent deals at the minute but nearer the date then the trialist situation seems to become a bit clearer.
TB
Obviously, there is new rules with gates in the league this season, are you worried about the budget restrictions this summer?
GA
Well, it has never worried me before, I would always like a bit more but we have what we have got and we have to make it work as best we can. That is where you are, you can't worry too much about it, you have just got to get on with it and deal with it and try to use it as wisely as possible.
TB
Last season was a fantastic season for Carlisle, and a lot of times you were sort of reiterating the fact that you wanted more and more people through the gates. Because of these new rules is it even more important now?
GA
Well, gates and support is always important, if we get off to a good start, I think we just managed to turn a few people round at the back end, I think the last four gates were over 6,000 and all I would say is that the more revenue we can raise the more chance we have got of getting better players in, which gives the team a better chance of winning. We just want to have a nice exciting club and another exciting season where fans enjoy coming. But, the bigger the gates the better I think for everybody.
TB
And I just wanted to ask you as well, as a manager how tiring is it over the summer? Obviously, players go off on their holidays, I mean people in general go off on their holidays during the summer, is it just a constant job basically? Are you not getting any rest?
GA
No, this is a very difficult period for us because if we get this bit right, you know the close season and then the pre-season and we get it right in terms of getting the right players in and then getting the right training scheduling before we start the season, if you get all that right as a manager your season looks after itself and you take the highs and lows as you go along.
But, it generally gives you a real good foundation, so at the minute I am probably working as hard as I was at the back end of last season when things were tailing off. So, I wouldn't say it is the best period for us, and you are always second guessing as to what is going on out there in terms of transfers and people being available. I would say it is a difficult time and a period that you really, really do want to get right.