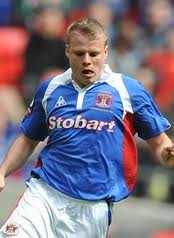 United right-back Frank Simek (FS) spoke to BBC Radio Cumbria's Paul Newton (PN) earlier this week, Simek talking about the reasons behind him signing a new contract for the Blues :
FS
It is to nice to put pen to paper, it has been decided for a few weeks now, it was just a matter of me getting back to England, I was over in the States for a few weeks so I was unable to sign the contract, but it has been decided for a few weeks now.
PN
Did you always have in mind signing a new deal with the club?
FS
Yeah, I always wanted to, it took me a few weeks to make up my mind and decide and for everybody to agree on the contract. But, once it got sorted I was over the moon and I was happy to sign it.
PN
Given the fact that you had come to the end of that two year deal, was there interest in other clubs from you during the summer?
FS
Yeah, I had a couple of offers out there but I weighed them up and it didn't take me too long to decide that I wanted to stay with Carlisle. I have got a lot of time and a lot of respect for the coaching staff here and the fans and the whole club, the club as a whole I think is a good club and it is a nice place to live as well. I am settled here and I took all this into consideration and I was more than happy to sign.
PN
How excited are you about the new season?
FS
I am yeah, I am really excited, I think we had a good season last year, we weren't able to finish it off but it came down to the last game of the season. Which doesn't happen often having something to play for in the last game of the season but we will look to kick on again. We have lost a few players but the manager (Greg Abbott) has brought in a couple of quality signings, I am sure he will be looking to further strengthen and hopefully we can have a good season.
PN
Is the aim this season to go one better and finish in the top six?
FS
Yeah, I think you always have to aim high but we are not going to get ahead of ourselves. We haven't even started pre-season yet so everybody will look to get their fitness in and go from there. We were able to keep the majority of the team together from last year, so there is no reason why we can't have another successful year.