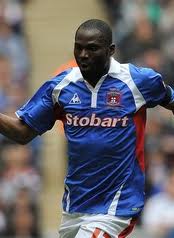 United frontman Francois Zoko (FZ) spoke to BBC Radio Cumbria's James Phillips (JP) following Carlisle's 4-1 League One win at home to Exeter, Zoko saying the Blues controlled the match :
JP
Man of the match again Francois, how did you enjoy it out there today?
FZ
We controlled the game today, it was a good game, we scored four goals today, we must win and we win, we stay in the race. It is going to be difficult but we need to win the last game and see what happens.
JP
A very exciting match, very end to end, never until the end you were quite sure it was going to be that win?
FZ
Yeah, the game was really open, you play only for win today, we think just about the win and continue like this for next game.
JP
Stevenage are playing now, if they win it is all over for Carlisle in the play-offs, but if they don't it goes to the last game, how exciting could that be?
FZ
They play now, it is still 0-0, we are still in the race, but if Stevenage win they deserve to, they do a good league this season. But, if they don't we are still in the race and we go to Oldham to take our chance.
JP
How proud are you of how well Carlisle have done this season given the relative size of the club compared to others?
FZ
Yeah, but when we have the opportunity for the play-offs we need to take this, you lose many chance at home this season and I think if we win one or two game more at home today I think it is over and we are in the play-offs. But, if not this, we need continue, go forward and look what happens.
JP
How much are you enjoying playing for the fans? They clearly love you, they keep voting you man of the match?
FZ
It was a good game and me too I enjoy, it was difficult for me for a few game and the body not very good. Now it is better and I hope I continue like this in this game.
JP
Do you want to be here next season? Are you hoping to be here?
FZ
Now when we speak I can't say yes or no because you stay open. It depend if Carlisle and I look for me and the best for me and my family, today I can't say I will stay at Carlisle because it isn't true, I don't know.
JP
A long summer of talks?
FZ
Yeah, a long summer of talks because I think before I go holiday everything can be clear before I go, but today we don't know.
JP
The fans would clearly love to see more of you Francois?
FZ
Me too, I want to stay, I like it here, my family is very good, my children, this is important, and the school and the friends. I think about this but I can't say today I stay at Carlisle 100%, I can't say that.
JP
We'll hope in the future then. Have you got the internet at home? Have you seen the video of yourself?
FZ
For the truth I don't see the video but I know I have the video, before it was Daily Motion and now YouTube. Every year my agent do that, he put new video, he put new game, but I was surprised when everybody speak about this now because every year he do that. It was Daily Motion before, now it is YouTube, but it is just like this, not something else.
JP
We hope next year there is another video of you again in a Carlisle jersey though?
FZ
Me too I hope.