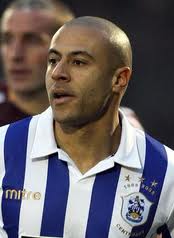 United frontman Danny Cadamarteri (DC) spoke to BBC Radio Cumbria'sJames Phillips (JP) following Carlisle's 5-0 pre-season friendly win away to Workington, summer signing Cadamarteri saying he has been made very welcome at Brunton Park :
DC
I have been delighted, obviously the lads have made me feel very welcome, myself and Mike Edwards, they are a great bunch of lads and a good spirit amongst them as well.
JP
You have come to a side in the third division essentially of English football, have you been surprised by the sort of football Greg Abbott has them trying to play here?
DC
Not at all, I have been part of a team and a squad at Huddersfield that has always come up against Carlisle teams that have been a very difficult team to play against. I have seen it first hand, I played against them twice last season, always a tough team to play against as they get the ball down and pass it around.
JP
It would be interesting to get your thoughts actually, what were you told ahead of those Carlisle games by the people at Huddersfield who play great football themselves?
DC
Just to obviously give them the respect they are due and try to get into them, because at the end of the day if you give them too much respect then they are going to pop the ball round and cause you a lot of problems. They are always a team that teams like Huddersfield and others have been very, very wary of because of the ability they have always had.
JP
I would imagine some of the players that you have joined here at Brunton Park, you will have been very impressed by some of the quality that there is out there already?
DC
Yeah, from my first couple of training sessions I was extremely, not surprised, but delighted to be in and amongst such young talented players as well. It is refreshing for some of the older pros to be in and amongst talented, refreshing young enthusiastic players.
JP
In these opening couple of friendlies, I mean they are only really the sort of warm-up to getting into the big hard action and longer on the pitch, but you have played in a couple of different roles, how are you enjoying there and where have you enjoyed playing the most?
DC
I have always said no matter where I have been, I am prepared to play in any position the manager wants to play me. Obviously delighted to get some minutes on the pitch and just really enjoying getting to know the way a lot of these lads play as well. They are hopefully getting to know a few of my attributes and I will get to know a few of theirs over the next few weeks as well. I just need to keep my head down and fight for a place at the start of the season.
JP
They say you never stop learning, despite coming in as a very experienced footballer are you still learning things from your new team-mates here?
DC
Yeah, definitely, I keep saying there is so much ability in some of the young lads here, the likes of young (Liam) Noble and (Chris) Chantler as well have really impressed me with their abilities. It is one of those where you sit back and sometimes watch such young players playing with that little bit of ease on the ball, so it has been great so far.
JP
In terms of the match today, two matches against Cumbrian sides, another one on Saturday, local sides, it just gives it just that little bit of rivalry which gives it something more than some pre-season friendlies?
DC
Yeah, it is good to play teams local to you, pre-season is all about getting the minutes on the pitch and the players, especially new players, getting to know some of the existing players. It is just trying to forms bonds and relationships as well, and it is great to be playing local teams but the most important thing for us is getting to know each other and getting results as well.