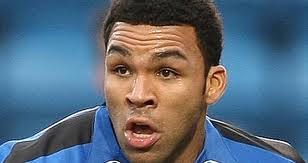 Scunthorpe goalscorer Andy Barcham spoke to BBC Radio Humberside after his side's 2-1 League One defeat against Carlisle at Glanford Park, Barcham understandably disappointed after the Iron conceded the winner in stoppage time :
"It is just disappointment again, we have taken the lead in the game, and it is a game obviously we have worked hard, with no game last week we have obviously put the work in on the training field because we knew what was expected today. We have got the goal early on and we thought hopefully that was going to settle us down and we could maybe play the way we usually like to play.
"But, when we got the goal we sort of backed off and let them come at us, they have had a good few chances and haven't put them away so at half-time you are thinking maybe this is the luck we have needed, perhaps it is going to be our day today.
"But, we have come out again in the second-half and we have conceded two late sloippy goals, but at 1-1 I think we tried to step on and we have created a few more chances where we could have taken the lead again ourselves. But, we haven't and to concede like that with two sloppy goals at the end is just disappointing to take, and obviously with being in front early on it was a game we thought we could have gone on and won.
"They have had their chances, perhaps they have had the better of the chances, but we have had it like that throughout the season. We thought that maybe we were going to get the rub of the green that we needed today but we didn't. We have had some good chances of our own that could have got us the win and obviously being in front at home you would like to think we could have gone and won the game."
"I am not sure what it was, maybe it was anxiety, we finally got in front and we are so desperate to get the win that we wanted to just try to maybe keep it. But, obviously you can't do that in this league, you have got to keep pushing on and get that second goal, the third goal, because 1-0 is never going to be enough and I'm afraid we showed that today.
"It is very tough times now, we are not playing well, bad results lately, but the only way we are going to get out of that is sticking together as a team and trying to come through that. We are all behind each other, we know that is the case, we know that is the only way we are going to get out of trouble is if we stick together.
"Hopefully that is going to come, everyone is disappointed, it is clear for everyone to see that, like the fans as well, I understand it that they are disappointed as we all are, but we have all got to stick together and that is all we can do. It is very worrying to be in the situation we are in, it is not nice to be down there, we are where we are because we haven't been getting the results and we haven't been playing the way we can play.
"But, the only way we are going to get out of that, we can't feel sorry for ourselves, we can only get out of that situation ourselves, so we have got to stick together as a team and keep trying to go. I would think we have got the character to do it, there are definitely some big characters in the team, we need them now more than ever to be counted for and especially the experienced ones to get round some of the younger lads and obviously keep us together.
"I am not sure what Garry Thompson was talking to the fans about, I did see him go over there but I am not sure obviously. There is just frustration creeping in through everyone but I can't really say anything about it because I didn't hear anything."