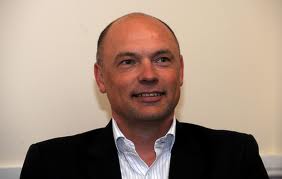 Bees boss Uwe Rösler spoke to his club's official website ahead of his side's televised League One game at Griffin Park against Carlisle this evening, Rösler first talking about a period of better training for Brentford last week :
"Training has been a lot easier, better training facilities, not so much training on hard ground which is very important for the health of the players. We had a week where we had extra training for certain players and we also had a little bit of a rest period for players who have been used very heavily, for example Clayton Donaldson, Jonathan Douglas and Gary Alexander. So, we individualised the training at the beginning of this week and then on Saturday and Sunday we were team training in preparation for Carlisle.
"We really went for it up at Carlisle, I think in the last 10 to 15 minutes of the game we had a number of occasions where we could have scored, we were very strong on set-pieces. We brought on another striker and the players really pushed, they didn't sit back, they didn't accept the defeat and we got the equaliser and we could even have won it in injury time. But, overall I felt that it was a very good game of football, from both teams willing to attack, both teams trying to play the right way.
"I watched Carlisle on Friday on DVD, they are a very good footballing side, passing, movement, rotation and are capable of playing different formations, a very good team and a very organised team with very good players. Hopefully it will be an entertaining game on Monday, I think two teams who are willing to go for three points, Carlisle obviously have ambitions this season of going into the play-offs and we need the three points to be hanging in the top ten.
"Obviously, we have very good experiences of playing in front of SKY cameras, I think my players really enjoy that, I think it always gives them a little bit extra and hopefully we can produce similar performances like we did against Charlton and Huddersfield, but with the outcome of us getting three points. You obviously never want to get beaten but what I say now at this stage of the season is that you can only make big strides when you are winning games and certain games you have to start the game even more adventurously than you normally do.
"I think we have the players to do that, I think we have also now after the home game with Wycombe broken the deadlock and also by scoring five goals I think that the players know that if everything goes to plan then we have a great chance to beat Carlisle. I think the players will go out from the first minute and try to attack them and try to create chances and try to score goals, like we did against Wycombe.
" I think Carlisle will come here, I watched them against Huddersfield and I think they will regard us in a similar bracket to Huddersfield. They came here with a 4-1-4-1 like most teams play against us with five men in midfield and they will try to hit us on the counter-attack when we stay high up in the field. So, I expect them to do the same.
"Not playing on Saturday gave me an opportunity to go out and see teams and players, we went to Leyton Orient to watch a team who play against soon in Scunthorpe, but we were also watching players, so it was a good opportunity for us. I think it is a great opportunity for our players too on Monday and thanks to SKY for giving us the opportunity, I think everybody can show themselves, can make a name for themselves and can represent the club in the right manner, in terms of first and foremost winning but also in the way we play. I think it is a great opportunity for everybody involved and we have to grab it."
In team news for the Bees this evening they will definitely be missing three players, while they also have doubts over another. The major problem for Brentford being in the heart of their defence with two centre-halves, in Marcel Eger and Karleigh Osborne, currently sidelined. 23-year old Osborne two to three weeks away from full fitness due to a long term lower leg and foot problem, while Eger, 28, is seven days or so closer to a return to action from his ankle injury.
The last confirmed absentee for the home side this evening in front of the SKY cameras being 29-year old skipper Kevin O'Connor, who is fourth on the Bees all-time appearance list, but was stretchered off with a foot problem during an FA Cup win over Basingstoke Town in November, the midfielder coming close to a return to training last month only to suffer a setback in his rehabilitation that required a further small operation.
Elsewhere for the Bees meanwhile goalkeeper Simon Moore, 21, missed his side's 2-1 defeat at Colchester last Tuesday due to a toe injury and so is doubtful for tonight's match. But finally, in better news for manager Uwe Rösler, he does have England under-19 international Jake Bidwell, 18, available for selection after the Everton left-back last Thursday signed a one-month extension to his original November-penned youth loan at Griffin Park.
The referee for this evening's match is Tony Bates from Stoke-on-Trent, and he will be assisted down the lines by Ian Rathbone from Northampton and Guy Stretton from Enderby in Leicestershire. Meanwhile the fourth official is Iain Williamson from Reading in Berkshire.