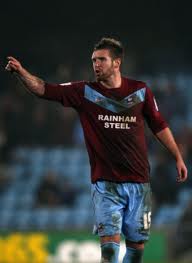 Iron skipper Paul Reid spoke to his club's official website ahead of his side's League One game against Carlisle at Brunton Park on Easter Monday, former Blues centre-half Reid happy with the form Scunthorpe's back five have been showing in recent matches :
"I think we are looking a decent defensive unit with plenty of clean sheets from the turn of the year, which has been important. The fact that we are scoring a few goals as well makes it a lot easier for us at the back because it gives us something to defend. I don't think you can ever be arrogant enough or cocky enough to say that we have conquered anything now, you can't say that, I think we are doing OK. Since the turn of the year we have done alright, we just need to get ourselves safe and regroup really.
"I certainly don't think we can just down tools for the next five games. I would say we still need a couple of results. We can't rely on other teams around us not picking up any points from now until the end of the season. We've got to expect them to be fighting and picking up points. If we do the same, we should be okay with the little bit of a cushion that we've got. It's been tight for quite a while, but in honesty we shouldn't be there. You get what you deserve, but with five games to go we shouldn't be thinking, can we still get relegated?
"So, we certainly didn't want to be at this stage of the season with five games left still looking over our shoulders, so we have just got to get the job done and make sure we are safe, then not take too many plaudits either because ultimately it is a disappointment. I don't think we can start to relax now, 14th sounds a long way off the bottom four but points-wise the league is so tight below us that we can't relax just yet, I still think we need a couple of results before we can do that. If we can just nick a result at Carlisle, any kind of result, just avoid defeat, then we will take it.
"Carlisle is going to be a really tough game though, when they played here earlier on in the season I thought they were probably one of the better teams that have come here. I thought they were a good team and they have proved that over the season by being in the play-off positions. So, it is another tough game, they will be looking to concrete their place in the top six and obviously we need the result to make sure we are OK.
"It is a chance for us to get three points but it is nice for me to see a few people, I know a few of the players and I know a few of the backroom staff and I know plenty of people in Carlisle with friends and family there. But, to be honest I play against old clubs quite a lot, I played against Preston the other week and I played against Barnsley in pre-season and I played against Colchester so it is not something new.
"My dad's a season ticket holder at Carlisle. He's decided he's going to go in the Carlisle end tomorrow, so there's a bit of friction there. It's split loyalties in our house at the moment. They were both there on Friday, my mum and dad, watching and supporting. I think my dad just felt a bit guilty because he was being a bit of a Judas. A draw could be the right result for a happy Reid household. But, I have played against Carlisle a few times in the past so it will be nice to see a few people but ultimately I just want three points."