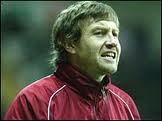 O's assistant boss Kevin Nugent spoke to his club's official website ahead of his side's League One clash against Carlisle at Brunton Park tomorrow, Nugent looking for some good work for the visitors defensively :
"We've picked up on our defensive work and put quite a bit into our defensive work after the start to the season we had. We've had players coming back to fitness, we've had to readjust the back four and players have gone in there showing total commitment and honesty in a position that isn't always their own position.
"All the lads in there are natural defenders and there is a real honesty there which is half the battle to be honest and you always know that our lads are going to give it their best shot. We have looked solid in the games against Charlton and Stevenage, and in the first half against MK Dons, so we want that to continue.
"You always go into a game expecting that you can get something but as always it is going to be a tough game. It'll be a different test to the one at Stevenage and we've had a few games in recent weeks against teams with different styles. MK Dons, Charlton and Stevenage all played in a different way and it's fantastic for British football and in this league that everyone's trying out different bits and pieces.
"We know that Carlisle play good football and that they are a good side. They have a nice pitch up there and it's a tough game. I think they are seventh and they are seven points in front of us at the moment, so they are up there for a reason because they are a good unit and they have got good players, all the players fit into the positions they have got, he (Greg Abbott) adjusts them a little bit as well and he tweaks the system.
"It's a big distance to travel and we've had plenty of games recently, but the lads are well-prepared and they've really been looking after themselves as well so they'll be going into it fit and healthy. It was important to have some time off after the Stevenage game, we went right through training Christmas Day and then the game on Boxing Day, there have been no days off at all, but now they all look sharp and raring to go
"We had a productive Christmas and we were pleased with the points tally, but you are always wanting better even though we were disappointed with the second half performance against MK Dons, but we would have taken this points tally before the games. We've won two in a row since and we're looking for that run to continue. We have closed the gap on a few teams now so let's really push on for the second half of the season."