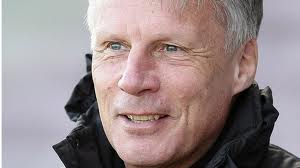 Colchester boss John Ward spoke to BBC Radio Essex and the Daily Gazette ahead of his side's League One game against Carlisle at the Weston Homes Community Stadium tomorrow afternoon, Ward first looking back on a quiet loan deadline day for the U's on Thursday :
"I think sometimes you can affect your squad adversely if you are not careful by bringing too many faces in who have probably got different agendas to the group that you have got in the football club. Our agenda is trying to improve our season and everybody is in line with that. So, I don't see any need to throw it a different way as the squad as well is staying relatively fit and confident. We seem to have momentum and the mood's good at the moment. We have to try to maintain that and it's not something we get casual or lazy about.
"Contract offers have been made now to about six or seven players, what I have decided to do is leave that alone for this month because it has been crazy in terms of games. Every day you are preparing for one or recovering from another, so we have left that out. By the time April comes, which will be a in a few days time, then we will start looking at that a little bit closer and we have got perhaps a little bit more time to concentrate on that. But, at the minute everything is geared to the next game that comes along pretty quickly.
"We all had a fantastic day against Preston recently when the crowd and the team all got together. We all had a disappointment against Huddersfield with the late equaliser. But, we shared that and at the end of the game, applause rang round. We should all look forward to coming here tomorrow afternoon and seeing if we can get together again. If we all work hard together, we'll have a few more good days and hopefully tomorrow can be one of those.
"I have enjoyed not losing in this recent sequence, I think that is the important factor, I can look at it at the moment and say that I am enjoying it simply because the team is playing well and the results have been favourable. So, you can get on a decline, there are some clubs I have read that haven't won for 15 games or 16 games in different divisions, you think, wow, that is a heck of a long period. You can get into decline as well as you can get into ascendency, and I think at the moment we are playing pretty decent football, so you have got to enjoy these times in football as a manager, a player, a supporter, whatever.
"Players like to play Saturday-Tuesday, that is what they want to do, they don't want to be running round pitches and up and down hills and stuff like that, they want to get the ball out and they like the competition. So, again, providing things are favourable for you, which at the moment they are and people are fit and are playing consecutive games then players are happy to have steady training days and getting ready for the next game, and certainly as well as they are playing they like doing that."
"Carlisle can be a big club, I think they are not getting more than 5,000 people watching them on Saturdays at this moment in time but if they were to go to a play-off final they would be taking 30,000 plus, they have done that a number of times before. They have got the capabilities of getting into higher divisions and getting bigger crowds, so I think that it is something about them that they have got that.
"There is nobody pretty close to them for about 60-odd miles, so Carlisle is a very one-centred town in terms of their football and in terms of supporting their team and they do it very well. They have got a lot of exiles, there will be a good support here because there are a lot of London-based Cumbrians that I found when I was there. You go to Southend on a Friday night, which was my first game there, and there were 1,000 people supporting Carlisle United.
"So, I asked the question how that happened, and they travel well from Cumbria but they do travel from around the country when they get the opportunity, so we will have some competition off the pitch as well as on it. It's too easy to say the weather spoilt the game up there earlier in the season, we didn't deal with the conditions very well and we didn't play very well. We mentioned that recently and it's a case of putting the record straight, rather than getting revenge.
"My goalscorers will be back firing - they'll be OK. We didn't worry their goalkeeper (Chris Day) enough at Stevenage and that's the frustration. We had a lot of the ball in the second period and got into the last 30 yards without worrying their goalkeeper, which is unlike us. I've got people like (Kayode) Odejayi, (Steven) Gillespie, (Anthony) Wordsworth and (Ian) Henderson on the pitch and we put (Freddie Sears) and (Gavin) Massey on. We had a really good go at it but we weren't able to find a winner.
"But we've worked hard on our shape and our defending and it's paid off in a lot of the recent games. We've only had one defeat in eleven and we've been very strong as a team. The supporters stayed with us at Stevenage and they know that they're watching a good team who are evolving. We'll continue to try our very best for the supporters. We'll see if we can get the crowd behind us again on Saturday like they have been and see if we can win a game."