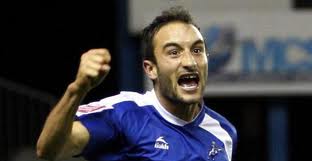 Wycombe midfielder Chris Hackett spoke to his club's official website ahead of his side's League One clash against Carlisle at Adams Park on Good Friday afternoon, Hackett, on loan with the Chairboys from Millwall, saying there is a good togetherness amongst the Wycombe players :
"A never-say-die spirit is a good thing to have at this stage of the season, I think that starts at the training ground with the atmosphere there and that helps. The boys have got a togetherness and even if we go behind we still believe we can get back into a game or win a game. I was surprised when I came in and the team was struggling towards the bottom end of the table but the atmosphere seemed very good. The boys are quite close, there was a togetherness in the team but I think they just needed a bit of confidence with a couple of good results, and I think that has kicked on.
"I think there are some very good players here, I think there is a good philosophy here, the manager (Gary Waddock) and the coaches put good training sessions on and I think that helps. We have played some good football, we have not just won scrappily, we have won quite well in games we have won and we have performed quite well in the other games.
"I have played virtually everywhere, I have played right-back at Millwall, right-midfield, centre-midfield, I have been pushed around all over the place. Here I have played right-midfield and centre-midfield against MK Dons, but against Stevenage I played a bit further forward in the formation. So, if play in that position and get an opportunity there then I would like to get on the scoresheet, it would be nice. I have played most of my career in a 4-4-2 as a right-midfielder but if it means getting picked then I would play on the left or the right, if it benefits the team I will give it my best wherever.
"It has been frustrating for me because it has been a stop-start season with injuries, I have not played as many games as I would like and as a footballer you need a routine and you need to play games and train consistently. I want to play games and if I am on the pitch then I feel I will get stronger with each game that I play. I think I did OK against Stevenage and I think there is a lot more to come from me if I am picked.
"Carlisle have done well and we have got to respect them, they have had a good season. But, like any team in this league I think regardless of where they are in the league I think if you are on your game you can pick up points. I don't think it matters if you are playing the top teams or the bottom teams, I think you will get a tough game against the team struggling at the bottom and you will get a tough game against the team at the top if you are not on your game. But, if you are on your game I think you can test anybody really.
"It will be a good game and the most important game is three points, I think at this time of the season the football is important but points are more important for us at the minute. So, I think we would take a scrappy 1-0 but we want to play well for the fans as well. We had a tough session of training on Monday and then Tuesday off so this week has not been any different really in preparation for the game either."