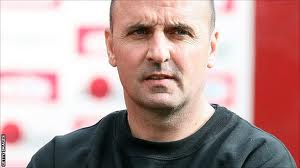 Stanley manager Paul Cook spoke to his club's official website and the Accrington Observer ahead of his side's Capital One Cup first round tie against Carlisle at Brunton Park tomorrow, Cook happy that the start of the 2012-13 season proper kicks off tomorrow:
"We're really looking forward to this first game. The weather seems to have changed, pitches are in good condition and I think all squads are ready to go. Unfortunately in all the matches over the weekend there will be winners and losers and we want to make sure that we're a winner. We've got a tough draw in the Capital One Cup. Carlisle finished eighth in the league above us last season and I think the job their manager has done is incredible.
"I've got so much respect for Greg Abbott. As a manager you know when you go to a place like Carlisle you're going to have a really difficult job because you get to a point where it's hard to attract players on the money you're paying. For them to be knocking around the play-offs in League One is an incredible job and we're under no illusions of the challenge we've got. It's one of the toughest draws we could have had and that includes a lot of good teams, but we're still going there to win.
"It is an exciting time for the club this season, fans will see a lot of goals and it will be attacking football. They come to be entertained and that's what I plan to do and hopefully we will get plenty of wins on the way. We aren't a settled side yet. I wish we were but that's the way it goes. You have got to be patient. Lads are currently trying to cement their place in the first team but we are still looking for loan or permanent signings. We have the numbers but a lot are young and developing and we are looking for quality signings to take us where we want to be.
"Managing a football club is a daily challenge. I had five years in Ireland with Sligo and I know what it is all about. And luckily the hardcore supporters here do too. They stick through the club through good and bad times and, as long as I am acting in the best interests of the club and the players, then I think they understand what I am trying to do here. We are all in it together.
"It is a challenge but I don't think management is pressure. There are a lot of other jobs and situations out there in daily life that are more pressure than managing a football club. I am not interested in whether we have a good away record or a bad home one, for me it's about where we finish at the end. I am not bothered about being unbeaten in six or not having won in four – when the season is done and dusted it's our league position that counts and we want promotion, that's the aim."
United have played Accrington in their two separate guises 26 times at home over the years, with the Blues massively ahead on 20 wins to Stanley's two, with four of the matches ending in draws. None of those games have ever come in the League Cup, with the two sides never having played each other in Lancashire either in the competition, and the last time the clubs met at Brunton Park was in league action in the Nationwide Conference in March 2005, the Cumbrians winning 2-0 thanks to a goal in either half from Derek Holmes and then Karl Hawley as 4,861 fans looked on.
In team news for the visitors tomorrow as they look to make a dent into their poor record in Cumbria, they could have as many as thirteen new players in their matchday squad with the additions this summer of Aidan Chippendale, Luke Clark, Adam Dawson, Bohan Dixon, Tom Eckersley, James Gray, Lewis Hatch, Tom Eckersley, George Miller, Lee Molyneux, Karl Sheppard, Adam Stockdale and Ryan Watson.
The most recent three of those signings coming today after the Reds picked up two 19-year olds on loan from Wigan, midfielder Dawson joining on loan with a view to a permanent deal, while attacker Watson arrives on a six month contract, and finally left-back Lee Molyneux has signed on non-contract terms in time for tomorrow's game.
Meanwhile, apart from Luke Joyce who has been at the Crown Ground for three years now, the only other former Carlisle player in the Accrington squad, Blues trialist striker from August 2009 Craig Lindfield aside, is left-back Michael Liddle who was a United-loanee in the 2008-09 season and who signed for Stanley from Sunderland this summer for an undisclosed fee.
The referee for tomorrow afternoon's match is Nigel Miller from Consett in County Durham and he will be assisted down the lines by Peter Wright from Southport and Simon Clayton from Newton Aycliffe in County Durham. Meanwhile the fourth official makes up a County Durham trio as it is Barry Gordon from Chester-le-Street. The officials perhaps also responsible for overseeing 30 minutes of extra-time if the scores are level after 90 minutes, and then a penalty shoot-out if the two sides still can't be separated after 120 minutes of action.
*Footnote - should United make it through to the second round then the draw for that stage of the competition will take place on Wednesday 15th August.