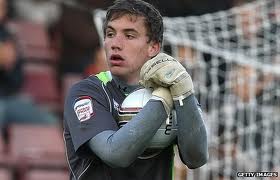 On-loan Chelsea goalkeeper Sam Walker spoke to the official Yeovil Town website ahead of his side's League One match against Carlisle at Brunton Park tomorrow afternoon, 20-year old Walker hoping that the Glovers can make it five wins in their last seven games :
"We are on a good run of form, it will be a tough place to go up to Carlisle, but I think we are fourth in the form table so we can go there with plenty of confidence and play our game and try to get a result. It is great that we are winning games but it has been two games in a row now where it has been a bit frantic for the last five or ten minutes, so we are as a defensive unit trying our hardest to cut out the errors that are leading to the goals.
"I watched Carlisle's game on SKY Sports on Monday and it was obviously a poor result for them and I don't think that was a true reflection of how they are as a team. The table doesn't lie after the amount of games we have played now and they are obviously a good side, but we we are confident in our own ability. We look at how other teams are playing but we tend to believe that if we can go and enforce our game on the opposition then we can try to get a result. It is a long journey but it helps us massively going up on the Friday, I am not sure how well we would play on the Saturday if we travelled on the Saturday morning. We are going to train in the afternoon and rest up and stretch off and be ready for Saturday.
"I feel really settled in here, I felt settled in after the first week or two, all the lads are brilliant, I like the area and that has helped me a lot on the pitch as I find that when I am comfortable and happy off the pitch I am happy on the pitch. Chelsea have guys at games, sometimes they tell me things and sometimes they don't, but there will be a guy there most games and they are happy with the way everything is going.
"I am enjoying my football, I get on with the players here, I get on with the manager here (Gary Johnson), so everything is going in the right direction at the moment. We will see where we are at at the end of the season, hopefully things will go well, we will stay up and be successful and then we will see where we are at for next season. But, I have signed a new contract at Chelsea and it means my long-ish term future is secure, which in my head means I can concentrate on playing football on a Saturday."
Meanwhile left-sided midfielder Gavin Williams commented to the Western Gazette on the recent return of boss Gary Johnson to Huish Park :
"I think he is exactly the same manager, his tactics are still the same and the way he wants people to play is the same. I think he has chilled out a little bit, but he still gets his point across. When a new manager comes in, I think all of the lads in the dressing room have got to prove to him that they have got to be in the team and that was the same for everyone here. For me the injury did not help and I think I came back a little bit too early. Those first games were just getting my match fitness back. I have got that back and I am enjoying it again."