Carlisle's fourth pre-season friendly takes them away from their Slaley Hall training complex and down to Durham City's 3G pitch. Numerous players being rested meaning there was a starting place for a new trialist in 21-year old former Newcastle frontman Ryan Donaldson who featured mainly on the right on a front three for United. The line-up at kick-off for the Blues, with other trialists Dale Hopson and Mark Kerr also on show, being as follows:
Mark Beck
David Symington - Ryan Donaldson
Dale Hopson
Mark Kerr - Liam Noble
Alessio Bugno - Brad Potts - Danny Livesey - Frank Simek
Mark Gillespie
2 mins - Symington cross in from the left, Beck header from 8 yards out narrowly wide of the far-post.
8 mins - Noble and Beck combine in a one-two, Noble thunders a 20-yard drive over the top.
17 mins - Hopson low cross in from the left-hand channel, Donaldson running in side-foots wide of the near-post from 8 yards out.
19 mins - Symington deep cross in from the left, Beck header down from 10 yards out at the far-post into the net, 0-1.
20 mins - Pass through from Wayne Grezdiak for the home side, Jack Pounder gets halfway round Gillespie in the right of the United box, but with covering defenders back he dallies too long and Gillespie manages to claim the ball at his feet.
27 mins - Beck low ball in from the left, bounces up for Hopson to half-volley over the top from 15 yards out.
28 mins - Pounder attempted lob over Gillespie from the Carlisle 'D' goes wide of the target on the bounce.
30 mins - Hopson pass to Symington, 20-yard drive goes straight into the gloves of home goalkeeper James Winter.
32 mins - Kerr makes a run forward but shoots over the top from the edge of the City penalty area.
36 mins - Symington cross in from the left, Beck at the far-post heads back across goal from 10 yards out, Evann Graham slices a clearance over the top. Poor Hopson corner in easily cleared by Graham this time.
37 mins - Simek pass to Donaldson, lightly tripped just inside the box by Dan Madden, penalty. Beck cracks spot-kick into the corner of the net despite Winter diving the right way, 0-2.
38 mins - Noble low ball in from right, Winter makes good sprawling save on Beck's side-footed effort from 6 yards out.
40 mins - Grezdiak pass to Conor Winter down the middle, Winter slices his shot from the edge of the Blues box well wide of the target.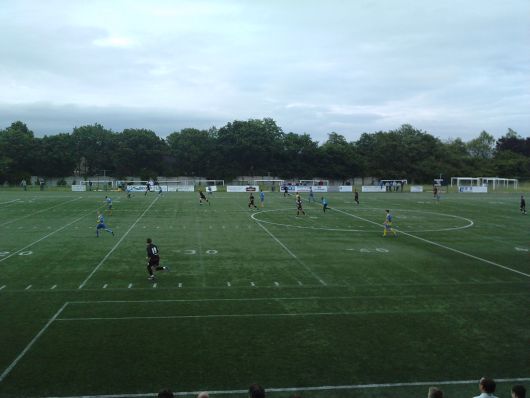 46 mins - Edwards and Murphy replace Livesey and Simek for Carlisle. Potts moves over into Simek's right-back spot.
46 mins - Durham make six changes during the interval, while their goalkeeper also changes his shirt. City then making a further seven rolling substitutions during the second half, often with a lucky dip attitude towards shirt numbers which change like a book of bingo cards.
49 mins - Potts 15-yard cross-shot from the right-hand channel goes wide of the far-post.
54 mins - Hopson robs Andy Brown in the Durham box, ball breaks to Beck who slides a shot from 15 yards out across Winter and into the far corner of the net for his hat-trick, 0-3.
60 mins - Beck lay-off to Symington for a low shot from well outside the box which Symington pulls wide of the near-post.
63 mins - Noble is replaced by Berrett in the United engine room.
66 mins - Gillespie is called into action at last as he does well to tip over Andrew Stephenson's powerfully struck 22-yard drive.
73 mins - Potts low ball fully across the box reaches Symington at the back-post, Symington though side-foots powerfully a mile over the top as his effort on goal disappears from view halfway up the foliage of a tall tree 30 yards away.
80 mins - Hopson and Beck combine nicely in a one-two, Hopson curler from 15 yards out goes straight into the midriff of Winter.
83 mins - Symington tries his luck from distance in the right-hand channel but his shot is easily claimed by Winter.
So, an easy win for Carlisle on a rare game on artificial turf, United also claiming more field goals through the American Football posts during the game than Durham did as well. After four pre-season friendlies on the road though against non-league opposition it's now back to Brunton Park on Friday night as the Blues take on a Scottish Premier League outfit in St Mirren in a 7.15pm kick-off.
Durham City line-up :
James Winter, Max Stoker, Tom Goundry, Evann Graham, Graham Irving, Dan Madden, Conor Winter, Elliot Cutts, Wayne Grezdiak, Stephen Thompson, Jack Pounder.
Substitutes :
Nicky Allen, Rufus Ayre, Andy Brown, David Duke, Jon Durie, Craig Hindmarch, Liam Ord, Dan Rundle, Shaun Ryder, Andrew Stephenson.
United line-up :
Mark Gillespie, Frank Simek (Peter Murphy 46), Alessio Bugno, Danny Livesey (Mike Edwards 46), Brad Potts, Mark Kerr, Liam Noble (James Berrett 63), Dale Hopson, Ryan Donaldson, Mark Beck, David Symington.
Unused substitutes :
Adam Collin (GK) and Matt Robson.
Referee - Geoff Eltringham (Sunderland).
Assistants - Adam Herczeg (Dunston) and Shaun Hudson (Houghton-le-Spring).
Attendance - 287.
2012-13 Pre-Season Results : Click here