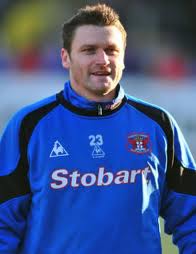 United goalkeeping coach Tony Caig (TC) spoke to BBC Radio Cumbria's Paul Newton (PN) this evening, Caig first talking about 20-year old stopper Mark Gillespie signing a new two year contract with the Blues today :
PN
We will talk about Mark Gillespie firstly because breaking news within the last few minutes, Mark has agreed a new two year deal with the club today?
TC
Yes, that's right, discussions with the club and Mark since the end of the season have been ongoing, and from our point of view it is great news that he has agreed a contract and signed it today. He is a goalkeeper that we have a lot of hopes for in the future.
PN
And I guess that puts to bed maybe some of the speculation and rumours with the link to Aaran Taylor that Mark could have been on his way out of Brunton Park?
TC
Oh no, that was never ever going to be an option, we have been discussing Mark's situation probably from Christmas-time. Where we feel he is getting himself to a point now where he can really compete to play in the first team, and at 20 years of age it has been a massive development for him over the past two seasons especially, and we have real high hopes for him. I think potentially Mark could be anything he really wants to be, and he is going to be in a direct fight now with Adam (Collin) to try to get in the team and make a name for himself.
PN
At Mark's stage of his career now do you think he might benefit from getting some regular first team football? He had that loan spell of course with Blyth Spartans last season but would he benefit do you think from playing regularly next year?
TC
Yeah, absolutely, we don't actually play in a regular reserve league and we do organise bounce games against bigger clubs, which is of good benefit but the games are few and far between over the course of the season. So, he doesn't actually get a chance to get a run of form going, which to a young goalkeeper is really difficult and his development then starts to kind of plateau.
Now we feel that if he is not going to be in the team and playing for Carlisle then one of the options is to look at trying to get him out on loan whether it be three or six months just to get him a continuous run of games at a good level. Then he comes back to us as even more of an option to play in the first team.
But, we realise that is part of his development is getting first team football, so he can get a gauge of where he is at and what he needs to work at, and we can see him in the thick of it as well. Which is important because you can be very good in training, very good in reserve games, but as we all know the first team picture is a lot different.
PN

Well, great that he has committed his immediate future to Carlisle United for the next two years. Let's talk about Aaran Taylor then, 25-year old Workington keeper and of course a player clearly you know all about?
TC
Yeah, I mean the season I signed for Workington he was there and he had been there for a couple of years when Adam was there as well. So, I did know about him, I trained with him for that season, he played two or three games that season as well when we got into the play-offs, Darren (Edmondson) gave him a couple of games and he did very well. I always felt in training that he did well and he was probably unlucky that season that I had signed because he would have played that season no doubt, he would have definitely got his chance.
But, since I left he has got in and he has not missed a game in the last two seasons. He was player of the year last season, in the season just gone he was the away supporters' player of the year and I have heard good reports. I have seen him myself on quite a few occasions, I know him personally and it just to me, him being on the doorstep as from Carlisle and also playing locally and getting good reports, it would be remiss of me not to kind of bring him in and just see how he compares to what we have for future reference really.
PN
Yeah, so it is on a trial as such, it is just basically inviting him along for him to get a look at you and you to get a look at him?
TC
Yeah, I mean it has kind of escalated in the press how it has now become that he has turned down a deal at Workington and he is on trial with us. We really wanted to just keep it quiet and him to come in for a week or two and train. I mean I have spoken to Workington, I did at the end of last season to make them aware of our thoughts. I had put it to Greg (Abbott) and Greg had just left me to kind of push on with that.
That is part of my job is to see what is out there and if someone is local, so I think it is a trial I suppose because he is coming in to train with us for a couple of weeks. But, on the other side of that we are very happy with the goalkeepers we have and it is only in a chance that maybe Mark isn't in the team and Mark does go out on loan at some point then we could be in the market for another goalkeeper. But, that is not necessarily to say it would be Aaran, so we just want to make sure that we have kind of covered all our bases in terms of someone on our doorstep.
PN
And what would you say his strengths and weaknesses currently are?
TC
Well, in terms of weaknesses it is difficult in the sense that he has not been around the level that he is going to be around for those couple of weeks. So, it will be a big test for him in the sense that it will be quicker, the strikers are better, the finishing is better, everything is just of a little bit better speed and things like that. I think also his strengths is his kicking and his distribution is excellent, he is two-footed.
He has played outfield locally and scored quite a few goals, so he has got that. His all-round goalkeeping when I was there was very good, and I just now with two years of games behind him it will be interesting for me to see what his development has been. But, he hasn't had the training and the coaching over that period, but he has put in consistent performances. So, it is just a case of seeing where he fits with what we already have.
PN
And just finally, Football League clubs today have voted in favour of a return to the seven substitutes from next season, of course it was five last time round. Is that going to be a good thing or a bad thing for a club like Carlisle?
TC
Well, it can always be a good thing if you have got everybody fit and available, the manager then has a few options on the bench. I did feel at times that with seven substitutes you can kind of keep players happier because they feel more involved because you can keep seven on the bench. But, with still being able to only use the three then nothing changes really.
I think managers always have in their mind kind of a set-plan in the eventualities that are going on in games, whether it be injuries or if the game is not going your way and you need to make some impact substitutions. The good thing is from a goalkeeping point of view you are going to have a goalkeeper on there, there has been a lot of league clubs that have gone without a goalkeeper and we did at times last season, just to have more options from the outfield side off the bench.
So, it has its plusses and minuses, but I think the smaller clubs sometimes will struggle to get seven on there, or they may end up putting YTS kids and things, and kids that probably aren't ready for the first team on the bench. So, plusses and minuses but really when it comes down to it managers kind of have in their head what they are going to do with that situation anyway.